Meeting a Learned Society: The Archaeology of ASOR as Reflected in its Annual Meeting, Boston 2017
Keywords:
ASOR, History of Archaeology, Ethics, Power Relations, Ancient Near East, Oriental, Israel/Palestine
Abstract
This article is a study of the ASOR society, based on a database compiled from the 2017 annual meeting at Boston, one of the largest meetings in its history. Such a study has not been performed before. We study the research of ASOR as represented in the meeting by the roles of the scholar-members (poster presenters, lecture presenters, and session chairs), their research subjects (geographic areas, periods, and topics), and their affiliations (gender and institutions). The analysis leads to several questions – and conclusions – about Archaeology in the Ancient Near East (ANE). Despite important progress by ASOR (e.g., in addressing gender), ANE archaeology is still a privilege of the 'west'. Rarely a 'local' scholar spices up the discussions. Modern politics and ideologies determine what areas are studied and what topics of research are 'in'. Political neutrality is proclaimed, but not achieved, in the spaces of the meeting. The aim of the article is to foster discussion about these systematic issues, which do not have easy solutions. By presenting quantified data, they can no longer be dismissed as unsubstantiated, personal impressions.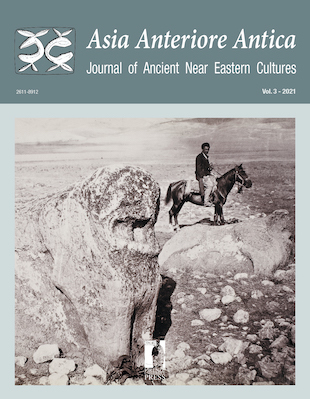 Downloads
License
Copyright (c) 2021 Raz Kletter
This work is licensed under a Creative Commons Attribution 4.0 International License.
Copyright on any open access article in AsiAna published by FUP is retained by the author(s).
Authors grant FUP a license to publish the article and identify itself as the original publisher.
Authors also grant any third party the right to use the article freely as long as its integrity is maintained and its original authors, citation details and publisher are identified.
The Creative Commons Attribution License 4.0 formalizes these and other terms and conditions of publishing articles.
In accordance with our Open Data policy, the Creative Commons CC0 1.0 Public Domain Dedication waiver applies to all published data in AsiAna open access articles.