Along and Across the Nahr el-Quweiq: EB I-IVA Ceramic Horizons and Interregional Connections
Keywords:
Early Bronze I-IV, Aleppo, Quweiq river, Ebla region, Euphrates Valley
Abstract
The Quweiq and Matkh plains, in north inland Syria, were densely settled areas during the Early Bronze Age, crossed by the River Quweiq, flowing north-south from the plateau of Gaziantep to disappear into the Matkh paleolake. The northern sector of the Nahr el-Quweiq was surveyed in 1970s, providing information on the 3rd millennium BC occupation of the Aleppo's hinterland. However, to date, only little evidence is available from archaeological excavations carried out in the area, hampering to crosscheck the ceramic periodisation derived from the Nahr el-Quweiq survey, which has therefore been used, or referred to, for general comparisons only. The article aims at revising the chronology and connections of the Aleppo region during the EB I-IVA period in the light of recent excavations and surveys carried out in neighbouring areas (the Ebla region, the Middle Euphrates, the Sajur and Jabbul plains), ultimately exploring the role of the Aleppo region as a 'bridge area', which provided access to important commercial routes towards the Euphrates Valley, the 'Amuq plain and the area of Gaziantep. The north-south axis – linking the Ebla region with Aleppo – had to be particularly important during EB IVA, when ?alab appears to belong to the Ebla kingdom and was the seat of the cult of the Storm God as we learn from cuneiform texts from Palace G archives.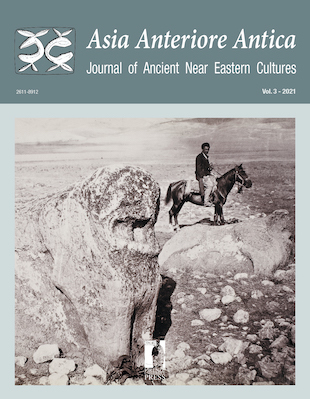 Downloads
License
Copyright (c) 2021 Agnese Vacca
This work is licensed under a Creative Commons Attribution 4.0 International License.
Copyright on any open access article in AsiAna published by FUP is retained by the author(s).
Authors grant FUP a license to publish the article and identify itself as the original publisher.
Authors also grant any third party the right to use the article freely as long as its integrity is maintained and its original authors, citation details and publisher are identified.
The Creative Commons Attribution License 4.0 formalizes these and other terms and conditions of publishing articles.
In accordance with our Open Data policy, the Creative Commons CC0 1.0 Public Domain Dedication waiver applies to all published data in AsiAna open access articles.