The Overseers of the Teams of Mules and Asses, ugula surx-BAR.AN/IGI.NITA
Keywords:
Ebla, prosopography, overseers, mules, ass
Abstract
The administrative documents of Ebla record two genres of equids: IGI(.NITA/MUNUS), an abbreviation of ANŠE.IGI+ŠE(libir) "ass", and (ANŠE.)BAR.AN /kúnga) "mule", both provided to agricultural units. They were also used as draught animals for the chariots of the king, his sons, the queen, and the minister, according to the documents of the central administration. The "overseers of the teams of mules", that is the charioteers in service at the Palace were 47 / 60 (ARET 20: 197), and 49 those who received a gift on the occasion of the celebration of the victory over Mari (TM.75.G.2280+). Here are listed the names of the charioteers dating the occurrences according to the minister to whom each document has to be dated. In case of annual documents, the year of the minister is given, and these data are collected in Table I.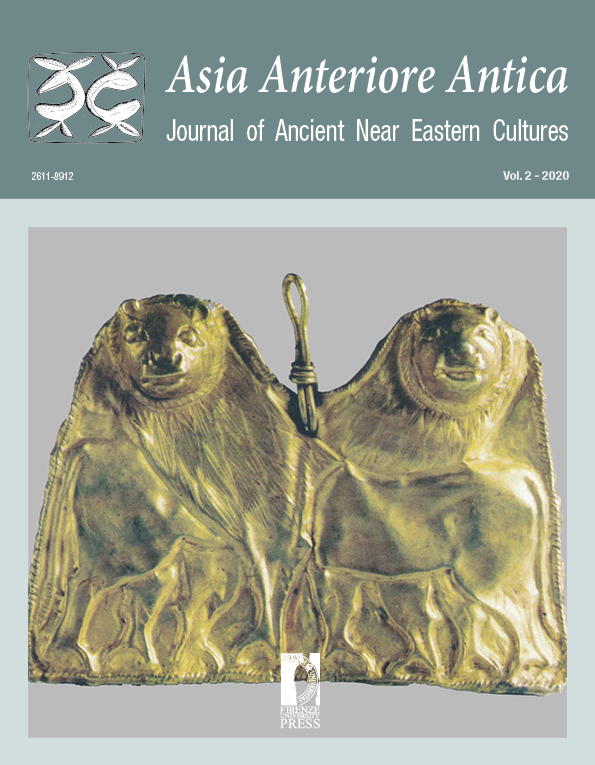 Downloads
License
Copyright (c) 2020 Alfonso Archi
This work is licensed under a Creative Commons Attribution 4.0 International License.
Copyright on any open access article in AsiAna published by FUP is retained by the author(s).
Authors grant FUP a license to publish the article and identify itself as the original publisher.
Authors also grant any third party the right to use the article freely as long as its integrity is maintained and its original authors, citation details and publisher are identified.
The Creative Commons Attribution License 4.0 formalizes these and other terms and conditions of publishing articles.
In accordance with our Open Data policy, the Creative Commons CC0 1.0 Public Domain Dedication waiver applies to all published data in AsiAna open access articles.