Comparative study and genetic diversity in Salvia (Lamiaceae) using RAPD Molecular Markers
Keywords:
Gene flow, Genetic Variation, Random Amplified Polymorphic DNA (RAPD), Salvia
Abstract
Salvia has a high degree of environmental compatibility and is widespread around the world, especially in tropical and temperate regions. It is represented by 61 species including 19 endemic species. Salvia species are mostly shrubs or subshrubs, occasionally herbs, typically perennial, sometimes biennial or annual, and often aromatic. The genus has high medicinal, commercial and horticultural value. It is the largest and one of the taxonomically complicated genus of Lamiaceae. To determine the genetic diversity and understand the species, we produced both morphological and molecular data using 145 randomly collected plants representing 30 species from 18 provinces of Iran. A total of 107 reproducible bands were generated by 10 of 25 random amplified polymorphic DNA (RAPD) primers, with an average of 10.7 bands/primer and 44% polymorphism. Largest number of effective alleles (Ne), genetic diversity (H), and Shannon Index (I) were shown by Salvia reuterana. Our data depicted highest similarity between S. suffruticosa and S. hydrangea and lowest between S. aristata and S. oligphylla. S. limbata showed relatively low level of genetic variation. Finally, the Neighbor Joining (NJ) trees based on RAPD markers data divided the populations into two different clusters, indicating their genetic difference which is discussed in details.
Downloads
Download data is not yet available.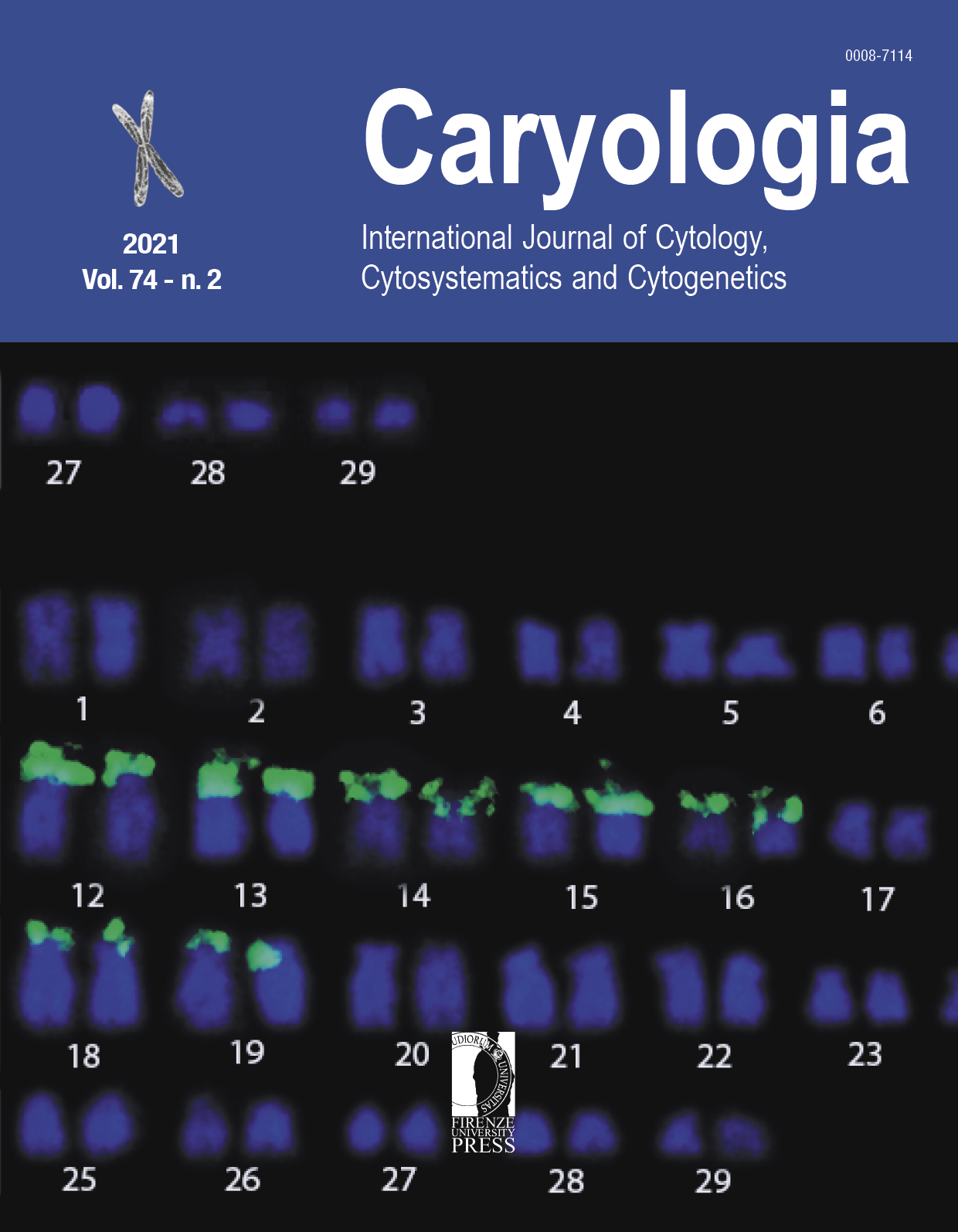 Downloads
How to Cite
Zheng, R., Zhao, S., Khayyatnezhad, M., & Afzal Shah, S. . (2021). Comparative study and genetic diversity in Salvia (Lamiaceae) using RAPD Molecular Markers. Caryologia, 74(2), 45-56. https://doi.org/10.36253/caryologia-1236
License
Copyright (c) 2021 Majid KHAYYATNEZHAD, Sayed Afzal Shah2
This work is licensed under a Creative Commons Attribution 4.0 International License.
Copyright on any open access article in a journal published byCaryologia is retained by the author(s).
Authors grant Caryologia a license to publish the article and identify itself as the original publisher.
Authors also grant any third party the right to use the article freely as long as its integrity is maintained and its original authors, citation details and publisher are identified.
The Creative Commons Attribution License 4.0 formalizes these and other terms and conditions of publishing articles.
In accordance with our Open Data policy, the Creative Commons CC0 1.0 Public Domain Dedication waiver applies to all published data in Caryologia open access articles.