Repetitive DNA mapping on Oligosarcus acutirostris (Teleostei, Characidae) from the Paraíba do Sul River Basin in southeastern Brazil
Keywords:
Characiformes, cytotaxonomy, coastal river basins, fluorescence in situ Hybridization (FISH), freshwater fishes
Abstract
Within the Neotropical region, the genus Oligosarcus represents an interesting assembly of small-sized freshwater predators. The goal of this study was to cytogenetically analyze Oligosarcus acutirostris from the Espírito Santo Stream, Paraíba do Sul River Basin. The following cytogenetic techniques were performed: Giemsa staining, Ag-NOR and C- bandings, Fluorescence in situ Hybridization (FISH) using 18S and 5S rDNA probes, and (CA)15 and (GA)15 microsatellite probes. Diploid number was 2n=50 and the karyotypic formula 4m+14sm+18st+14a. Ag-NOR sites were present on the subtelocentric chromosome pair number 10. C-banding showed a few pericentromeric and conspicuous terminal heterochromatic blocks. The 18S and 5S rDNA probes marked chromosome pairs number 10 and number 19, respectively. FISH patterns obtained with (CA)15 and (GA)15 probes hybridized pericentromeric and terminal regions in almost all chromosomes, and interstitial regions of some chromosomes. Interestingly, microsatellite (CA)15 showed a conspicuous centromeric mark on chromosome pair number 14, which could be an autapomorphy of this species, or it might characterize some species of  this genus. The Oligosarcus cytogenetic patterns suggest that this genus is prone to fixation of chromosomal rearrangements and may be useful to detect biogeographical subunits within the coastal Brazilian basins.
Downloads
Download data is not yet available.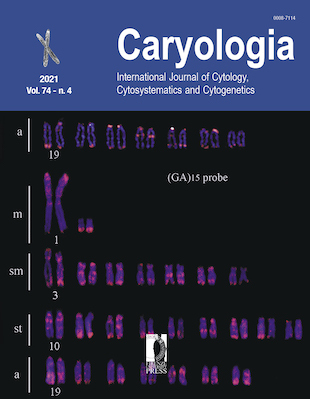 Downloads
How to Cite
Cunha, M. S., Melo, S., Salgado, F., Assis, C., & Dergam, J. (2022). Repetitive DNA mapping on Oligosarcus acutirostris (Teleostei, Characidae) from the Paraíba do Sul River Basin in southeastern Brazil. Caryologia, 74(4), 121–128. https://doi.org/10.36253/caryologia-1270
License
Copyright (c) 2021 Marina Souza Cunha, Silvana Melo, Filipe Schitini Salgado, Cidimar Estevam Assis, Jorge Abdala Dergam
This work is licensed under a Creative Commons Attribution 4.0 International License.
Copyright on any open access article in a journal published byCaryologia is retained by the author(s).
Authors grant Caryologia a license to publish the article and identify itself as the original publisher.
Authors also grant any third party the right to use the article freely as long as its integrity is maintained and its original authors, citation details and publisher are identified.
The Creative Commons Attribution License 4.0 formalizes these and other terms and conditions of publishing articles.
In accordance with our Open Data policy, the Creative Commons CC0 1.0 Public Domain Dedication waiver applies to all published data in Caryologia open access articles.