Genetic Characterization of Salicornia persica Akhani (Chenopodiaceae) Assessed Using Random Amplified Polymorphic DNA
Keywords:
gene flow, Salicornia persica, Random Amplified Polymorphic DNA (RAPD)
Abstract
Salicornia is a wild and annual (biennial, in some species) halophytic plant from Chenopodiaceae family that grows near salt marshes and salted wetlands or the vicinity of coastal areas in Asia, North America, and the Middle East. It is also grown in semi-arid areas of Iran such as Isfahan, Fars, and Yazd provinces. Genetic variability and populations, structure were studied in 10 geographical populations of Salicornia persica. Genetic diversity parameters were determined in these populations. 10 of 20 random amplified polymorphic DNA (RAPD) primers produced 146 reproducible bands with average of 14.6 bands per primer and 88.67% of polymorphism. OPA10 primer showed the highest number of effective allele (Ne), Shannon index (I) and genetic diversity (H). The highest values of genetic diversity in RAPD markers were obtained in Esfahan, Nain, it is 70km to Varzaneh populations. WARD trees of RAPD data grouped the populations in two different clusters/groups, indicating their genetic difference which is discussed in details. The results of this study showed that the level of genetic variation in Salicornia persica is relatively low. WARD-based dendrogram showed a close relationship between members of Esfahan, Varzaneh and Esfahan, the river of Zayanderud at Varzaneh while the Yazd, Meybud and Yazd, Nádüshan protected population differ the most from the other populations. Principal component analysis, however, showed some minor differences with WARD-based dendrograms.
Downloads
Download data is not yet available.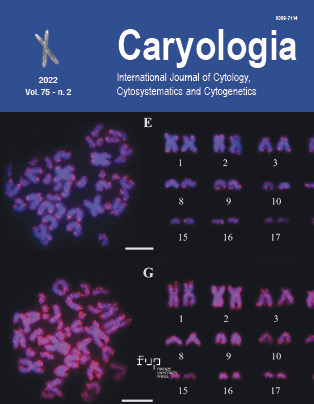 Downloads
How to Cite
Lin, Z., & Khodayari, H. (2022). Genetic Characterization of Salicornia persica Akhani (Chenopodiaceae) Assessed Using Random Amplified Polymorphic DNA. Caryologia, 75(2), 59-69. https://doi.org/10.36253/caryologia-1493
License
Copyright (c) 2022 Zhu Lin, Hamed Khodayari
This work is licensed under a Creative Commons Attribution 4.0 International License.
Copyright on any open access article in a journal published byCaryologia is retained by the author(s).
Authors grant Caryologia a license to publish the article and identify itself as the original publisher.
Authors also grant any third party the right to use the article freely as long as its integrity is maintained and its original authors, citation details and publisher are identified.
The Creative Commons Attribution License 4.0 formalizes these and other terms and conditions of publishing articles.
In accordance with our Open Data policy, the Creative Commons CC0 1.0 Public Domain Dedication waiver applies to all published data in Caryologia open access articles.