Population Differentiation and Gene Flow of Salicornia persica Akhani (Chenopodiaceae)
Keywords:
genetic diversity, gene flow, genetic differentiation, Salicornia persica, Inter Simple Sequence Repeat (ISSR)
Abstract
The genus Salicornia (Amaranthaceae) was established by Linnaeus. Commonly known as 'glassworts', the species of the genus are articulated succulent herbs with cortical palisade, opposite decussate scale-leaves, thyrsoid cymes, flowers packed in cauline depressions and the diaspore composed of l-seeded utricle. Therefore, due to the importance of the plant species, we performed a combination of morphological and molecular data analyses on this species. A total of 72 randomly collected plants from 8 natural populations in 2 provinces were evaluated using ISSR markers and morphological traits. Analysis of molecular variance (AMOVA) test revealed significant genetic difference among the studied populations, and also showed that 45% of total genetic variability was due to the diversity within the population, while 55% was due to the genetic differentiation among populations. A total number of 158 bands were detected by ISSR primers, of which 144 (89%) bands with an average of 14.4 bands per primer were polymorphic. The Percentage of Polymorphic Bands (PPB) ranged from 70% (ISSR-7) to 100% (ISSR-1, ISSR-4 and ISSR-5). The average Polymorphic Information Content (PIC), Shannon's Information index (I), and Number of effective alleles (Ne) were 0.49, 0.28, and 1.09, respectively.
Downloads
Download data is not yet available.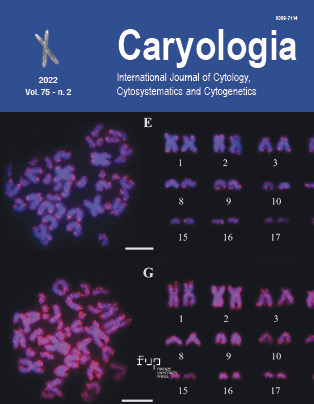 Downloads
How to Cite
Zhang, X., Bai, L., & Esfandani-Bozchaloyi, S. (2022). Population Differentiation and Gene Flow of Salicornia persica Akhani (Chenopodiaceae). Caryologia, 75(2), 33-43. https://doi.org/10.36253/caryologia-1541
License
Copyright (c) 2022 Xiaoju Zhang, Li Bai, Somayeh Esfandani-Bozchaloyi
This work is licensed under a Creative Commons Attribution 4.0 International License.
Copyright on any open access article in a journal published byCaryologia is retained by the author(s).
Authors grant Caryologia a license to publish the article and identify itself as the original publisher.
Authors also grant any third party the right to use the article freely as long as its integrity is maintained and its original authors, citation details and publisher are identified.
The Creative Commons Attribution License 4.0 formalizes these and other terms and conditions of publishing articles.
In accordance with our Open Data policy, the Creative Commons CC0 1.0 Public Domain Dedication waiver applies to all published data in Caryologia open access articles.