Delimiting species using DNA and morphological variation in some Alcea (Malvaceae) species based on SRAP markers
Keywords:
Morphology, Species Identification, Alcea, SRAP
Abstract
Species identification is fundamentally important within the fields of biology, biogeography, ecology and conservation. The genus Alcea (Malvaceae) includes approximately 70 species of mainly Irano-Turanian distribution and is considered one of the most challenging genera of the Middle East, due to its uniformity and pronounced plasticity in morphological traits. In spite vast distribution of many Alcea species that grow in Iraq, there are not any available report on their genetic diversity, mode of divergence and patterns of dispersal. Therefore, we performed molecular (SRAP marker) and morphological studies of 80 accessions from 10 species of Alcea that were collected from different habitats in Iraq. The aims of present study are: 1) can SRAP markers identify Alcea species, 2) what is the genetic structure of these taxa in Iraq, and 3) to investigate the species inter-relationship? The present study revealed that combination of morphological and SRAP data can identify the species.
Downloads
Download data is not yet available.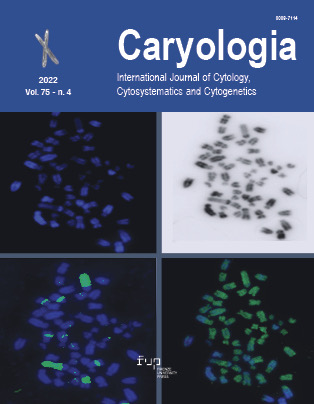 Downloads
How to Cite
Noori Meerza, C. H., Muhealdin, B. S., Hamarashid, S. H., Qadir, S. A., & Juan, Y. (2023). Delimiting species using DNA and morphological variation in some Alcea (Malvaceae) species based on SRAP markers. Caryologia, 75(4). https://doi.org/10.36253/caryologia-1629
License
Copyright (c) 2022 Chnar Hama Noori Meerza, Basoz Sadiq Muhealdin, Sahar Hussein Hamarashid, Syamand Ahmad Qadir, Yusef Juan
This work is licensed under a Creative Commons Attribution 4.0 International License.
Copyright on any open access article in a journal published byCaryologia is retained by the author(s).
Authors grant Caryologia a license to publish the article and identify itself as the original publisher.
Authors also grant any third party the right to use the article freely as long as its integrity is maintained and its original authors, citation details and publisher are identified.
The Creative Commons Attribution License 4.0 formalizes these and other terms and conditions of publishing articles.
In accordance with our Open Data policy, the Creative Commons CC0 1.0 Public Domain Dedication waiver applies to all published data in Caryologia open access articles.