Cytogenetic effects of C6H4 (CH3)2 (xylene) on meristematic cells of root tips of Vicia faba L. and mathematical analysis
Keywords:
Abnormalities; Chromosome; Mathematical analysis; Xylene
Abstract
Xylene is a readily flammable and poisonous liquid with a chemical formula of C6H4 (CH3)2. It is used as raw material or auxiliary raw material in many industrial products such as dye, pencil, agricultural chemicals, rubber, fiber, glue and diaper. In this study, cytogenetic effects of xylene, on the meristematic cells of root tips of Vicia faba L. used as food have been investigated. For this purpose, the seeds of the plant have been treated with xylene solutions prepared in different concentrations for different time periods. Chromosomes at the root tips have been looked and the effect of xylene has been determined. The abnormalities as chromosome breaking, chromosome dispersion, bridge chromosome, chromosome adherence, ring chromosome have been observed. Abnormalities have been seen at each treatment depended on the time periods. The environment where xylene, a carcinogenic substance, is present at 100 ppm or more than 435 mg/m3 in air is harmful to human health. In addition to these visible damages of xylene in the study, possible damages on chromosomes carrying genetic codes of living beings to future generations have been investigated and mathematical analyzes has been made. The results obtained have been evaluated statistically.  
Downloads
Download data is not yet available.
References
References
Celık A, Kartal A, Akdoğan A, Kaska Y. 2004. Determining the heavy metal pollution in Denizli (Türkey) by using Robinio pseudo-acacia L., Environmental International, 1-8 Darlıngton C.D, La Cour F. 1976. The Handling of Chromosomes. Allen and Unwin De Flora S, Bennıcellı C, Bagnasco M. 1994. Genotoxicity of Mercury Compounds. A Review. Mutat Res. 317: 57-79.
Dean 1985. Recent findings on the genetic toxicology of benzene, tolüene, xylenes and phenols, Mutation Res., 154, 153-181.
Donner, M., J. Maki-Paakkanen, H. Norppa, M. Sorsa and H. Vainio (1980) Genetic toxicology of xylenes, Mutation Res., 74, 171-172.
Haglund U, Lundberg I, Zech L. 1980. Chromosome aberrations and sister chromatid exchanges in Swedish paint industry workers, Scandinavian Journal of Work, Environment & Health, Vol. 6, No. 4 (December 1980), pp. 291-298.
Inceer H, Beyazoğlu O. 2000. Bakır Klorür'ün Vicia hirsuta (L.) S.F. Gray Kök Ucu Hücreleri Üzerine Sitogenetik Etkileri. Turkish Journal of Biology. 24: 553-559
Inceer H, Ayaz S, Beyazoğlu O, Enturk E. 2003. Bakır klorür'ün Helianthus annuus (L.) kök ucu hücreleri üzerine sitogenetik etkileri, Turkish Journal of Biology. 27: 43-46
Kıran Y, Sahın A. 2005. The effects of the lead on the seed germination, root growth and root tip cell mitotic divisons of Lens culinaris medik. G.U. Journal of Science 18(1):17-25.
Jenifer M. Langman, 1994. Xylene: Its toxicity, measurement of exposure levels, absorption, metabolism and clearance, Journal Pathology Volume 26, - Issue 3, Jenifer M. Langman Pages: 301-309. Published online: 06 Jul 2009.
Lebowitz, H., D. Brusick, D. Matheson, D.R. Jagannath, M. Reed, S. Goode and G. Roy 1979. Commonly used fuels and solvents evaluated in a battery of short-term bioassays, Environ. Mutagen., 1, 172-173.
Leonard A, Jacqued P, Lauverys R. 1983. Mutagenicity and Teratogenicity of Mercury Compounds. Mutat. Res. 114: 1-8
Mohtashamipur E, K. Norpoth, U. Woelke, P. Huber, 1985. Effects of ethylbenzene, toluene, and xylene on theinduction of micronuclei in bone marrow polychromatic erythrocytes of mice, Arch. Toxicol., 58, 106-109.
Nise, G., Högstedt, B., Bratt, I., Skerfving, S. 1991. Cytogenetic effects in rotogravure printers exposed to toluene (and benzene). Mutation Research/Genetic Toxicology, 261(3), 217–223.
Özdemir A, Bozdağ B, Sepet H, Parlak Y, Kocabaş O, Serap E, Özdemir C. 2015. Cytogenetic effects of technetium on meristematic cells of root tips of Vicia faba L. and statistical comparison. Caryologia, 68(3), 200-206.,
Özdemir C, Ereeş S, Çam S. 2008. Cytogenetic Effects Of Uranium On Root Tip Cells Of Vicia faba L. Botanica Lithuanica, 14(3), 155-158.
Peter Langma (2009). Rampage school shooters: A typology Aggression and Violent Behavior 14, 79–86.
Şutan, N. A., Uţă, G., & Bărbuceanu, D. 2018. Oxidative stress and cytogenetic effects in root tip cells of Allium cepa L. induced by alcoholic extracts of Leptinotarsa decemlineata (Say). Caryologia, 1–9.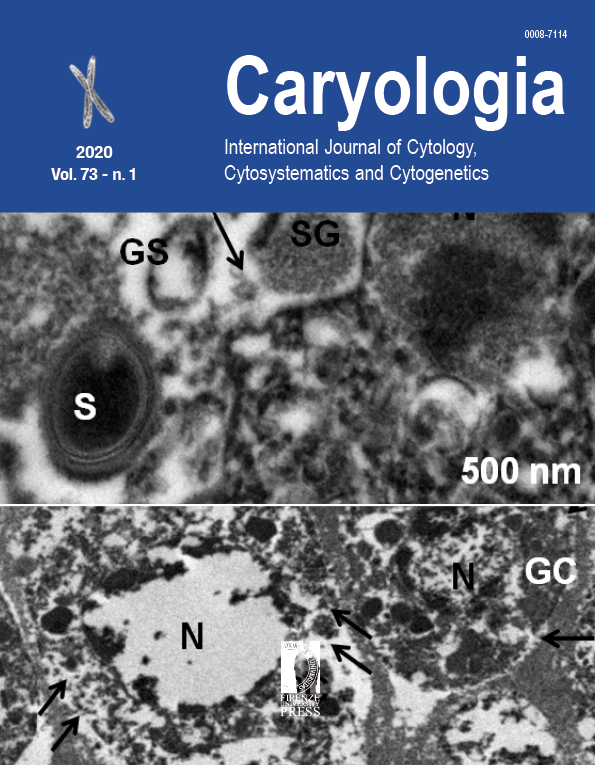 Downloads
How to Cite
Alaca, C., Özdemir, A., Bozdağ, B., & Özdemir, C. (2020). Cytogenetic effects of C6H4 (CH3)2 (xylene) on meristematic cells of root tips of Vicia faba L. and mathematical analysis. Caryologia, 73(1). https://doi.org/10.13128/caryologia-279
License
Copyright on any open access article in a journal published byCaryologia is retained by the author(s).
Authors grant Caryologia a license to publish the article and identify itself as the original publisher.
Authors also grant any third party the right to use the article freely as long as its integrity is maintained and its original authors, citation details and publisher are identified.
The Creative Commons Attribution License 4.0 formalizes these and other terms and conditions of publishing articles.
In accordance with our Open Data policy, the Creative Commons CC0 1.0 Public Domain Dedication waiver applies to all published data in Caryologia open access articles.