Karyotype analysis of a natural Lycoris double-flowered hybrid
Keywords:
Karyotype, Lycoris Herb., natural hybrid
Abstract
A putative natural double-flowered hybrid in Lycoris Herb. was found on Mt. Zhangjiajie in Hunan, China. The putative natural hybrid had a chromosome number of 2n = 18 and was karyotypically formulated as 2n = 4m + 6st + 5t + 3T. The karyotype of the putative natural hybrid was classified as 2B type according to the degree of asymmetry and Stebbins' criteria. According to the gross morphology, phenology and karyotype of the putative natural hybrid, it was suggested that this taxon was probably from the natural hybridization between L. aurea and L. radiata.
Downloads
Download data is not yet available.
References
Hsu BS, Kurita S, Yu ZZ, Lin JZ. 1994. Synopsis of the genus Lycoris (Amaryllidaceae). SIDA. 16:301–331.
Kurita S. 1987. Variation and evolution on the karyotype of Lycoris, Amaryllidaceae Ⅱ. Karyotype analysis of ten taxa among which seven are native to China. Cytologia. 52: 19–40.
Levan L, Fredga K, Sandberg AA. 1964. Nomenclature for centromeric position on chromosomes. Hereditas. 52: 201–220.
Li MX, Chen RY. 1985. A suggestion on the standardization of karyotype analysis in plants. J Wuhan Bot Res. 3 (4): 297–302.
Liu K, Zhou SB, Wang Y, Zhang D. 2011. A karyomorphological study on two newly recorded taxa of Lycoris (Amaryllidaceae) in Anhui province, China. Caryologia. 64 (2): 158–163.
Liu Y, Hsu BS. 1989. A study on karyotypes of the genus Lycoris. Acta Phyto Sin. 27 (4): 257–264.
Liu YX, Zheng YH, Xia T, Zhou J. 2016. Karyotype studies on Lycoris radiata populations from China. Genet Mol Res. 15 (1): 15017357.
Meng WQ, Zheng L, Shao JW, Zhou SB, Liu K. 2018. A new natural allotriploid, Lycoris × hubeiensis hybr. nov. (Amaryllidaceae), identified by morphological, karyological and molecular data. Nord J Bot. 36 (6): e01780.
Romero Zarco C. 1986. A new method for estimating karyotype asymmetry. Taxon 35 (3): 526–530.
Shao JZ, Yang JG, Zhang DC, Nie LW. 1994. The discovery of diploid Lycoris radiata Herb. from Anhui. Acta Phyto Sin. 32 (6): 549–552.
Shi SD, Qiu YX, Li EX, Wu L, Fu CX. 2006. Phylogenetic relationships and possible hybrid origin of Lycoris species (Amaryllidaceae) revealed by ITS sequences. Biochem Genet. 44: 198–206.
Stebbins GL. 1971. Chromosomal evolution in higher plants. London: Edward Arnold Ltd.
Zhou SB, Yu BQ, Luo Q, Hu JR, Bi D. 2007. Karyotypes of six populations of Lycoris radiata and discovery of the tetraploid. Acta Phyto Sin. 45 (4): 513–522.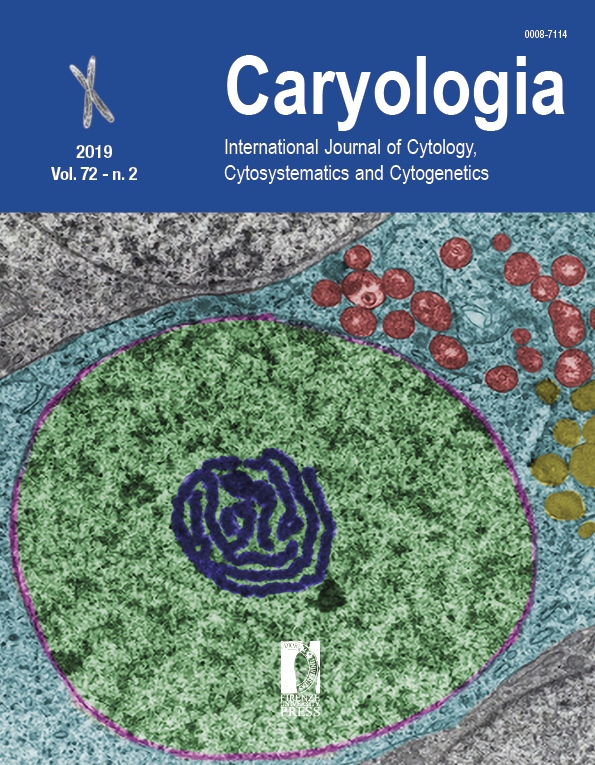 Downloads
How to Cite
Wang, J.-X., Cao, Y.-J., Han, Y.-C., Zhou, S.-B., & Liu, K. (2019). Karyotype analysis of a natural Lycoris double-flowered hybrid. Caryologia, 72(2), 3-7. https://doi.org/10.13128/caryologia-720
License
Copyright on any open access article in a journal published byCaryologia is retained by the author(s).
Authors grant Caryologia a license to publish the article and identify itself as the original publisher.
Authors also grant any third party the right to use the article freely as long as its integrity is maintained and its original authors, citation details and publisher are identified.
The Creative Commons Attribution License 4.0 formalizes these and other terms and conditions of publishing articles.
In accordance with our Open Data policy, the Creative Commons CC0 1.0 Public Domain Dedication waiver applies to all published data in Caryologia open access articles.