Cytogenetics of Accanthopus velikensis (Piller et Mitterpacher, 1783) (Tenebrionidae: Helopini)
Keywords:
Karyotype, NOR, COI, DNA barcoding, Helopini, Tenebrionidae
Abstract
The karyotype and cytogenetic features of darkling beetle Accanthopus velikensis were analysed using conventional and differential staining. The diploid number was determined as 2n = 20 and the presence of Xyp sex determination system was observed with DAPI and silver staining as well as conventional staining. Although a single nucleolar material was observed in prophase I nuclei, multiple argyrophilic signals in diakinesis-metaphase I plates makes it difficult to determine the exact NOR location. Both conventionally and differentially stained plates showed that heterochromatin is mostly concentrated on centromeric regions of A. velikensis chromosomes. Obvious telomeric signals on some rod shaped bivalents as well as the X chromosome were also detected with AgNO3 and DAPI staining. Although presented karyotype of A. velikensis resemble to those of other Helopini members and follows the common patterns of Tenebrionid karyotypes, slight differences in chromosome morphologies, NORs and the heterochromatin distribution were detected. Our specimens also showed a unique haplotype for COI sequences with an 84-83% sequence similarity to database sequences for Tenebrionidae.
Downloads
Download data is not yet available.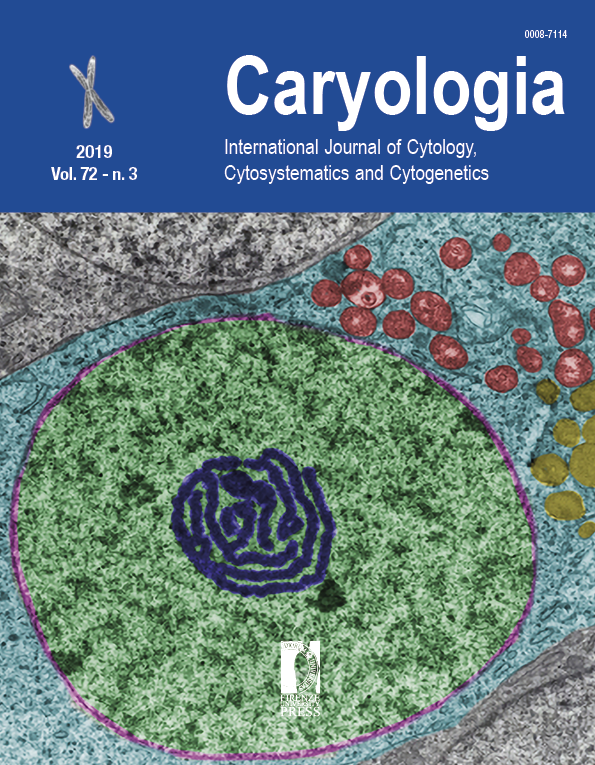 Downloads
How to Cite
?endo?an, D., Gündo?an, B., Nabozhenko, M. V., Keskin, B., & Alpagut Keskin, N. (2019). Cytogenetics of Accanthopus velikensis (Piller et Mitterpacher, 1783) (Tenebrionidae: Helopini). Caryologia, 72(3), 97–103. https://doi.org/10.13128/caryologia-771
License
Copyright on any open access article in a journal published byCaryologia is retained by the author(s).
Authors grant Caryologia a license to publish the article and identify itself as the original publisher.
Authors also grant any third party the right to use the article freely as long as its integrity is maintained and its original authors, citation details and publisher are identified.
The Creative Commons Attribution License 4.0 formalizes these and other terms and conditions of publishing articles.
In accordance with our Open Data policy, the Creative Commons CC0 1.0 Public Domain Dedication waiver applies to all published data in Caryologia open access articles.