Articles
Ultrasound applied to nursing in the Emergency Medical Service (EMS): a scoping review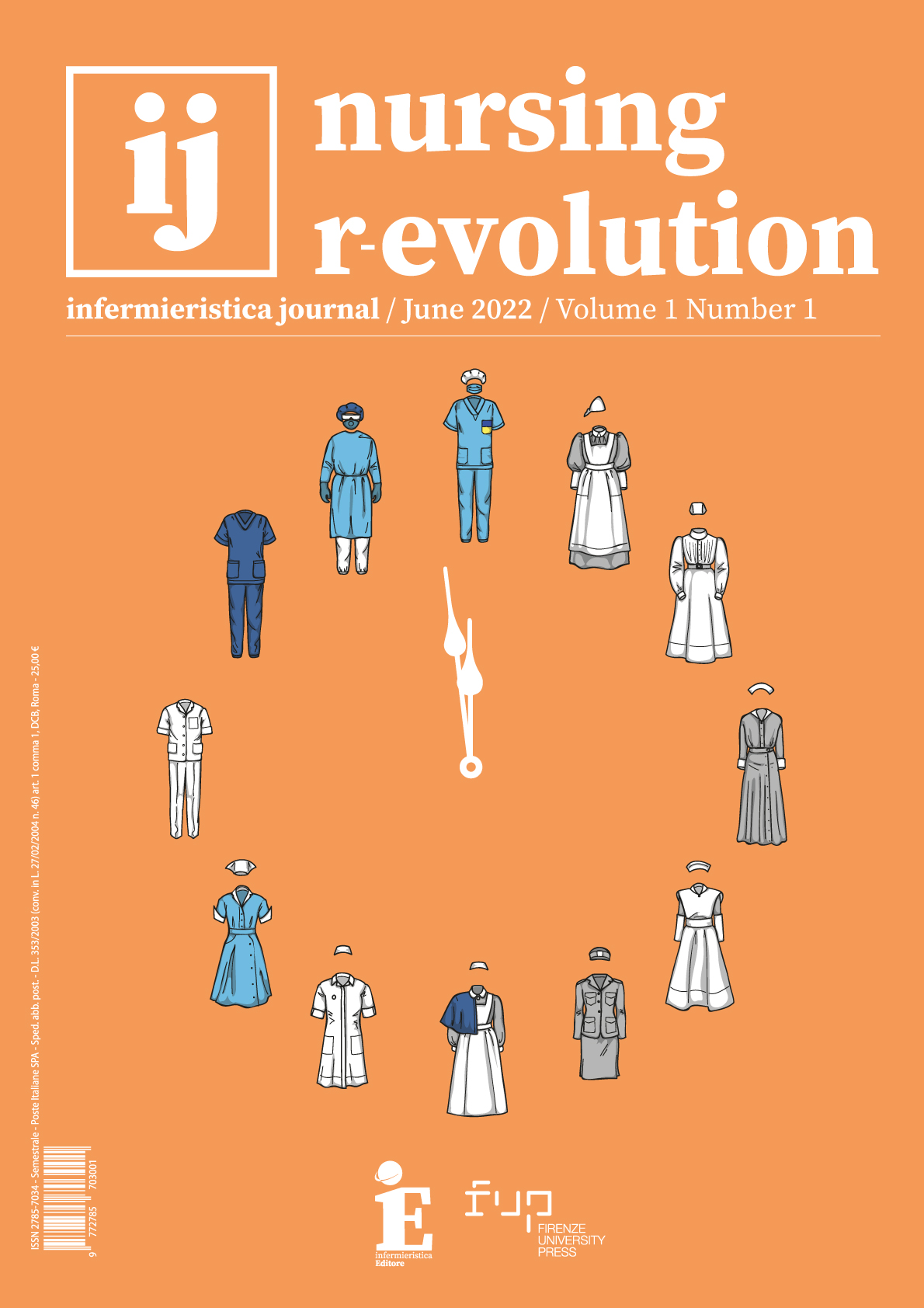 Published 2022-06-29
Keywords
Abstract
Abstract
Background: In recent years, ultrasound has represented a new field of application for nursing. Point of Care UltraSound (POCUS) has been defined as an essential skill in the pre-hospital setting. The primary objective of this scoping review is to describe what are the main ultrasound techniques applied by nurses in the pre-hospital emergency setting. The secondary objective is to identify the different training courses implemented in the various studies selected to learn the necessary ultrasound skills.
Methods: We conducted a scoping review. The following databases were consulted: PubMed, Cochrane Library, CINAHL and Google Scholar. For the extraction of useful articles, after identifying the inclusion and exclusion criteria, the PRISMA methodology was used, two authors independently analyzed the identified records, in the event of a conflict a third author intervened.
Results: The identified records were initially 815. After the duplicates removal, and screening made by the researcher for inclusion criteria, 6 articles were retrieved for qualitative analysis. The most discussed topic is the recognition of pneumothorax: two studies analyzed a specific educational program on ultrasound for flight nurses, three articles evaluated the us of US to verify the correct insertion of devices, and two explored the skills of nurses in performing ultrasound scans. The first study stated that nurses had 86.4% accuracy, 66.6% sensitivity and 100% specificity in ultrasound using; in the second one, nurses had a sensitivity and specificity of 100% in non-traumatized patients and a sensitivity of 60% and a specificity of 93% in trauma patients.
Conclusions: Despite the methodological differences of the selected records, the main ultrasound techniques implemented by nurses in the Emergency Medical Service (EMS) are Focused Assessment with Sonography for Trauma (FAST), Extendend Focused Assessment with Sonography for Trauma (E-FAST), evaluation of pneumothorax and visualization of correct insertion of devices (Endotracheal Tube, Nasogastric Tube). At the level of training in the ultrasound field, on the other hand, a certain heterogeneity is highlighted in the structuring of training courses, both in terms of hours of theory and of controlled practice.
References
(1) Bøtker MT, Jacobsen L, Rudolph SS, Knudsen L. The role of point of care ultrasound in prehospital critical care: a systematic review. Scand J Trauma Resusc Emerg Med. 2018 Jun 26;26(1):51.
(2) Società Italiana degli Infermieri di Emergenza Territoriale. Position Paper 2021 [internet]. Available at: https://www.siiet.org/post/position-paper-il-sistema-di-emergenza-preospedaliera-secondo-siiet [ultimo accesso 04(08/2021].
(3) De Luca W, Lucenti E, Andreucci A, Colamaria N. Infermiere di emergenza territoriale, formazione e competenze: analisi concettuale. Scenario. 2021; 38(1): 33-42.
(4) Henderson SO, Ahern T, Williams D, Mailhot T, Mandavia D. Emergency department ultrasound by nurse practitioners. J Am Acad Nurse Pract. 2010;22(7):352-5.
(5) Bowra J, Forrest-Horder S, Caldwell E, Cox M, D'Amours SK. Validation of nurse-performed FAST ultrasound. Injury. Maggio 2010;41(5).
(6) BONESI G. L'ecografia: una risorsa per l'infermiere in emergenza extra ospedaliera. [internet] GiornaleSanità.it. Available from: https://www.giornalesanita.it/ecografia-risorsa-infermiere-emergenza-extra-ospedaliera/ [ultimo accesso 04/08/2021].
(7) Van Der Weide L, Popal Z, Terra M, Schwarte LA, Ket JCF, Kooij FO, Exadaktylos AK, Zuidema WP, Giannakopoulos GF. Prehospital ultrasound in the management of trauma patients: Systematic review of the literature. Injury. 2019 Dec;50(12):2167-2175.
(8) Mercer CB, Ball M, Cash RE, Rivard MK, Chrzan K, Panchal AR. Ultrasound Use in the Prehospital Setting for Trauma: A Systematic Review. Prehosp Emerg Care. 2021 Jul-Aug;25(4):566-582.
(9) Bøtker MT, Jacobsen L, Rudolph SS, Knudsen L. The role of point of care ultrasound in prehospital critical care: a systematic review. Scand J Trauma Resusc Emerg Med. 2018 Jun 26;26(1):51.
(10) Rudolph SS, Sørensen MK, Svane C, Hesselfeldt R, Steinmetz J. Effect of prehospital ultrasound on clinical outcomes of non-trauma patients--a systematic review. Resuscitation. 2014 Jan;85(1):21-30.
(11) Jørgensen H, Jensen CH, Dirks J. Does prehospital ultrasound improve treatment of the trauma patient? A systematic review. Eur J Emerg Med. 2010 Oct;17(5):249-53.
(12) Guy A, Bryson A, Wheeler S, McLean N, Kanji HD. A Blended Prehospital Ultrasound Curriculum for Critical Care Paramedics. Air Med J. 2019 Nov-Dec;38(6):426-430.
(13) Meadley B, Olaussen A, Delorenzo A, Roder N, Martin C, St Clair T, Burns A, Stam E, Williams B. Educational standards for training paramedics in ultrasound: a scoping review. BMC Emerg Med. 2017 Jun 17;17(1):18.
(14) McCallum J, Vu E, Sweet D, Kanji HD. Assessment of Paramedic Ultrasound Curricula: A Systematic Review. Air Med J. 2015 Nov-Dec;34(6):360-8.
(15) Heegaard W, Hildebrandt D, Spear D, Chason K, Nelson B, Ho J. Prehospital ultrasound by paramedics: results of field trial. Acad Emerg Med. 2010 Jun;17(6):624-30.
(16) Pietersen PI, Mikkelsen S, Lassen AT, Helmerik S, Jørgensen G, Nadim G, Christensen HM, Wittrock D, Laursen CB. Quality of focused thoracic ultrasound performed by emergency medical technicians and paramedics in a prehospital setting: a feasibility study. Scand J Trauma Resusc Emerg Med. 2021 Feb 25;29(1):40.
(17) Fitzgibbon JB, Lovallo E, Escajeda J, Radomski MA, Martin-Gill C. Feasibility of Out-of-Hospital Cardiac Arrest Ultrasound by EMS Physicians. Prehosp Emerg Care. 2019 May-Jun;23(3):297-303.
(18) Colquhoun HL, Levac D, O'Brien KK, Straus S, Tricco AC, Perrier L, Kastner M, Moher D. Scoping reviews: time for clarity in definition, methods, and reporting. J Clin Epidemiol. 2014 Dec;67(12):1291-4.
(19) Peters MD, Godfrey CM, Khalil H, McInerney P, Parker D, Soares CB. Guidance for conducting systematic scoping reviews. Int J Evid Based Healthc. 2015 Sep;13(3):141-6.
(20) polit Df, Beck tc. Fondamenti di Ricerca Infermieristica. 2° Edizione. Milano: Mc- Graw-Hill; 2014.
(21) Moher D, liBerati a, tetzlaff J, altMan Dg, the prisMa group. Linee guida per il reporting di revisioni sistematiche e meta-analisi: il PRISMA statement. Evidence. 2015; Vol 7(6):1-8.
(22) Skulec R, Kohlova A, Miksova L, Cerny V. The reliability of ultrasound compression test performed by general ICU nurses in the critically ill patients: A preliminary prospective clinical study. Eur J Intern Med. giugno 2020;76:130–1.
(23) Swamy V, Brainin P, Biering-Sørensen T, Platz E. Ability of non-physicians to perform and interpret lung ultrasound: A systematic review. Eur J Cardiovasc Nurs J Work Group Cardiovasc Nurs Eur Soc Cardiol. agosto 2019;18(6):474–83.
(24) Storti M, Musella L, Cianci V. L'utilizzo della tecnica ad ultrasuoni FAST eseguita dagli infermieri del Dipartimento di Emergenza: una revisione sistematica. Prof Inferm [Internet]. 2013 [citato 9 ottobre 2021];66(1). Disponibile su: http://www.profinf.net/pro3/index.php/IN/article/view/20
(25) O'Dochartaigh D, Douma M. Prehospital ultrasound of the abdomen and thorax changes trauma patient management: A systematic review. Injury. novembre 2015;46(11):2093–102.
(26) Ketelaars R, Beekers C, Van Geffen G-J, Scheffer GJ, Hoogerwerf N. Prehospital Echocardiography During Resuscitation Impacts Treatment in a Physician-Staffed Helicopter Emergency Medical Service: an Observational Study. Prehospital Emerg Care Off J Natl Assoc EMS Physicians Natl Assoc State EMS Dir. agosto 2018;22(4):406–13.
(27) Javaudin F, Pes P, Montassier E, Legrand A, Ordureau A, Volteau C, et al. Early point-of-care focused echocardiographic asystole as a predictive factor for absence of return of spontaneous circulatory in out-of-hospital cardiac arrests: a study protocol for a prospective, multicentre observational study. BMJ Open. 30 agosto 2019;9(8):e027448.
(28) Lyon M, Walton P, Bhalla V, Shiver SA. Ultrasound detection of the sliding lung sign by prehospital critical care providers. Am J Emerg Med. marzo 2012;30(3):485–8.
(29) Press GM, Miller SK, Hassan IA, Blankenship R, del Junco D, Camp E, et al. Evaluation of a training curriculum for prehospital trauma ultrasound. J Emerg Med. dicembre 2013;45(6):856–64.
(30) 36th International Symposium on Intensive Care and Emergency Medicine : Brussels, Belgium. 15-18 March 2016 - PubMed [Internet]. [citato 9 ottobre 2021]. Disponibile su: https://pubmed.ncbi.nlm.nih.gov/27885969/
(31) Focused Assessment Sonography for Trauma (FAST) Training: A Systematic Review | SpringerLink [Internet]. [citato 9 ottobre 2021]. Disponibile su: https://link.springer.com/article/10.1007/s00268-013-2408-8
(32) Simple, Almost Anywhere, With Almost Anyone: Remote Low-Cost... : Journal of Trauma and Acute Care Surgery [Internet]. [citato 9 ottobre 2021]. Disponibile su: https://journals.lww.com/jtrauma/Abstract/2011/12000/Simple,_Almost_Anywhere,_With_Almost_Anyone_.9.aspx
(33) Cover M, Tafoya C, Long B, Cranford J, Burkhardt J, Huang R, et al. Creation of a Flight Nurse Critical Care Ultrasound Program. Air Med J. agosto 2019;38(4):266–72.
(34) Mason R, Latimer A, Vrablik M, Utarnachitt R. Teaching Flight Nurses Ultrasonographic Evaluation of Esophageal Intubation and Pneumothorax. Air Med J. giugno 2019;38(3):195–7.
(35) Ronaldson J, Moultrie CEJ, Corfield AR, McElhinney E. Can non-physician advanced retrieval practitioners (ARP) acquire and interpret diagnostic views of the lungs with sufficient quality to aid in the diagnosis of pneumothorax in the pre-hospital and retrieval environment? Scand J Trauma Resusc Emerg Med. 16 ottobre 2020;28(1):102.
(36) Prehospital Ultrasound - ScienceDirect [Internet]. [citato 11 ottobre 2021]. Disponibile su: https://www.sciencedirect.com/science/article/pii/S0929644114000885
(37) Lin T, Gifford W, Lan Y, Qin X, Liu X, Wang J, et al. Diagnostic accuracy of ultrasonography for detecting nasogastric tube (NGT) placement in adults: A systematic review and meta analysis. Int J Nurs Stud. giugno 2017;71:80–8.
(38) Mercer CB, Ball M, Cash RE, Rivard MK, Chrzan K, Panchal AR. Ultrasound Use in the Prehospital Setting for Trauma: A Systematic Review. Prehosp Emerg Care. 4 luglio 2021;25(4):566–82.
(39) El Sayed MJ, Zaghrini E. Prehospital emergency ultrasound: a review of current clinical applications, challenges, and future implications. Emerg Med Int. 2013;2013:531674. doi: 10.1155/2013/531674. Epub 2013 Sep 19. PMID: 24171113; PMCID: PMC3792527.
(40) Brown C, Irfan W, Schoen JE, Marr AB, Stuke LE, Cavalea AC, Mosier WW, Rogers CL, Greiffenstein PP, Moore MM, Hunt JP. Predictors of Inappropriate Helicopter Transport. Am Surg. 2021 Feb;87(2):248-252.
(41) Lichtenstein D, van Hooland S, Elbers P, Malbrain ML. Ten good reasons to practice ultrasound in critical care. Anaesthesiol Intensive Ther. 2014 Nov-Dec;46(5):323-35.