Articles
The complex issue of medication management in older persons: a challenge for nurses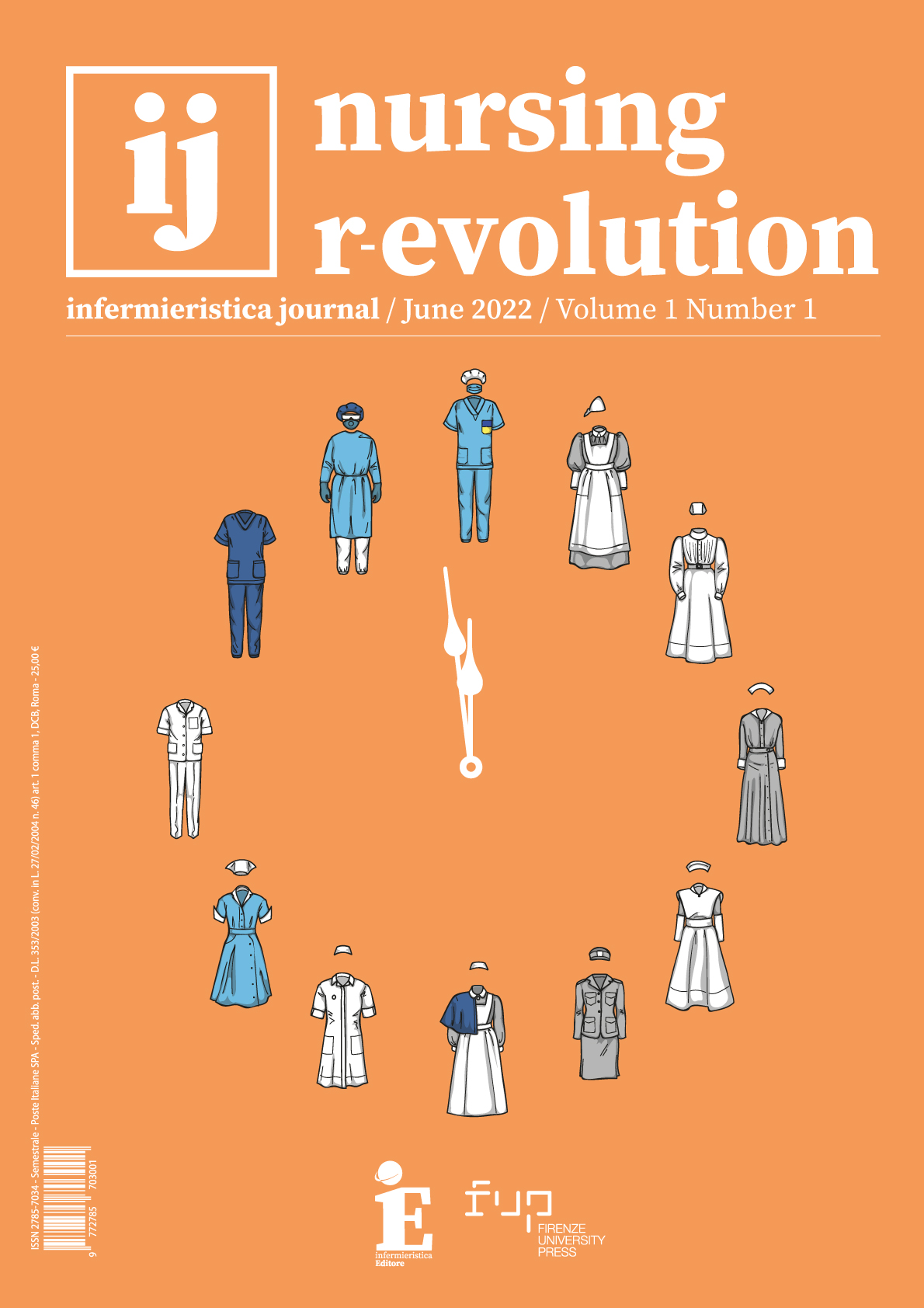 Published 2022-06-30
Keywords
Abstract
With increasing life expectancy, the share of older persons with coexisting multiple chronic degenerative diseases (comorbidity / multimorbidity) is expanding. These conditions require the use of multiple drugs, leading to polypharmacy, which plays a central role in making the therapeutic approach to the elderly particularly complex, together with age-related changes in pharmacokinetics and pharmacodynamics.
Physicians and nurses both are challenged by polypharmacy and by the other drug-related issues involving older patients, in all care settings. In particular, nurses should be aware of the main issues of pharmacotherapy in older persons, because they are often the frontline for older patients care, especially in nursing homes.
This review addresses the main issues related to pharmacotherapy in late life, such as pharmacokinetics and pharmacodynamics changes, limitations of evidence-based medicine, polypharmacy, drug interactions, adverse drug reactions, and lack of adherence. Focus will be on how these problems may impact on nursing, and on what nurses should know and do to improve drug treatment of older patients.
In the last decade, the role and responsibilities of nurses in the management of drug therapy have significantly changed in most countries. There is consensus in educational programs and legislation that the preparation and administration of medications are essential aspects of nursing practice. These are considered as collaborative tasks with physicians and not purely mechanistic tasks. The nurse must intervene in the event of a perceived error, and he/she must report doubts about congruity or relevance of the therapy.
Although nursing students gain knowledge and develop skills on drug therapy during their education, these are often perceived as insufficient. The need for post-graduation continuing education should be also emphasized. Thus, graduate and post-graduate educational programs should be developed, in order to offer adequate answers to the increasing and challenging share of older patients seen in clinical practice.
References
? Bäckström M, Ekman E, Mjörndal T. Adverse drug reaction reporting by nurses in Sweden. Eur J Clin Pharmacol. 2007 Jun;63(6):613-8.
? By the 2019 American Geriatrics Society Beers Criteria® Update Expert Panel. American Geriatrics Society 2019 Updated AGS Beers Criteria® for Potentially Inappropriate Medication Use in Older Adults. J Am Geriatr Soc. 2019 Apr;67(4):674-694.
? Carbonin P, Pahor M, Bernabei R, Sgadari A. Is age an independent risk factor of adverse drug reactions in hospitalized medical patients?. J Am Geriatr Soc. 1991 Nov;39(11):1093-9.
? Cogdill KW. Information needs and information seeking in primary care: a study of nurse practitioners. J Med Libr Assoc. 2003 Apr;91(2):203-15.
? Commission services (Directorate-General for Economic and Financial Affairs), Economic Policy Committee (Ageing Working Group). Joint Report on Health Care and Long-Term Care Systems & Fiscal Sustainability. Institutional Papers 37. October 2016. 244; 484pp
? Corsonello A, Pedone C, Incalzi RA. Age-related pharmacokinetic and pharmacodynamic changes and related risk of adverse drug reactions. Curr Med Chem. 2010;17(6):571-84.
? Di Bari M, Virgillo A, Matteuzzi D, Inzitari M, Mazzaglia G, Pozzi C, Geppetti P, Masotti G, Marchionni N, Pini R. Predictive validity of measures of comorbidity in older community dwellers: the Insufficienza Cardiaca negli Anziani Residenti a Dicomano Study. J Am Geriatr Soc. 2006 Feb;54(2):210-6.
? Di Bari M, Balzi D. Comorbidity and Multimorbidity, in Cardiac Management in the Frail Elderly Patient and the Oldest Old, Ungar A, Marchionni N. Springer, 2017:14-15.
? DiMatteo MR, Lepper HS, Croghan TW. Depression is a risk factor for noncompliance with medical treatment: meta-analysis of the effects of anxiety and depression on patient adherence. Arch Intern Med. 2000 Jul 24;160(14):2101-7.
? Dilles T, Vander Stichele R, Van Rompaey B, Van Bortel L, Elseviers M. Nurses' practices in pharmacotherapy and their association with educational level. J Adv Nurs. 2010 May;66(5):1072-9.
? Dilles T, Van Rompaey B, Van Bogaert P, Elseviers M. Resident and nurse reports of potential adverse drug reactions. European Journal of Clinical Pharmacology. 2015;71(6):741-749.
? Evans JG. Evidence-based and evidence-biased medicine. Age Ageing. 1995 Nov;24(6):461-3.
? Gabauer J. CE: Mitigating the Dangers of Polypharmacy in Community-Dwelling Older Adults. Am J Nurs. 2020 Feb;120(2):36-42.
? Garasto S, Fusco S, Corica F, Rosignuolo M, Marino A, Montesanto A, De Rango F, Maggio M, Mari V, Corsonello A, Lattanzio F. Estimating glomerular filtration rate in older people. Biomed Res Int. 2014;2014:916542.
? Ghamari Zare Z, Adib-Hajbaghery M. Performance of Clinical Nurse Educators in Teaching Pharmacology and Medication Management: Nursing Students' Perceptions. Nurs Midwifery Stud. 2016 Feb 20;5(1):e29913.
? Gurwitz JH, Field TS, Avorn J, McCormick D, Jain S, Eckler M, Benser M, Edmondson AC, Bates DW. Incidence and preventability of adverse drug events in nursing homes. Am J Med. 2000 Aug 1;109(2):87-94.
? Hill-Taylor B, Walsh KA, Stewart S, Hayden J, Byrne S, Sketris IS. Effectiveness of the STOPP/START (Screening Tool of Older Persons' potentially inappropriate Prescriptions/Screening Tool to Alert doctors to the Right Treatment) criteria: systematic review and meta-analysis of randomized controlled studies. J Clin Pharm Ther. 2016 Apr;41(2):158-69.
? Hoskins BL. Safe prescribing for the elderly. Nurse Pract. 2011 Dec 16;36(12):47-52.
? Jerez-Roig J, Medeiros LF, Silva VA, Bezerra CL, Cavalcante LA, Piuvezam G, Souza DL. Prevalence of self-medication and associated factors in an elderly population: a systematic review. Drugs Aging. 2014 Dec;31(12):883-96.
? Jerez-Roig J, Medeiros LF, SilvMasnoon N, Shakib S, Kalisch-Ellett L, Caughey GE. What is polypharmacy? A systematic review of definitions. BMC Geriatr. 2017 Oct 10;17(1):230.
? Johnell K, Klarin I. The relationship between number of drugs and potential drug-drug interactions in the elderly: a study of over 600,000 elderly patients from the Swedish Prescribed Drug Register. Drug Saf. 2007;30(10):911-8.
? Kazaoka T, Ohtsuka K, Ueno K, Mori M. Why nurses make medication errors: a simulation study. Nurse Educ Today. 2007 May;27(4):312-7.
? Lapi F, Pozzi C, Mazzaglia G, Ungar A, Fumagalli S, Marchionni N, Geppetti P, Mugelli A, Di Bari M. Epidemiology of suboptimal prescribing in older, community dwellers: a two-wave, population-based survey in Dicomano, Italy. Drugs Aging. 2009;26(12):1029-38.
? Lauretani F, Longobucco Y, Ferrari Pellegrini F, De Iorio AM, Fazio C, Federici R, Gallini E, La Porta U, Ravazzoni G, Roberti MF, Salvi M, Zucchini I, Pelà G, Maggio M. Comprehensive Model for Physical and Cognitive Frailty: Current Organization and Unmet Needs. Front Psychol. 2020 Nov 26;11:569629.
? Lim LM, Chiu LH, Dohrmann J, Tan KL. Registered nurses' medication management of the elderly in aged care facilities. Int Nurs Rev. 2010 Mar;57(1):98-106.
? Mardani A, Griffiths P, Vaismoradi M. The Role of the Nurse in the Management of Medicines During Transitional Care: A Systematic Review. J Multidiscip Healthc. 2020 Oct 30;13:1347-1361.
? Mecca MC, Thomas JM, Niehoff KM, Hyson A, Jeffery SM, Sellinger J, Mecca AP, Van Ness PH, Fried TR, Brienza R. Assessing an Interprofessional Polypharmacy and Deprescribing Educational Intervention for Primary Care Post-graduate Trainees: a Quantitative and Qualitative Evaluation. J Gen Intern Med. 2019 Jul;34(7):1220-1227.
? Midão L, Giardini A, Menditto E, Kardas P, Costa E. Polypharmacy prevalence among older adults based on the survey of health, ageing and retirement in Europe. Arch Gerontol Geriatr. 2018 Sep-Oct;78:213-220.
? Nobili A, Garattini S, Mannucci PM. Multiple diseases and polypharmacy in the elderly: challenges for the internist of the third millennium. J Comorb. 2011 Dec 27;1:28-44.
? Riker GI, Setter SM. Polypharmacy in older adults at home: what it is and what to do about it--implications for home healthcare and hospice. Home Healthc Nurse. 2012 Sep;30(8):474-85; quiz 486-7.
? Sander M, Oxlund B, Jespersen A, Krasnik A, Mortensen EL, Westendorp RG, Rasmussen LJ. The challenges of human population ageing. Age Ageing. 2015 Mar;44(2):185-7..
? Spinewine A, Schmader KE, Barber N, Hughes C, Lapane KL, Swine C, Hanlon JT. Appropriate prescribing in elderly people: how well can it be measured and optimised? Lancet. 2007 Jul 14;370(9582):173-184.
? Verloo H, Chiolero A, Kiszio B, Kampel T, Santschi V. Nurse interventions to improve medication adherence among discharged older adults: a systematic review. Age Ageing. 2017 Sep 1;46(5):747-754.
? WHO. An overarching health indicator for the post-2015 development agenda. 11-12 Dec 2014.
? Yap AF, Thirumoorthy T, Kwan YH. Systematic review of the barriers affecting medication adherence in older adults. Geriatr Gerontol Int. 2016 Oct;16(10):1093-1101.