Articles
Is telemedicine a golden opportunity or a dangerous roundabout for chronic rheumatic diseases? A narrative review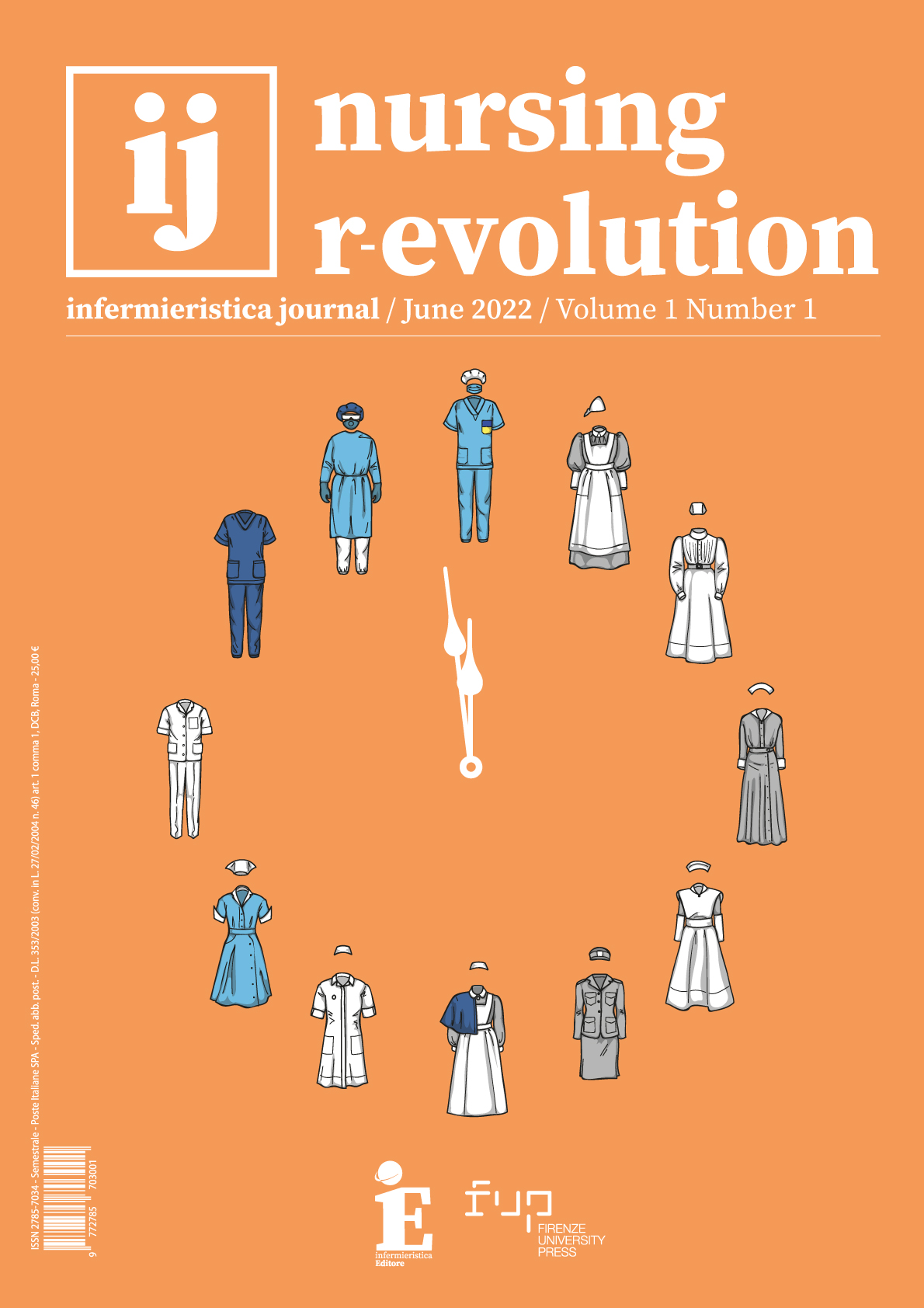 Published 2022-06-18
Keywords
Abstract
Introduction: Telemedicine (TM) reported a great increase from 50% to 150% in health care to RMDs patients during the COVID-19 period, but conflicting opinions in the literature are still present.
Aim: to investigate the results of literature on TM in terms of feasibility (patients' satisfaction, accessibility, clinical outcomes and barriers), discussing its integration for the future in a nursing perspective during and after COVID-19 period.
Methods: the team that conducted the narrative review was composed by two rheumatology and research nurses (MRM, KEA) and a rheumatologist (MMC), who discussed the relevance of the research question and agreed on the search strategy. Pubmed and Google Scholar databases were searched. The inclusion criteria were: original and quantitative research papers in English with available abstract/full text, on adult patients with RMDs in accordance with the American College of Rheumatology (ACR) and/or European Alliance of Associations of Rheumatology (EULAR) classification criteria, exposed to any kind of technologies during and after COVID19 period, investigating any kind of patient/clinical reported outcomes.
Results: TM could be considered as an integration to standard clinical care in Rheumatology, especially for patients with a stable or low disease activity and rheumatic diagnosis. The choice of the candidates and the assessment of their E-health literacy level are necessary prior including them in TM programs. In addition, healthcare professionals need to be trained in this new modality of providing care.
Conclusion: hybrid models of telehealthcare might be a balanced solution, improving efficiency of the consultation, continuity of care and providing a patient-centred approach.
References
Ziade et al. (2020) The impact of COVID-19 pandemic on rheumatology practice: a cross-sectional multinational study, Clinical Rheumatology https://doi.org/10.1007/s10067-020-05428-2
Nelson AJ et al. (2021) A systematic review exploring pre-COVID-19 telehealthcare models used in the management of patients with rheumatological disease, Rheumatology Advances in Practice 2021;00:1–14 https://doi.org/10.1093/rap/rkab073
Koonin LM, Hoots B, Tsang CA, et al. (2020) Trends in the Use of Telehealth During the Emergence of the COVID-19 Pandemic —United States, January–March 2020. MMWR Morb Mortal Wkly Rep. 2020(69):1595–1599.
El Aoufy K, Melis MR, Bellando Randone S et al. (2021) The positive side of the coin: Sars Cov 2 pandemic has taught us how much Telemedicine is useful as standard of care procedure in real life, Clinical Rheumatology https://doi.org/10.1007/s10067-021-05975-2
Mehrotra A, Ray K, Brockmeyer DM et al. (2020) Rapidly Converting to "Virtual Practices": Outpatient Care in the Era of Covid-19. NEJM Catal 1(2):1–5
Reeves JJ, Hollandsworth HM, Torriani FJ et al. (2020) Rapid response to COVID-19: Health informatics support for outbreak management in an academic health system. J Am Med Inform Assoc 27(6):853–859
Wei Tang, Leila Khalili, Anca Askanase (2021) Telerheumatology: A Narrative Review. Rheumatology and Immunology research. DOI: 10.2478/rir-2021-0020 • 2(3) • 2021 • 139–145
Devadula S, Langbecker D, Vecchio P et al. (2020) Tele-Rheumatology to Regional Hospital Outpatient Clinics: Patient Perspectives on a New Model of Care. Telemed J E Health. 2020;26(7):912–919.
Bos WH, van Tubergen A, Vonkeman HE. (2021) Telemedicine for patients with rheumatic and musculoskeletal diseases during the COVID-19 pandemic; a positive experience in the Netherlands. Rheumatol Int. 2021 Mar;41(3):565-573. doi: 10.1007/s00296-020-04771-6. Epub 2021 Jan 15. PMID: 33449162; PMCID: PMC7809638.
Mehta B, Jannat-Khah D, Fontana MA et al. (2020) Impact of COVID-19 on vulnerable patients with rheumatic disease: results of a worldwide survey. RMD Open. 2020 Oct;6(3):e001378. doi: 10.1136/rmdopen-2020-001378. PMID: 33011680; PMCID: PMC7722380.
Roberts ET, Mehrotra A. (2020) Assessment of Disparities in Digital Access Among Medicare Beneficiaries and Implications for Telemedicine. Jama Intern Med. 2020;180(10):1386–1389.
Shenoy P, Ahmed S, Paul A et al. (2020) Switching to Teleconsultation for Rheumatology in the Wake of the COVID-19 Pandemic: Feasibility and Patient Response in India. Clin Rheumatol. 2020;39(9):2757–2762.
Foti R, Amato G, Dal Bosco Y et al. (2022) Telemedicine in the Management of Patients with Rheumatic Disease during COVID-19 Pandemic: Incidence of Psychiatric Disorders and Fibromyalgia in Patients with Rheumatoid Arthritis and Psoriatic Arthritis. Int J Environ Res Public Health. 2022 Mar 8;19(6):3161. doi: 10.3390/ijerph19063161. PMID: 35328849; PMCID: PMC8956021.
Richter JG, Chehab G, Schwartz C et al. (2021) The PICASO cloud platform for improved holistic care in rheumatoid arthritis treatment-experiences of patients and clinicians. Arthritis Res Ther. 2021 May 27;23(1):151. doi: 10.1186/s13075-021-02526-7. PMID: 34044850; PMCID: PMC8157758.
Ferucci ED, Day GM, Choromanski TL, Freeman SL. (2022) Outcomes and Quality of Care in Rheumatoid Arthritis With or Without Video Telemedicine Follow-Up Visits. Arthritis Care Res (Hoboken). 2022 Mar;74(3):484-492. doi: 10.1002/acr.24485. Epub 2022 Jan 17. PMID: 33053261.
Sandhu A, Agarwal A, Kaur P et al. (2021) Evaluation of Tele-rheumatology during the COVID-19 Pandemic in Asian Population: A Pilot Study. Int J Telemed Appl. 2021 Sep 0;2021:5558826.
Opinc A. Lukasik Z., Makowska J. (2020) The attitude of Polish rheumatology patients towards telemedicine in the age of the COVID-19 pandemic. Reumatologia. 58. 134-141. 10.5114/reum.2020.96665.
Danila M.I., Gavigan K., Rivera, E. et al. (2022) Patient Perceptions and Preferences Regarding Telemedicine for Autoimmune Rheumatic Diseases Care During the COVID-19 Pandemic. Arthritis Care Res, 74: 1049-1057.
Kavadichanda C, Shah S, Daber A et al. (2021) Tele-rheumatology for overcoming socioeconomic barriers to healthcare in resource constrained settings: lessons from COVID-19 pandemic. Rheumatology (Oxford). 2021 Jul 1;60(7):3369-3379.
Sloan M, Lever E, Harwood R et al. (2022) Telemedicine in rheumatology: a mixed methods study exploring acceptability, preferences and experiences among patients and clinicians. Rheumatology (Oxford). 2022 May 30;61(6):2262-2274. doi: 10.1093/rheumatology/keab796. PMID: 34698822; PMCID: PMC8689882.
Bennell KL, Lawford BJ, Keating C et al. (2022) Comparing Video-Based, Telehealth-Delivered Exercise and Weight Loss Programs With Online Education on Outcomes of Knee Osteoarthritis : A Randomized Trial. Ann Intern Med. 2022 Feb;175(2):198-209. doi: 10.7326/M21-2388. Epub 2021 Nov 30. PMID: 34843383.
So H, Chow E, Cheng IT et al. (2022) Use of telemedicine for follow-up of lupus nephritis in the COVID-19 outbreak: The 6-month results of a randomized controlled trial. Lupus. 2022 Apr;31(4):488-494. doi: 10.1177/09612033221084515. Epub 2022 Mar 7. PMID: 35254169; PMCID: PMC8902321.
Rafiq M.T., Abdul Hamid M.S., Hafiz E. (2021) The effect of rehabilitation protocol using mobile health in overweight and obese patients with knee osteoarthritis: a clinical trial. Adv Rheumatol 61, 63 (2021). https://doi.org/10.1186/s42358-021-00221-4
Howren A., Aviña-Zubieta J.A., Rebi? N. et al. (2020) Virtual rheumatology appointments during the COVID-19 pandemic: an international survey of perspectives of patients with rheumatic diseases. Clin Rheumatol 39, 3191–3193 (2020). https://doi.org/10.1007/s10067-020-05338-3
Latifi R, Doarn CR. Perspective on COVID-19: finally, telemedicine at center stage. Telemed J E Health. 2020;26:1106–9. doi: 10.1089/tmj.2020.0132.
Italian Ministry of Health. National guidelines on Telemedicine. 2012. [Last accessed on 22 Dec 2021]. Available from: http://www.salute.gov.it/portale/temi/p2_6.jsp?lingua=italiano&id=2515&area=eHealth&menu=vuoto&tab=2
NITI Aayog. Telemedicine Practice Guidelines Enabling Registered Medical Practitioners to Provide Healthcare Using Telemedicine. 2020. https://www.mohfw.gov.in/pdf/Telemedicine.pdf. Accessed 20 April 2020.
Solomon DH, Rudin RS. Digital Health Technologies: Oppor¬tunities and Challenges in Rheumatology. Nat Rev Rheumatol. 2020;16(9):525–535.
Costa L, Tasso M, Scotti N, Mostacciuolo E, Girolimetto N, Foglia F, et al. Telerheumatology in COVID-19 era: a study from a psoriatic arthritis cohort. (2020) Ann Rheum Dis. https ://doi. org/10.1136/annrh eumdi s-2020-21780 6
Morales-Torres J, Aceves-Ávila FJ (2020) Rheumatologists in the COVID-19 era: will there be a new role for the rheumatologist in the care of rheumatic patients? Clin Rheumatol 39(11):3177–3183