Evaluation of the cytotoxic and genotoxic potential of some heavy metals by use of Allium test
Keywords:
genotoxicity, chromosomal aberrations, lead, mitotic index, nickel
Abstract
The present study aimed to evaluate the cytogenetic effects induced by heavy metals nickel (Ni) and lead (Pb) to crop plants, using the Allium sativum (garlic) as a test plant. For this purpose, were used solutions of nickel nitrate - Ni(NO3)2 - and lead nitrate - Pb(NO3)2 - at concentrations of 50, 150 and 450 ppm for 72 hours, along with an untreated control variant immersed in plain water. The biological material was immersed from the beginning in the tested solutions. The results obtained showed a strong inhibitory effect of these heavy metals on the process of rhizogenesis, as well as a significant mitodepresive effect in the meristematic cells, both phenomena being correlated with increasing concentration of the tested solutions. At the same time, several types of chromosomal aberrations (c-mitosis, vagrants, star-anaphase, star-telophase, fragments, clumping, stickiness, bridges) have been recorded in all treatment variants. The presence of these chromosomal aberrations in all treatment variants indicates the aneugenic effects of nickel nitrate and lead nitrate in the meristematic cells of A. sativum. The results suggest the ecotoxicity potential of nickel and lead on plants even at low concentrations and confirm the suitability of A. sativum as a test plant for assessing the cytotoxicity and genotoxicity of heavy metals to plants.
Downloads
Download data is not yet available.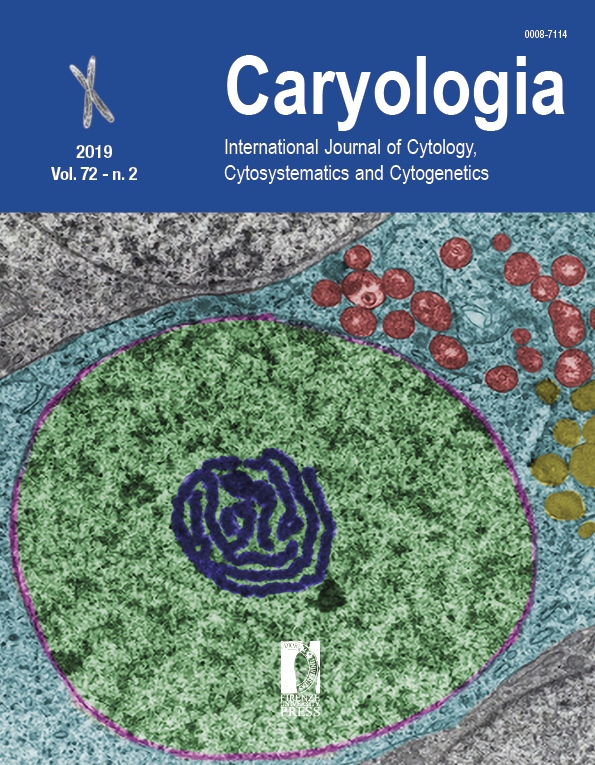 Downloads
How to Cite
Sarac, I., Bonciu, E., Butnariu, M., Petrescu, I., & Madosa, E. (2019). Evaluation of the cytotoxic and genotoxic potential of some heavy metals by use of Allium test. Caryologia, 72(2), 37–43. https://doi.org/10.13128/cayologia-256
License
Copyright on any open access article in a journal published byCaryologia is retained by the author(s).
Authors grant Caryologia a license to publish the article and identify itself as the original publisher.
Authors also grant any third party the right to use the article freely as long as its integrity is maintained and its original authors, citation details and publisher are identified.
The Creative Commons Attribution License 4.0 formalizes these and other terms and conditions of publishing articles.
In accordance with our Open Data policy, the Creative Commons CC0 1.0 Public Domain Dedication waiver applies to all published data in Caryologia open access articles.