Study regarding the cytotoxic potential of cadmium and zinc in meristematic tissues of basil (Ocimum basilicum L.)
Irina Petrescu

Banat's University of Agricultural Science and Veterinary Medicine "Regele Mihai I al României" Timisoara, Romania

Ioan Sarac

Banat's University of Agricultural Science and Veterinary Medicine "Regele Mihai I al României" Timisoara, Romania

Elena Bonciu

University of Craiova, Faculty of Agronomy, Craiova, Romania

Emilian Madosa

Banat's University of Agricultural Science and Veterinary Medicine "Regele Mihai I al României" Timisoara, Romania

Catalin Aurelian Rosculete

University of Craiova, Faculty of Agronomy, Craiova, Romania

Monica Butnariu

Banat's University of Agricultural Science and Veterinary Medicine "Regele Mihai I al României" Timisoara, Romania
Keywords:
basil, cadmium, chromosomal aberrations, mitodepresive, zinc
Abstract
The cytogenetic study on the meristematic tissues of basil (Ocimum basilicum L.) aimed to evaluate some cytotoxic effects induced by two heavy metals (cadmium - Cd and zinc - Zn) applied in three different concentrations: 10, 50 and 100 ppm. Cytogenetic tests reveal a decrease of the mitotic index and the occurrence of various chromosomal aberrations following heavy metal treatments. The cell division was significantly affected, especially in the case of Cd treatment, which showed the highest degree of toxicity in all variants compared to control variant. Instead, Zn has a lower degree of toxicity but only at concentrations of 50 ppm and 100 ppm. Types of chromosomal aberrations were relatively varied, being randomly distributed and concentration dependent, for both Cd and Zn. Were observed cells with large nucleus and disorganized-looking; interphases with pyknotic nucleus; cells with laggard chromosomes, pyknotic and sticky chromosomes, as well as cells with telophase bridge. The results reveal that Cd (at all tested concentrations) and Zn in concentrations higher than 10 ppm exhibit significant cytotoxic potential to Ocimum basilicum L. as a result of the effects reported in cell divisions of the meristematic tissues. We can also appreciate that the Ocimum basilicum L. species could be used as a test plant to determine the degree of soil pollution with heavy metals.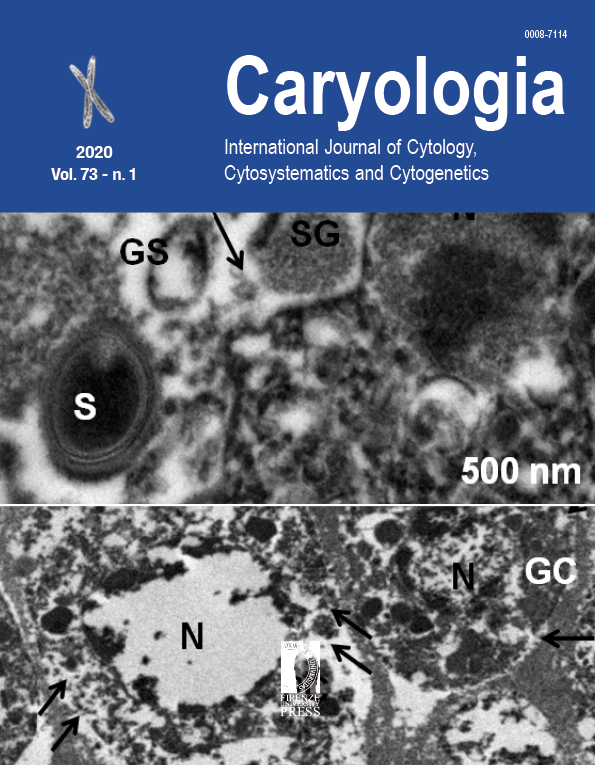 How to Cite
Petrescu, I., Sarac, I., Bonciu, E., Madosa, E., Rosculete, C. A., & Butnariu, M. (2020). Study regarding the cytotoxic potential of cadmium and zinc in meristematic tissues of basil (Ocimum basilicum L.). Caryologia. International Journal of Cytology, Cytosystematics and Cytogenetics, 73(1). https://doi.org/10.13128/caryologia-138
Copyright (c) 2020 Catalin Aurelian Rosculete, Irina Petrescu, Ioan Sarac, Elena Bonciu, Emilian Madosa, Monica Butnariu
This work is licensed under a Creative Commons Attribution 4.0 International License.
Copyright on any open access article in a journal published byCaryologia is retained by the author(s).
Authors grant Caryologia a license to publish the article and identify itself as the original publisher.
Authors also grant any third party the right to use the article freely as long as its integrity is maintained and its original authors, citation details and publisher are identified.
The Creative Commons Attribution License 4.0 formalizes these and other terms and conditions of publishing articles.
In accordance with our Open Data policy, the Creative Commons CC0 1.0 Public Domain Dedication waiver applies to all published data in Caryologia open access articles.