Articles
Intraoperative monitoring of the recurrent laryngeal nerve in thyroid gland surgery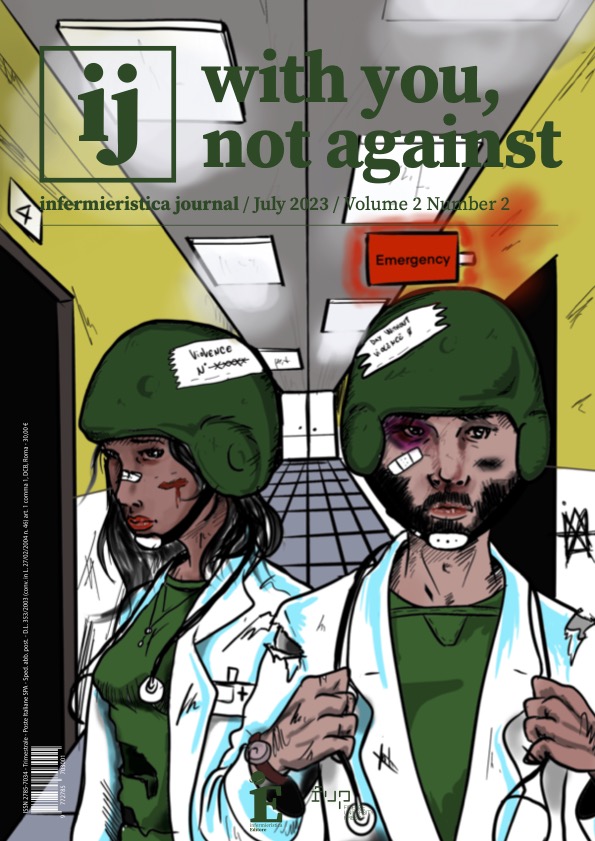 Published 2023-07-31
Keywords
Thyroid Surgery

,

Recurrent Laryngeal Nerves

,

Neuro-monitoring
Copyright (c) 2023 Niccolo' Fagni, Giacomo Gelati, Cristiana Veltro, Ferdinando Paternostro
This work is licensed under a Creative Commons Attribution 4.0 International License.
Abstract
In Thyroid surgery, the two novel approaches are the trans-axillary Robotic thyroidectomy and the trans-oral and sub-chin techniques.
During these surgical approaches is mandatory to recognise the Anatomy. The lower laryngeal nerves originate from the X cranial nerve (vagus nerve) and innervate all the intrinsic muscles of the larynx except for the cricothyroid muscles (which are innervated by the superior laryngeal nerve instead). The "recurring" name is due to the course in the opposite direction to the nerve of origin.
Neuro-monitoring of recurrent laryngeal nerves is the most important of the recent technological innovations. However it is of fundamental importance for the operator to remember that this method does not prevent recurrent nerve injury. On the other hand a two stage thyroidrctomy can avoid a tracheostomy thanks to neuro-monitoring.
References
Yalcin B, Poyrazoglu Y. Recurrent laryngeal nerve. Surg Radiol Anat. 2012 Aug;34(6):571. doi: 10.1007/s00276-012-0969-0. Epub 2012 Apr 5. PMID: 22476859.
Haller JM, Iwanik M, Shen FH. Clinically relevant anatomy of recurrent laryngeal nerve. Spine (Phila Pa 1976). 2012 Jan 15;37(2):97-100. doi: 10.1097/BRS.0b013e31821f3e86. PMID: 21540775.
Pei MW, Chen WB, Hu MR. Study progress of intraoperative neuro-monitoring of recurrent laryngeal nerve in thyroidectomy.
Zhonghua Er Bi Yan Hou Tou Jing Wai Ke Za Zhi. 2018 Jun 7;53(6):474-478. Chinese. doi: 10.3760/cma.j.issn.1673-0860.2018.06.021. PMID: 29902860.
Tewari A, Samy RN, Castle J, Frye TM, Habeych ME, Mohamed M. Intraoperative Neurophysiological Monitoring of the Laryngeal Nerves During Anterior Neck Surgery: A Review. Ann Otol Rhinol Laryngol. 2017 Jan;126(1):67-72. doi: 10.1177/0003489416675354. Epub 2016 Nov 1. PMID: 27803238.
Moroni E, Jonas J, Cavallaro A, Sapienza P, M C, Bahr R. Intraoperative neuro-monitoring of the recurrent laryngeal nerve. Experience of 1000 consecutive patients. G Chir. 2007 Jan-Feb;28(1-2):29-34. Italian. PMID: 17313730.
Liddy W, Wu CW, Dionigi G, Donatini G, Giles Senyurek Y, Kamani D, Iwata A, Wang B, Okose O, Cheung A, Saito Y, Casella C, Aygun N, Uludag M, Brauckhoff K, Carnaille B, Tunca F, Barczy?ski M, Kim HY, Favero E, Innaro N, Vamvakidis K, Serpell J, Romanchishen AF, Takami H, Chiang FY, Schneider R, Dralle H, Shin JJ, Abdelhamid Ahmed AH, Randolph GW. Varied Recurrent Laryngeal Nerve Course Is Associated with Increased Risk of Nerve Dysfunction During Thyroidectomy: Results of the Surgical Anatomy of the Recurrent Laryngeal Nerve in Thyroid Surgery Study, an International Multicenter Prospective Anatomic and Electrophysiologic Study of 1000 Monitored Nerves at Risk from the International Neural Monitoring Study Group. Thyroid. 2021 Nov;31(11):1730-1740. doi: 10.1089/thy.2021.0155. PMID: 34541890.