Effect of shading on photosynthesis of greenhouse hydroponic cucumber crops
Evangelini Kitta

University of Thessaly, Department of Vegetal Production and Rural Environment, Phytokou Street, 38444 Volos, Greece

Nikolaos Katsoulas

University of Thessaly, Department of Vegetal Production and Rural Environment, Phytokou Street, 38444 Volos, Greece
Keywords:
Photosynthesis, greenhouse, shading, hydroponic crops, cucumber
Abstract
In this work an attempt was made to investigate the effect of shading on photosynthesis rate, transpiration rate and stomatal conductance of a cucumber cultivation in a greenhouse. To this end, autumnal hydroponic cultivation of cucumbers was installed in three same arched greenhouses with lateral ventilation openings at the University of Thessaly experimental farm in Velestino, Greece. One of the greenhouses was used as a control (without shading), the other two were shaded using two different shading nets (shading intensity of 35% and 50%). In the hydroponic cucumber cultivation, a series of crop photosynthesis measurements were performed for two months on leaves of randomly selected plants per greenhouse under natural illumination and using artificial illumination conditions of 1000 μmol m-2 s-1 with the LCpro+ instrument. Statistical processing of the results showed that shading reduced photosynthesis of the cucumber leaf almost linearly. Furthermore, artificial illumination measurements allowed us to conclude that shaded plants do not acclimate to shade conditions and respond directly to lighting conditions which practically enhances the usefulness of periodic shading as a tool for improving the microclimate in greenhouses.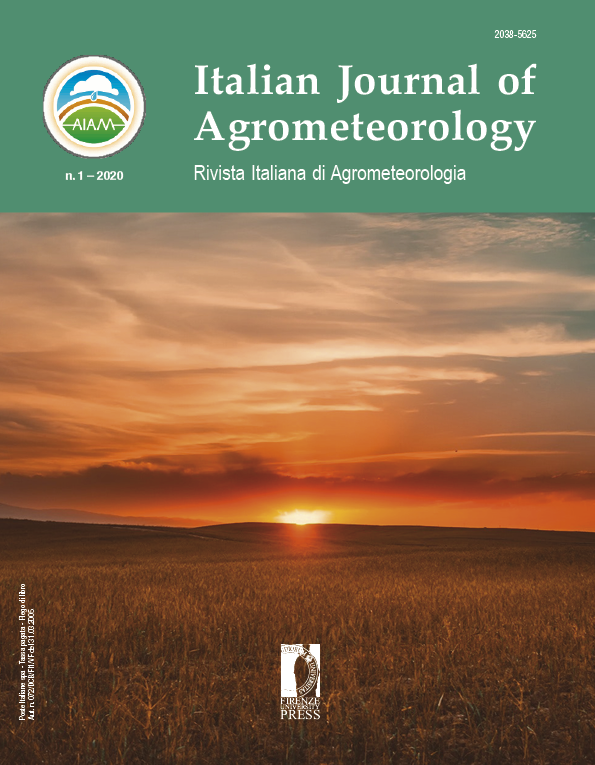 How to Cite
Kitta, E., & Katsoulas, N. (2020). Effect of shading on photosynthesis of greenhouse hydroponic cucumber crops. Italian Journal of Agrometeorology, (1), 41-48. https://doi.org/10.13128/ijam-871
Section
RESEARCH ARTICLES
Copyright (c) 2020 Evangelini Kitta, Nikolaos Katsoulas
This work is licensed under a Creative Commons Attribution 4.0 International License.
Authors retain the copyright and grant the journal right of first publication with the work simultaneously licensed under a Creative Commons Attribution 4.0 International Public License (CC-BY-4.0) that allows others to share the work with an acknowledgment of the work's authorship and initial publication in IJAm.
This work is licensed under a Creative Commons Attribution 4.0 International License