International Holocaust Remembrance Day 2020
2020-01-25
It's 75 years since the liberation of Auschwitz and the devastation of the Jewish communities and individuals throughout Europe in the horrors of the Holocaust.
As the years have passed, there are fewer left of the generation who suffered or witnessed the large-scale organisation of "the final solution" of the "Jewish problem", as well as Romanys or gays. It was  the biggest, most deliberate and systematic mass killing, or genocide ever to have taken place on this planet.
The scale is too big for us to imagine or comprehend. When we speak of one life being like an entire universe, words are inadequate to speak of the annihilation of six million people across the continent of Europe!
Yet in recent years, there have been those who say it never happened; and more numerous, those who don't know about it, or prefer to confine it to the history books. Polls tell us that in Britain many young people don't know what "Auschwitz" was, and even more people, adults included, don't know what the word "antisemitism" means. Tragically there are those who have so much hate that their frenzy knows no limits. They go on hating and killing even as I write.
I was born in Italy, in Florence, in 1935. I learned at an early age that we had to leave Italy, my lovely birthplace, my home, in haste and in fear, leaving loved ones behind. We were the lucky ones as I came to realise over the years.
Because I was spared, and have much evidence of the fate of members of my own family who died or were touched by these events, it is my continuing duty to bear witness as far and as long as I am able.
I can tell you about one family, my father's, a traditionally observant Jewish family, living in Lwow, in Galicia. My paternal grandfather, Bernard, was a timber merchant, supplying logs to the Government for railway sleepers and pit-props for mines. His wife had died young after an operation for bowel cancer in Vienna when their youngest child (Mischa) was only six, and the family pulled together, with some help from a much-loved Ukrainian nanny.
They were generally on good terms with their Christian neighbours but antisemitism was always there, in many forms, e.g. humiliation at school by some teachers, bullying by gangs and a "numerus clausus" in higher education. The older children sought a better future elsewhere: Munio (Moshe Natan) went to study Law in Vienna, Henio (Zvi) imbued with the Zionist dream, travelled overland through war-torn Europe to help build a Jewish homeland in the marshy, malaria-infested plains and arid wastes of Ottoman and later British Mandate Palestine, while Pnina (Pauline) married Symek (Simon) Neumann and joined his parents in their moderately successful clothing business in Paris.
Life in Lwow was getting harder. The timber business was in jeopardy and Bernard struggled on with two of his sons, in the family home in 3 Mikotaja Reja in Lwow. Meanwhile, Pnina's letters suggest she was living happily with Simon and his parents, until the German occupation, when life was becoming precarious for Jews, all over Europe. The couple decided to move south to Toulouse in Vichy France, where they thought they could keep a low profile, and indeed, Pnina's last postcard of 18th August 1942 suggests an enjoyable trip to Aix-les-Bains. But the following week, they were arrested and taken to Camp de Noe on the 26th August. On 1st September they were moved to Drancy, the collection camp near Paris. Everything happened quickly after that.
Here is the list taken from the Nazi archives, of those designated by the Gestapo to leave on Transport 28 bound for Auschwitz on September 4th. The paper is old, the writing smudged but Pauline Neumann nee Jolles of Lwow can be deciphered about halfway down.
And here is the French archivist's chilling analysis of the transportation.
As her name was not on the official list of those who arrived in Auschwitz on 6th September 1942, it seems likely that she was one of those who died en route. Those who survived the two-day journey in the cattle trucks and were (not surprisingly) unfit for work, were sent immediately to the gas chambers.
My grandfather Bernard, then aged 70, had written to Pnina in June to say they were well but were concerned about us. Later, we heard that he and Munio (41) and Mischa (21) had not moved to the Ghetto where most of Lwow's Jews had been herded ,but had been hidden by a neighbour in her attic. Another neighbour, we are told, gave them away to the SS. They were all brought out and shot in the street in which they lived. There was a rumour that Mischa was seen running eastwards towards the woods, and may have escaped, but further searches by the International Red Cross found no evidence of this, and no further trace of him. They closed the file on 11th March 2009 concluding that Bernard, Moshe and Mischa had vanished without trace.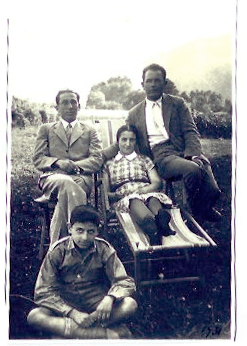 Pnina (Pauline) with friends and brother Mischa in foreground, date unknown.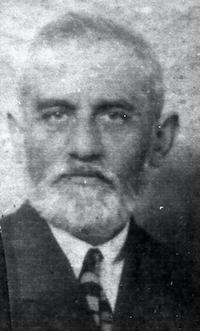 Grandfather Bernard Jolles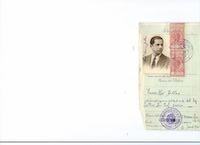 My father, Zvi (Henio) on card used as passport to travel to Britain October 1938 after Italy's Racial Laws which stripped him of his Italian nationality and rendered him stateless, dismissed from his post at Florence University.
These are fragments of one family's story.
It is one of many, personal testimonies, letters, records and books of the last days of the Jewish communities of Europe.
The theme for this year's Memorial Day in Britain is "Standing Together".
It is vital we all learn from the past, and relate it to the present, at a time when the world is in turmoil, and political and natural disasters  require us to collaborate if we and our planet are to survive.
Irene Jolles Bainbridge