Determination of genome size variation among varieties of Ilex cornuta (Aquifoliaceae) by fow cytometry
Keywords:
DNA content, Flow cytometry, Hybrids, Cultivars, Ilex cornuta, Genome size
Abstract
Ilex cornuta Lindl. & Paxton is a commercially important horticultural species worldwide, and extensive cultivation and hybridization have produced many varieties. Despite the considerable breeding, selection, widespread cultivation and domestication, which may have a significant role in the composition of genomes, there are no other previous reports of intraspecific genome size variation in the different cultivars or hybrids of this species. In the present work, genome size of 12 varieties of I. cornuta was assessed and analyzed through high-resolution flow cytometry (FCM). Nuclear DNA was analyzed using nuclei isolated from young leaves, which used propidium iodide (PI) staining, with rice (Oryza sativa cv. Nipponbare) as internal reference. As a result, statistically significant differences in genome size were detected among all diploid I. cornuta varieties considered. The estimated genome size (2C value) of I. cornuta varieties ranged from 1.47 to 1.80 pg, with 1.22-fold variation and an average size of 1.65 pg. The domestication and interspecific hybridization induced variation of genome size in I. cornuta, and the genome size of hybrids exhibited a wider range of variation compared with that of cultivars. In summary, flow cytometry is a useful tool to analyze the genome size of I. cornuta. The first report of the genome sizes of varieties of this species would provide useful data for further research on I. cornuta, and enrich the C value database of Ilex L. What's more, our findings could be the foundation in the future of I. cornuta genome sequencing and breeding programs.
Downloads
Download data is not yet available.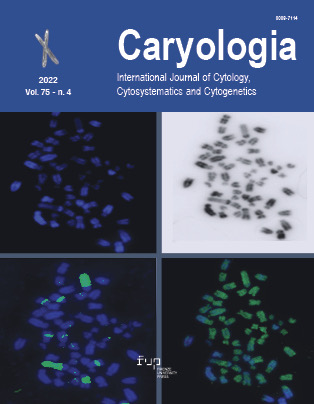 Downloads
How to Cite
Zhou, P., Li, J., Huang, J., Li, F., Zhang, Q., & Zhang, M. (2023). Determination of genome size variation among varieties of Ilex cornuta (Aquifoliaceae) by fow cytometry. Caryologia, 75(4). https://doi.org/10.36253/caryologia-1902
License
Copyright (c) 2022 Peng Zhou, Jiao Li, Jing Huang, Fei Li, Qiang Zhang, Min Zhang
This work is licensed under a Creative Commons Attribution 4.0 International License.
Copyright on any open access article in a journal published byCaryologia is retained by the author(s).
Authors grant Caryologia a license to publish the article and identify itself as the original publisher.
Authors also grant any third party the right to use the article freely as long as its integrity is maintained and its original authors, citation details and publisher are identified.
The Creative Commons Attribution License 4.0 formalizes these and other terms and conditions of publishing articles.
In accordance with our Open Data policy, the Creative Commons CC0 1.0 Public Domain Dedication waiver applies to all published data in Caryologia open access articles.