Il capitalismo nella Wertkritik contemporanea
Keywords:
capitalism, the critique of value, commodity, money, financial capital
Abstract
The critique of value has emerged in recent years as one of the most radical and ambitious critical theories of capitalism. It is based on a comprehensive reconstruction of the Marxian passage from commodity to capital. In this article, however, I show why it is questionable to think of the passage from the commodity relation to the capital relation without considering the centrality of the modern transformation of labour into labour-power. Linked to this, in the last part of the article, is an examination of the reading that the Wertkritiker offer of the contemporary process of financialization.
Downloads
Download data is not yet available.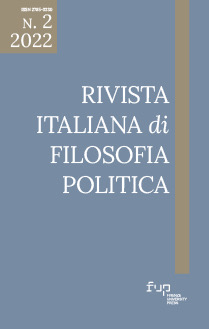 Downloads
How to Cite
Cesarale, G. (2022). Il capitalismo nella Wertkritik contemporanea. Rivista Italiana Di Filosofia Politica, (2), 39–61. https://doi.org/10.36253/rifp-1683
License
Copyright (c) 2022 Giorgio Cesarale
This work is licensed under a Creative Commons Attribution 4.0 International License.