Rethinking Capitalism, Stabilizing the Critique
Keywords:
Nancy Fraser, capitalism, crisis, domination, exploitation
Abstract
This paper offers a critique of Nancy Fraser's expanded conception of capitalism as an institutional social order. Fraser builds a social-theoretical basis for thinking about "non-economic" struggles over social reproduction, the degradation of nature, and state power as central to a progressive, anti-capitalist political agenda. Rather than only challenging capital at the point of production, as the classical Marxist tradition was wont to do, Fraser wants anti-capitalism without economic reductionism. Fraser's is also a crisis theory of capitalism, which generates a theory of social change as well as a normative critique. The main question is methodological and can be summed up as, "Is less perhaps more?" On this basis, it argues that stability may be a better starting point than crisis, which raises more fundamental normative problems with the system than the ones that Fraser captures.
Downloads
Download data is not yet available.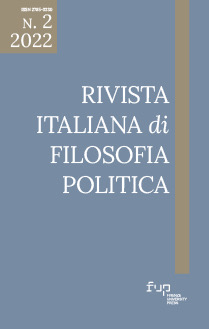 Downloads
How to Cite
Cicerchia, L. (2022). Rethinking Capitalism, Stabilizing the Critique. Rivista Italiana Di Filosofia Politica, (2), 63-81. https://doi.org/10.36253/rifp-1684
License
Copyright (c) 2022 Lillian Cicerchia
This work is licensed under a Creative Commons Attribution 4.0 International License.