Opinione, post-verità e democrazia
Keywords:
democracy, the common world, populism, opinion, post-truth
Abstract
In a context of freedom and pluralism, democracy thrives on the exchange of opinions. However, every common denominator in all social discourses is lost whenever the idea begins to make its way that opinions can ignore the most elementary data of reality and can be supported by "alternative truths" devoid of any factual confirmation. As Hannah Arendt pointed out, freedom of opinion expires as a mere illusion if objective information is not guaranteed and facts are no longer the basis of opinions. Factual truths make political discussion possible precisely because they remind human beings that there is a limit to discussion that cannot be overcome, one made up of evidence that cannot be disavowed or rejected. Even if the procedures of political persuasion do not lend themselves to any form of cognitive validation, this does not prevent Arendt from recognizing the need for a "truthful" orientation even with respect to what happens in political life.
Downloads
Download data is not yet available.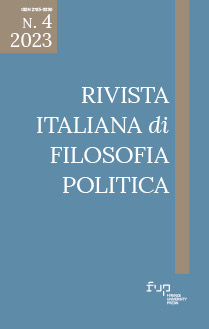 Downloads
How to Cite
Greblo, E. (2023). Opinione, post-verità e democrazia. Rivista Italiana Di Filosofia Politica, (4), 179–196. https://doi.org/10.36253/rifp-1959
License
Copyright (c) 2023 Edoardo Greblo
This work is licensed under a Creative Commons Attribution 4.0 International License.