IYPT 2019 Substantia Special Issues
2019-12-19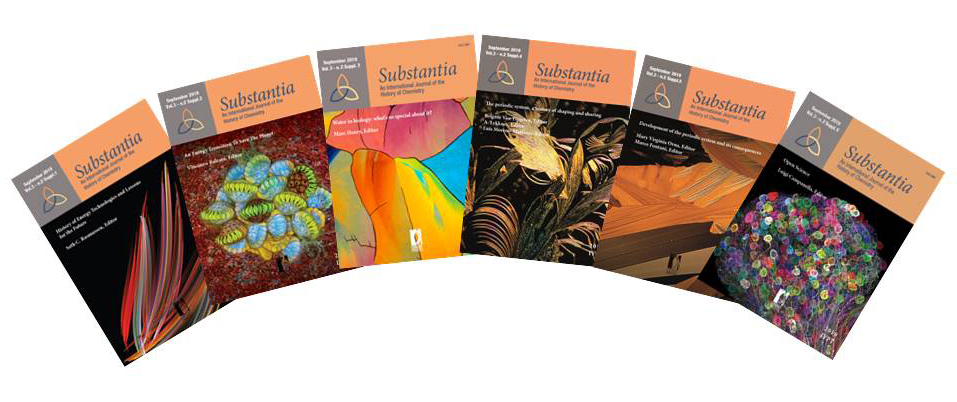 Substantia
proudly contributes to the celebration of 2019 as the
International Year of the Periodic Table
with the publication of six special issues, edited by eminent experts from our Scientific Committee:  
Seth C. Rasmussen, Department of Chemistry and Biochemistry, North Dakota State University
History of Energy Technologies and Lessons for the Future
Vincenzo Balzani, Department of Chemistry "G. Ciamician", University of Bologna
An Energy Transition To Save The Planet
Marc Henry, Chimie Moléculaire du Solide Institut Le Bel, Strasbourg
Water in biology: What is so special about it?
Brigitte Van Tiggelen, Science History Institute, Philadelphia; Annette Lykknes, Norwegian University of Science and Technology & Luis Moreno-Martinez, López Piñero Institute for Science Studies, University of Valencia
The periodic system, a history of shaping and sharing
Mary Virginia Orna, ChemSource, Inc., New Rochelle & Marco Fontani, Department of Chemistry "U. Schiff", University of Florence
Development of the periodic system and its consequences
Luigi Campanella, Department of Chemistry, "Sapienza" University of Rome
Open Science  
You can find all the articles in the special section "
IYPT 2019
" of our website, or at the following link:
https://riviste.fupress.net/index.php/subs/IYPT2019