Comparative cytogenetic analysis between species of Auchenipterus and Entomocorus (Siluriformes, Auchenipteridae)
Keywords:
Centromochlinae, equilocality, species-specific characters, Rabl, 5S rDNA
Abstract
According to Auchenipteridae initial morphological data, Auchenipterus and Entomocorus have been considered phylogenetically close, and cytogenetic analyses are limited only to Auchenipterus osteomystax. Herein, we provide the first cytogenetic results about Auchenipterus nuchalis from Araguaia River and Entomocorus radiosus from Paraguay River. These data were generated in order to contribute to the investigation of the Auchenipterus chromosomal diversity and to attempt to better understand the phylogenetic relationship of these Auchenipterinae genera, mainly due to the existence of incongruous characters between Entomocorus and Centromochlinae. The two species presented 2n=58 chromosomes and had different karyotype formulas. The heterochromatin distribution was primarily shown in terminal regions, along with interstitial and/or pericentromeric blocks in submetacentric/subtelocentric pairs in A. nuchalis and E. radiosus. Single and terminal AgNORs were confirmed by 18S rDNA for the analyzed species, differing from A. osteomystax (cited as A. nuchalis) from Upper Paraná River. The variation in the number of 5S rDNA between species and its equilocality in E. radiosus suggest that the dispersion of the gene associated with the amplification of heterochromatic regions in the interphase, possibly promoted by the Rabl model system. The differences found between the species of Auchenipterus can work as species-specific characters and assist in studies of these taxa, which historically have been wrongly identified as a single species with wide distribution throughout the Neotropical region, when they are actually different species. Furthermore, there are cytogenetic similarities between E. radiosus and members of Centromochlinae like pointed out by recent morphological and molecular analyses in the family.
Downloads
Download data is not yet available.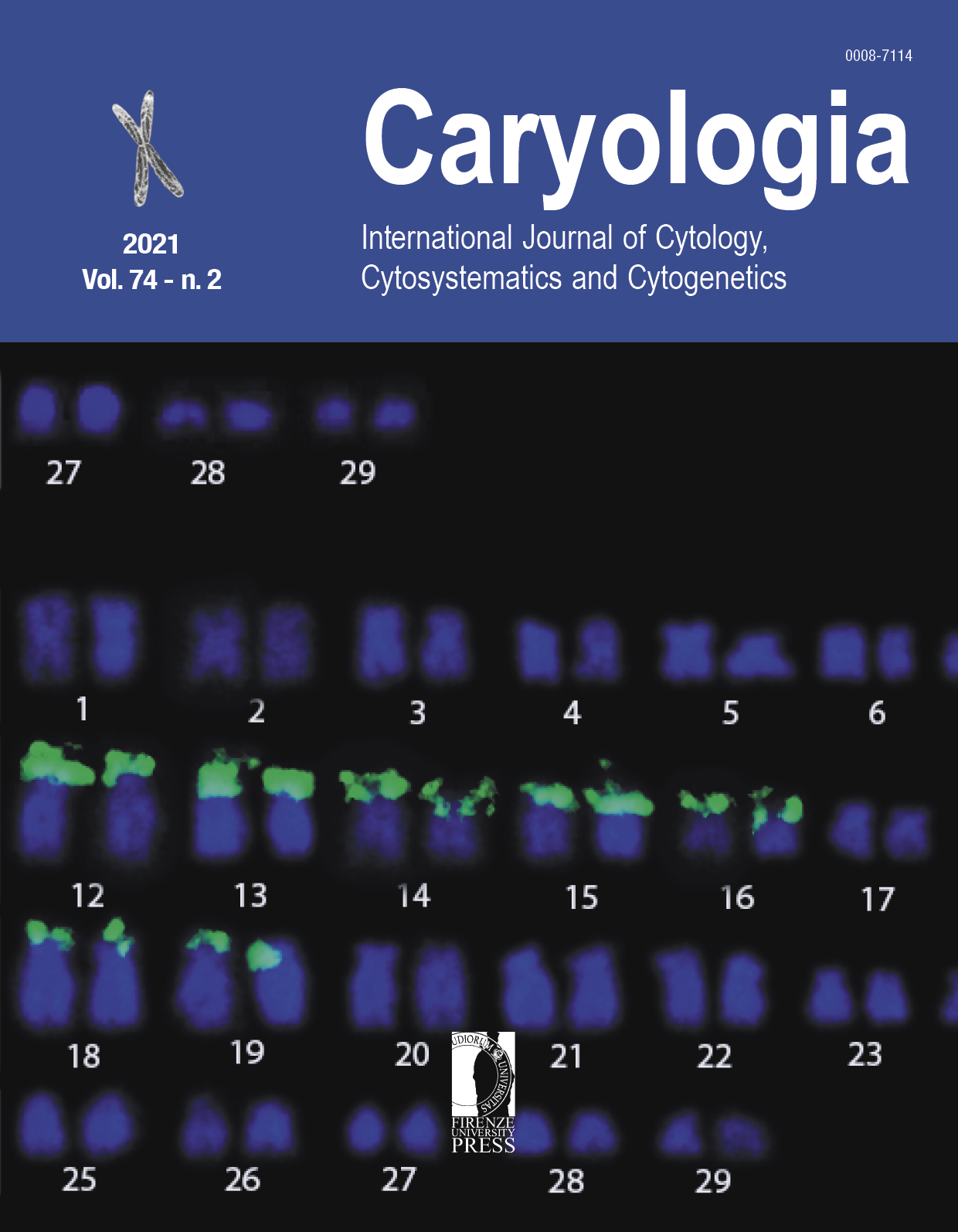 Downloads
How to Cite
de Souza Machado, A., Kowalski, S., Marcel Paiz, L. ., Pavan Margarido, V. ., Rodrigues Blanco, D. ., Cesar Venere, P. ., Mariotto, S. ., Centofante, L. ., Moreira-Filho, O. ., & Laridondo Lui, R. (2021). Comparative cytogenetic analysis between species of Auchenipterus and Entomocorus (Siluriformes, Auchenipteridae). Caryologia, 74(2), 89-101. https://doi.org/10.36253/caryologia-1058
License
Copyright (c) 2021 Amanda de Souza Machado, Samantha Kowalski, Leonardo Marcel Paiz, Vladimir Pavan Margarido, Daniel Rodrigues Blanco, Paulo Cesar Venere, Sandra Mariotto, Liano Centofante, Orlando Moreira-Filho, Roberto Laridondo Lui
This work is licensed under a Creative Commons Attribution 4.0 International License.
Copyright on any open access article in a journal published byCaryologia is retained by the author(s).
Authors grant Caryologia a license to publish the article and identify itself as the original publisher.
Authors also grant any third party the right to use the article freely as long as its integrity is maintained and its original authors, citation details and publisher are identified.
The Creative Commons Attribution License 4.0 formalizes these and other terms and conditions of publishing articles.
In accordance with our Open Data policy, the Creative Commons CC0 1.0 Public Domain Dedication waiver applies to all published data in Caryologia open access articles.