Random Amplified Polymorphic DNA profiling in detecting genetic variation in Malva L. species: edible and medicinal plants
Keywords:
population structure, gene flow, random amplified polymorphic DNA (RAPD), Malva species, network
Abstract
Malva L. (mallow) is the genus within the Malvaceae Juss. family, which includes twenty- five-forty. species and several hybrids. This genus contains herbaceous annual, biennial, and perennial species that are native to regions of Africa, Asia, and Europe. Malva species contain a lot of mucilage, malvin, flavonoids, terpenoids, polysaccharides, and vitamin. No detailed Random Amplified Polymorphic DNA (RAPD) studies were conducted to study Malva genetic diversity. Therefore, we collected and analyzed seven species from seven provinces of Iran regions. Overall, eighty-five plant specimens were collected. We showed significant differences in quantitative morphological characters in plant species. Malva verticillata L. depicted unbiased expected heterozygosity (UHe) in the range of 0.053. Shannon information was high (0.67) in Malva parviflora L. Malva vericillata showed the lowest value, 0.083. The observed number of alleles (Na) ranged from 1.16 to 2.33 in Malva vericillata and Malva parviflora. The effective number of alleles (Ne) was in the range of 1.078-1.922 for Malva vericillata and Malva parviflora.Gene flow (Nm) was relatively low (0.63) in Malva. The Mantel test showed correlation (r = 0.76, p=0.0001) between genetic and geographical distances. We reported high genetic diversity, which clearly shows the Malva species can adapt to changing environments since high genetic diversity is linked to species adaptability. Present results highlighted the utility of RAPD markers and morphometry methods to investigate genetic diversity in Malva species.Our aims were 1) to assess genetic diversity among Malva species 2) is there a correlation between species genetic and geographical distance? 3) Genetic structure of populations and taxa. 
Downloads
Download data is not yet available.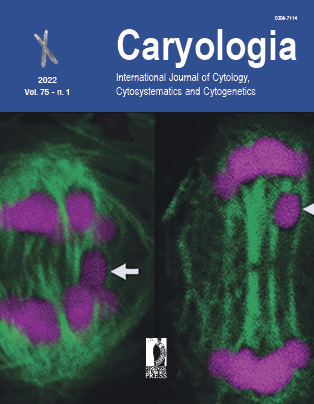 Downloads
How to Cite
Liu, Y., Wang, J., & Kang, H. (2022). Random Amplified Polymorphic DNA profiling in detecting genetic variation in Malva L. species: edible and medicinal plants. Caryologia, 75(1), 77-87. https://doi.org/10.36253/caryologia-1355
License
Copyright (c) 2022 Abdul shakoor
This work is licensed under a Creative Commons Attribution 4.0 International License.
Copyright on any open access article in a journal published byCaryologia is retained by the author(s).
Authors grant Caryologia a license to publish the article and identify itself as the original publisher.
Authors also grant any third party the right to use the article freely as long as its integrity is maintained and its original authors, citation details and publisher are identified.
The Creative Commons Attribution License 4.0 formalizes these and other terms and conditions of publishing articles.
In accordance with our Open Data policy, the Creative Commons CC0 1.0 Public Domain Dedication waiver applies to all published data in Caryologia open access articles.