Genetic diversity and relationships among Hypericum L. species by ISSR Markers: A high value medicinal plant from Northern of Iran
Keywords:
Iran, species identification, structure, Hypericum, ISSR markers
Abstract
Hypericum L. species are generally known locally in Iran with the names "Hofariqun" which Ebn Sina (or Bo Ali Sina) called it. Plants of the genus Hypericum have traditionally been used as medicinal plants in various parts of the world. Hypericum perforatum L. is the source to one of the most manufactured and used herbal preparations in recent years, especially as a mild antidepressant. Therefore, due to the importance of these plant species, we performed a molecular data for this species. For this study, we used 175 randomly collected plants from 17 species in 9 provinces. Amplification of genomic DNA using 10 primers produced 141 bands, of which 127 were polymorphic (95.78%). The obtained high average PIC and MI values revealed high capacity of ISSR primers to detect polymorphic loci among Hypericum species. The genetic similarities of 17 collections were estimated from 0.617 to 0.911. According to Inter-Simple sequence repeats (ISSR) markers analysis, H. androsaemum and H. hirtellum had the lowest similarity and the species of H. perforaturm and H. triquetrifolium had the highest similarity. The aims of present study are: 1) can ISSR markers identify Hypericum species, 2) what is the genetic structure of these taxa in Iran, and 3) to investigate the species inter-relationship? The present study revealed that ISSR markers can identify the species. 
Downloads
Download data is not yet available.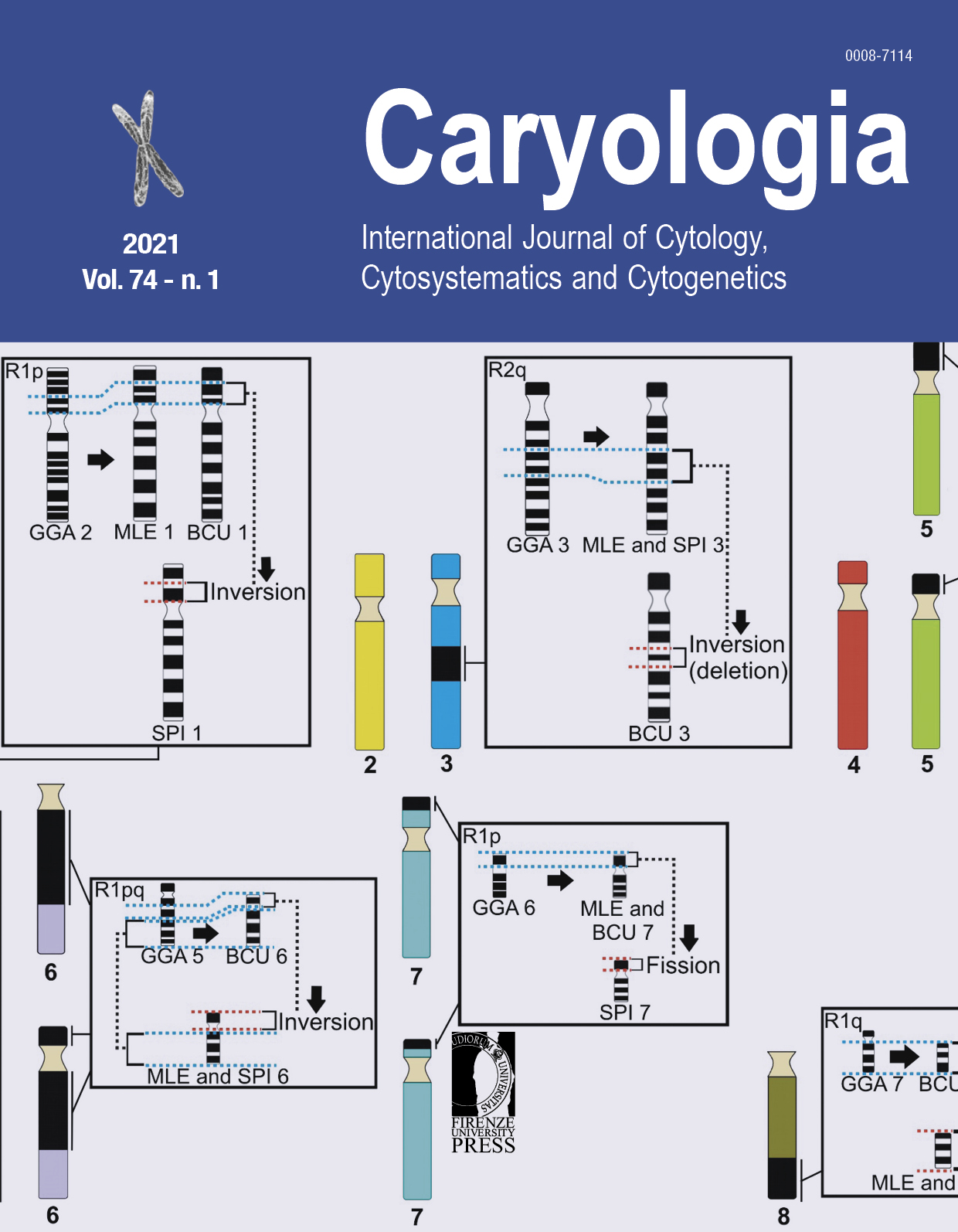 Downloads
How to Cite
Ma, S., Khayatnezhad, M., & Minaeifar, A. A. (2021). Genetic diversity and relationships among Hypericum L. species by ISSR Markers: A high value medicinal plant from Northern of Iran. Caryologia, 74(1), 97-107. https://doi.org/10.36253/caryologia-968
License
Copyright (c) 2021 somayeh
This work is licensed under a Creative Commons Attribution 4.0 International License.
Copyright on any open access article in a journal published byCaryologia is retained by the author(s).
Authors grant Caryologia a license to publish the article and identify itself as the original publisher.
Authors also grant any third party the right to use the article freely as long as its integrity is maintained and its original authors, citation details and publisher are identified.
The Creative Commons Attribution License 4.0 formalizes these and other terms and conditions of publishing articles.
In accordance with our Open Data policy, the Creative Commons CC0 1.0 Public Domain Dedication waiver applies to all published data in Caryologia open access articles.