Molecular insights on some Iranian species of Delphinium L. and Aconitum L. (Ranunculaceae)
Keywords:
PCR, Bayesian, monophyletic, ITS, new record
Abstract
To be precise, 29 taxa of Delphinium and 2 species of Aconitum belonging to Iran have been documented in Flora Iranica. In this research, with regard to both mentioned genera, a total of 25 species for the chloroplast trnl-f region and 11 species for the Internal Transcribed Spacer (ITS) were investigated. After genome extraction, PCR and the sequencing of samples, the sequences were edited, and phylogenetic trees were prepared using Bayesian methods. The phylogenetic study of this genera led us to the monophyletic aspect of them despite the segregation of Aconitum and Delphinium in their related classic taxonomy. It has been observed that there are some complicated species in the genus Delphinium. The results of molecular analysis confirmed the separation of Delphinium elbursense, Delphinium speciosum, Delphinium crispulum and Delphinium dasycarpum (the complicated species of northern and northwestern Iran). Furthermore, based on the molecular results, it is suggested for D. elbursense var. gymnobotrys to have a higher taxonomic level as a distinct species. Meanwhile, Delphinium tuberosum, Delphinium cyphoplectrum, Delphinium quercetorum, Delphinium pallidiflorum, and Delphinium laxiusculum (western and northwestern species of Iran), which are regarded as complex species, were placed in a distinct molecular tree. At the end, Delphinium dolichostachyum was reported as a new record for Iran, and the species has been compared to the related species Delphinium carduchorum.
Downloads
Download data is not yet available.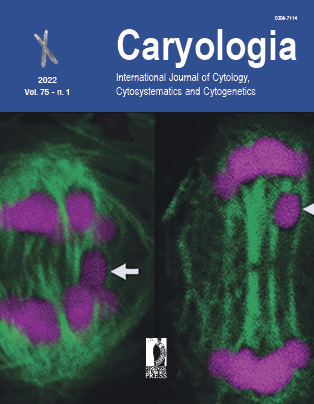 Downloads
How to Cite
Hasanbarani, M., Fariba Sharifnia, & Assadi, M. (2022). Molecular insights on some Iranian species of Delphinium L. and Aconitum L. (Ranunculaceae). Caryologia, 75(1), 155-164. https://doi.org/10.36253/caryologia-956
License
Copyright (c) 2022 Masoomeh Hasanbarani, Fariba Sharifnia, Mostafa Assadi
This work is licensed under a Creative Commons Attribution 4.0 International License.
Copyright on any open access article in a journal published byCaryologia is retained by the author(s).
Authors grant Caryologia a license to publish the article and identify itself as the original publisher.
Authors also grant any third party the right to use the article freely as long as its integrity is maintained and its original authors, citation details and publisher are identified.
The Creative Commons Attribution License 4.0 formalizes these and other terms and conditions of publishing articles.
In accordance with our Open Data policy, the Creative Commons CC0 1.0 Public Domain Dedication waiver applies to all published data in Caryologia open access articles.