Electrophoretic study of seed storage proteins in the genus Hypericum L. in North of Iran
Parisa Mahditabar Bahnamiri

Department of Biology, Faculty of Basic Sciences, University of Mazandaran, Babolsar, Iran

Arman Mahmoudi Otaghvari

Department of Biology, Faculty of Basic Sciences, University of Mazandaran, Babolsar, Iran

Najme Ahmadian Chashmi

Department of Biology, Faculty of Basic Sciences, University of Mazandaran, Babolsar, Iran

Pirouz Azizi

Department of Soil science, University of Guilan, Rasht, Iran
Keywords:
Hypericum, North of Iran, Species relationships, SDS-PAGE
Abstract
In this research we studied the electrophoretic of seed storage proteins in the genus Hypericum L. from Iran. The plant samples were collected from various phytogeographical regions of Iran to study the seed storage proteins. The study was performed to determine the boundary among different species of genus Hypericum using sodium dodecyl sulfate polyacrylamide gel electrophoresis (SDS-PAGE). All samples belong to three species of H. perforatum, H. tetrapterum and H. androsaemum. A total of 22 protein bands were observed in the studied species. The results show that H. perforatum, H. tetrapterum are closely related based on seed storage proteins. A closely relationship and high protein similarity (J=0.66) were found between H. perforatum, H. tetrapterum. Electophoretic results compared with earlier molecular and morphological studies. The highest number of bands was observed in Kordkoy1 population (Pop12) and Gardane heyran population (Pop20) of H. perforatum and the lowest in Gorgan/Naharkhoran population (Pop 25) of H. androsaemum. Our results showed the species of Hypericum were placed intermixed. The aim of this study to delimit species in the genus Hypericum and used these seeds storage protein for the correct identification.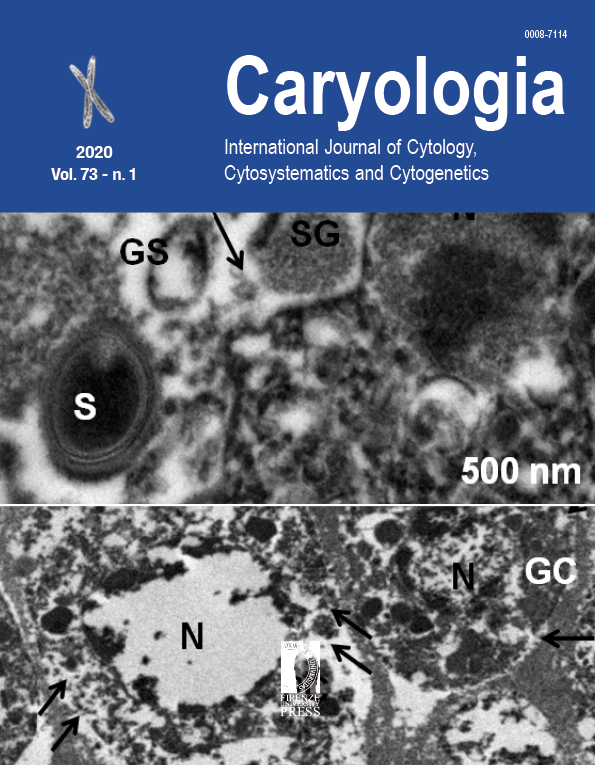 How to Cite
Bahnamiri, P. M., Otaghvari, A. M., Chashmi, N. A., & Azizi, P. (2020). Electrophoretic study of seed storage proteins in the genus Hypericum L. in North of Iran. Caryologia. International Journal of Cytology, Cytosystematics and Cytogenetics, 73(1). https://doi.org/10.13128/caryologia-122
Copyright (c) 2020 Arman Mahmoudi Otaghvari, Parisa Mahditabar Bahnamiri, Najme Ahmadian Chashmi, Pirouz Azizi
This work is licensed under a Creative Commons Attribution 4.0 International License.
Copyright on any open access article in a journal published byCaryologia is retained by the author(s).
Authors grant Caryologia a license to publish the article and identify itself as the original publisher.
Authors also grant any third party the right to use the article freely as long as its integrity is maintained and its original authors, citation details and publisher are identified.
The Creative Commons Attribution License 4.0 formalizes these and other terms and conditions of publishing articles.
In accordance with our Open Data policy, the Creative Commons CC0 1.0 Public Domain Dedication waiver applies to all published data in Caryologia open access articles.