Molecular identification and genetic relationships among Alcea (Malvaceae) species by ISSR Markers: A high value medicinal plant
Keywords:
population structure, gene flow, network, genetic admixture
Abstract
Alcea L. is one of the largest genera of Malvaceae family with nearly 70 species worldwide mainly distributed in SW Asia. According to the latest revision of the family, it is represented by 34 species in the Flora of Iran, among them, 15 species are endemic. It is tough to accurate germplasm/ plant recognition by using morphological characteristics because of its propagation, growing and using. We conducted a molecular data analysis on these plant species due to their importance. We examined 156 plants from 14 species in 16 regions that were selected randomly for this investigation. It has been 119 polymorphic bands (94.33%) were resulted from 128 bands of 10 primers in amplification of genomic DNA. ISSR primers have a great capacity to detect polymorphic loci among Alcea species, as evidenced by the high average PIC and MI values found. The genetic similarity of 14 species was calculated and ranged between 0.635 to 0.990. Inter-Simple sequence repeats (ISSR) markers research revealed that Alcea tarica Pakravan & Ghahreman and Alcea kopetdaghensis lljin had the least similarity, while Alcea semnanica Pakravan and Alcea mazandaranica Pakravan & Ghahreman had the most. The current study attempts to answer three questions: 1) can ISSR markers identify Alcea species? 2) what is the genetic structure of these taxa in Iran? and 3) what is the inter-relationship between these taxa? The current study discovered that ISSR markers can be used to identify species.
Downloads
Download data is not yet available.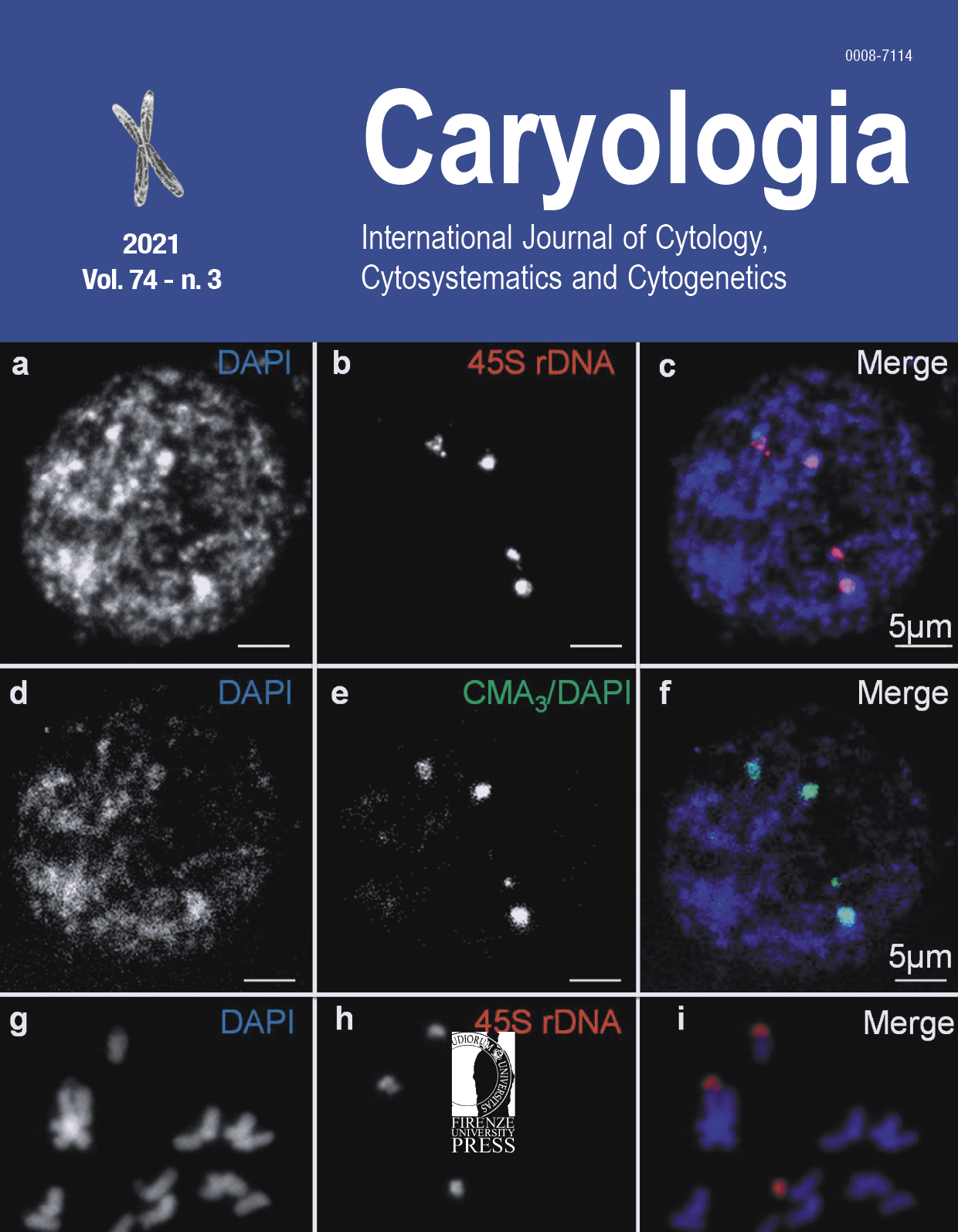 Downloads
How to Cite
Cheng, J., Hu, D., Liu, Y., Zhang, Z., & Khayatnezhad, M. (2021). Molecular identification and genetic relationships among Alcea (Malvaceae) species by ISSR Markers: A high value medicinal plant. Caryologia, 74(3), 65-75. https://doi.org/10.36253/caryologia-1330
License
Copyright (c) 2021 Jinxin Cheng, Dingyu Hu, Yaran Liu, Zetian Zhang, Majid Khayatnezhad
This work is licensed under a Creative Commons Attribution 4.0 International License.
Copyright on any open access article in a journal published byCaryologia is retained by the author(s).
Authors grant Caryologia a license to publish the article and identify itself as the original publisher.
Authors also grant any third party the right to use the article freely as long as its integrity is maintained and its original authors, citation details and publisher are identified.
The Creative Commons Attribution License 4.0 formalizes these and other terms and conditions of publishing articles.
In accordance with our Open Data policy, the Creative Commons CC0 1.0 Public Domain Dedication waiver applies to all published data in Caryologia open access articles.