Effects of zinc on pollen gamete penetration to pistils in some apple crosses assessed by fluorescence microscopy
Keywords:
Fruit set, micronutrient, ovary, pollination, pollen tube growth
Abstract
Zinc is classically the second abundant moveable metal in plants after iron and represented in all enzyme classes. Zinc generally contributes in the biosynthesis of IAA and GA3 phytohormones which play the major role in fertilization and fruit set. Zinc deficiency leads to reduction in leaf and shoot size, photosynthesis and finally decreases fruit set. Foliar Zinc spray was shown to be efficient and fast for improving Zinc deficiency in fruit trees. In this research the effects of Zinc solution by (0, 3000 and 5000 mg. L-1) were studied on pollen penetration to the pistil and ovary in the four apple cultivars crosses which included "Golden Delicious", "Red Delicious", "Gala" and "Fuji". Spraying was done on the shoots two weeks before blooming in the spring. Pollen penetration was studied using fluorescent microscopy technique 72 and 120 hours after field pollination. Results revealed that the effects of Zinc, crosses and their interaction were significant on pollen germination on the stigma and tube penetration into the primary, middle and beginning of the ovaries and the highest pollen germination on the stigma (43.5%) was observed in the cross (?Golden Delicious × Gala?), in 3000 mg. L-1 of Zinc 120 hours after pollination and highest pollen tube penetration into the ovary (12/88%) was observed in this cross, respectively. Finally, it was shown that fluorescence microscopy is an accurate technique for nutrition assay in pollination and fruit set. The foliar application of Zinc increased pollen germination and pollen tube growth in all of the crosses. 
Downloads
Download data is not yet available.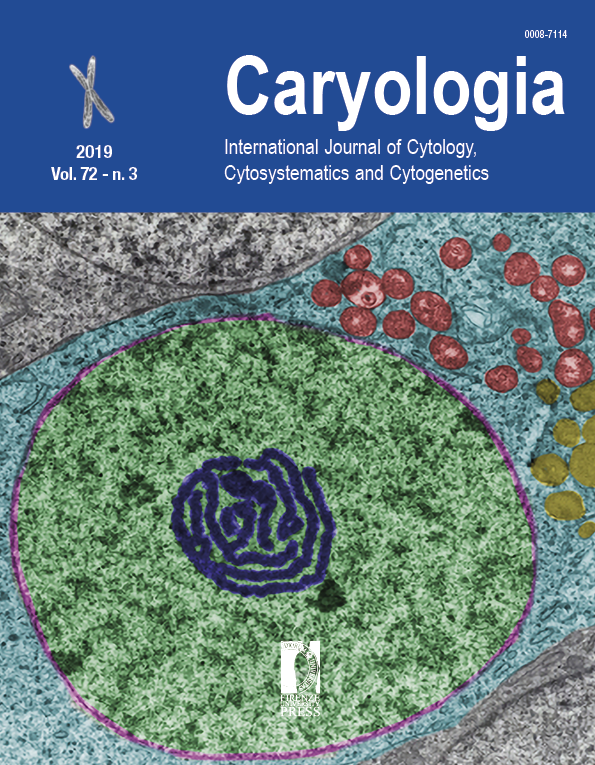 Downloads
How to Cite
Sharafi, Y. (2019). Effects of zinc on pollen gamete penetration to pistils in some apple crosses assessed by fluorescence microscopy. Caryologia, 72(3), 63–73. https://doi.org/10.13128/cayologia-258
License
Copyright on any open access article in a journal published byCaryologia is retained by the author(s).
Authors grant Caryologia a license to publish the article and identify itself as the original publisher.
Authors also grant any third party the right to use the article freely as long as its integrity is maintained and its original authors, citation details and publisher are identified.
The Creative Commons Attribution License 4.0 formalizes these and other terms and conditions of publishing articles.
In accordance with our Open Data policy, the Creative Commons CC0 1.0 Public Domain Dedication waiver applies to all published data in Caryologia open access articles.