Anti-haemolytic and cytogenotoxic potential of aqueous leaf extract of Annona muricata (L.) and its bio-fabricated silver nanoparticles
Keywords:
green synthesis, anti-haemolytic, Annona muricata, Allium cepa, silver nanoparticles, cytogenotoxicity
Abstract
Nanotechnology is widely gaining worldwide application in biology and medicine because of its proven efficacy. Annona muricata contains bioactive phytochemicals with an inherent ability to bio-fabricate metal ions nanoparticles (NPs). Annona muricata aqueous leaf extract and its green bio-fabricated silver nanoparticles were evaluated on red blood cells (RBC) for anti-haemolytic activity and cytogenotoxicity on Allium cepa cells. The effects of A. muricata extract (Am-E) and its biofabricated silver nanoparticles (Am-AgNPs) were observed at 0.7, 7.0 and 70.0 µg/ml on H2O2-induced haemolysis in RBC and cyclophosphamide-induced cytogenotoxicity on A. cepa cells. Results showed significant and concentration dependent anti-haemolytic activity of Am-E relative to Am-AgNPs. Significant (P<0.05) reduction of mitotic index was observed in the groups treated with Am-AgNPs compared with Am-E, which indicates cytotoxic effect of the nanoparticles. The Am-E protected A. cepa meristem root cells from cyclophosphamide-induced mitotic repression better than Am-AgNPs. Different degree of chromosomal abnormalities such as chromosome-bridge, sticky chromosome, and c-mitosis were observed in all the treatment groups with chromosome-bridge and sticky chromosome being prominent. This study revealed stronger anti-haemolytic efficacy of Am-E at higher concentrations compared with Am-AgNPs. Chromosomal abnormalities observed in this study suggest greater chromosomal instability as influenced by the nanoparticles compared with the extract on onion cells. The protective effect of the extract against cyclophosphamide-induced chromosomal aberrations may be an indication of its potential as an anti-genotoxic agent. 
Downloads
Download data is not yet available.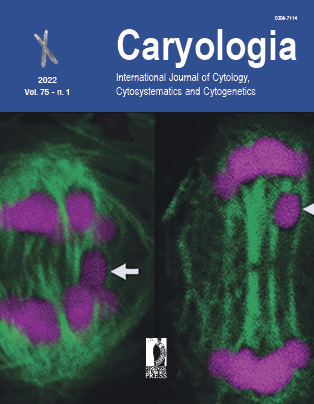 Downloads
How to Cite
Badmus, J. A., Oyemomi, S. A., Fatoki, J. O., Yekeen, T. A. ., Adedosu, O. T. ., Adegbola, P. I., Azeez, M. A. ., Adebayo, E. A., & Lateef, A. . (2022). Anti-haemolytic and cytogenotoxic potential of aqueous leaf extract of Annona muricata (L.) and its bio-fabricated silver nanoparticles. Caryologia, 75(1), 3-13. https://doi.org/10.36253/caryologia-1353
License
Copyright (c) 2022 Jelili Badmus, Oyemomi Samuel , Prof Yekeen Taofeek, Dr Adedosu OT, Adegbola Peter, Prof Azeez Musibau, Dr Adebayo Elijah, Prof Agbaje Lateef
This work is licensed under a Creative Commons Attribution 4.0 International License.
Copyright on any open access article in a journal published byCaryologia is retained by the author(s).
Authors grant Caryologia a license to publish the article and identify itself as the original publisher.
Authors also grant any third party the right to use the article freely as long as its integrity is maintained and its original authors, citation details and publisher are identified.
The Creative Commons Attribution License 4.0 formalizes these and other terms and conditions of publishing articles.
In accordance with our Open Data policy, the Creative Commons CC0 1.0 Public Domain Dedication waiver applies to all published data in Caryologia open access articles.