Structure and development of male gametophyte in Carya illinoensis (Wangenh.) K. Koch
Keywords:
Microspores, male gametophytes, tapetum, pollen morphology
Abstract
In order to understand the differentiation of staminate flowers of pecans (Carya illinoensis (Wangenh.) K. Koch), we carried out an integrated study of staminate flower development in a protogynous cultivar, Mahan, by assessing changes in external morphology and microstructure at multiple levels. Results showed that the staminate inflorescence differentiation cycle for pecans was 1 year. Staminate inflorescence development was acropetal. When inflorescences developed to 5–8 cm, the microspore mother cells in the base florets of the inflorescences entered into meiosis prophase and the middle layer started to degrade. When inflorescences grew to 8–10 cm, the microspore mother cells in the based florets of the inflorescences were at the peak of meiosis and cytokinesis was synchronous. When bracts have opened to 15°, the microspore mother cells of the basal florets had undergone two divisions to form tetrads. When bracts have opened to 45°, the basal florets entered the mid-late uninucleate stage and the tapetum underwent degradation and autolysis. When bracts opened to >90°, mature pollen grains were 2-celled, with three germ pores and the middle layer tapetum completely degraded. Anther wall development followed the basic type, which was composed of an epidermal layer, an endothecial layer, middle layer (1–3 layers, fibrous thickening absent) and the tapetal layer (cell division was from uninucleate to an octonucleate cell). In summary, external morphology and gametophyte development in pecan staminate flowers were consistent to related; thus, the internal gamete development status can be determined from external morphological characteristics of the flower. This provided a sampling basis and theoretical foundation for in vitro culture of pollen grains and elucidation of flowering mechanisms.
Downloads
Download data is not yet available.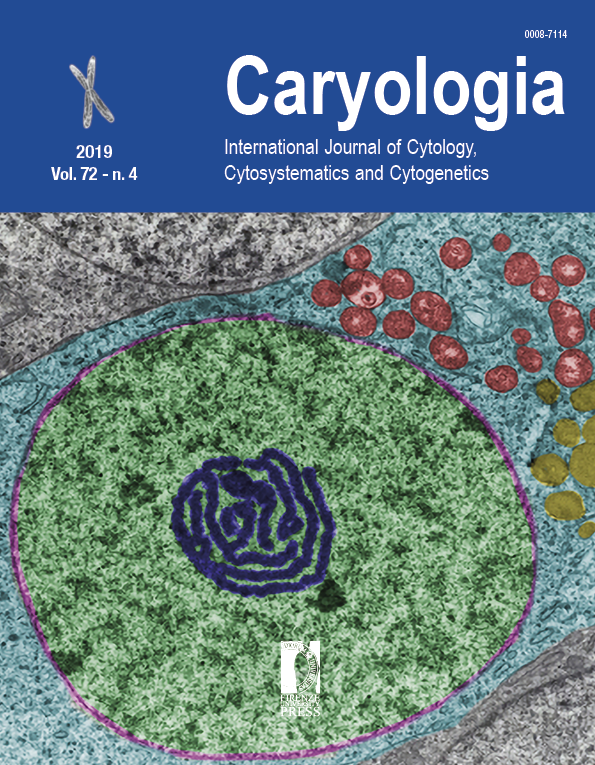 Downloads
How to Cite
Han, M., Peng, F., Tan, P., & Deng, Q. (2019). Structure and development of male gametophyte in Carya illinoensis (Wangenh.) K. Koch. Caryologia, 72(4), 15–27. https://doi.org/10.13128/cayologia-152
License
Copyright on any open access article in a journal published byCaryologia is retained by the author(s).
Authors grant Caryologia a license to publish the article and identify itself as the original publisher.
Authors also grant any third party the right to use the article freely as long as its integrity is maintained and its original authors, citation details and publisher are identified.
The Creative Commons Attribution License 4.0 formalizes these and other terms and conditions of publishing articles.
In accordance with our Open Data policy, the Creative Commons CC0 1.0 Public Domain Dedication waiver applies to all published data in Caryologia open access articles.