Identification of the differentially expressed genes of wheat genotypes in response to powdery mildew infection
Panthea Vosough-Mohebbi

Department of Agronomy and Plant Breeding, Arak Branch, Islamic Azad University, Arak, Iran

Mehdi Zahravi

Seed and Plant Improvement Institute, Agricultural Research, Education and Extension Organization (AREEO), Karaj, Iran

Mehdi Changizi

Department of Agriculture, Arak Branch, Islamic Azad University, Arak, Iran

Shahab Khaghani

Department of Agronomy and Plant Breeding, Arak Branch, Islamic Azad University, Arak, Iran

Zahra-Sadat Shobbar

Department of System Biology, Agricultural Biotechnology Research Institute, Agricultural Research, Education and Extension Organization (AREEO), Karaj, Iran
Keywords:
wheat, genotype, powdery mildew, microarray, qRT-PCR
Abstract
Bread wheat (Triticum aestivum L.) is the most widely grown crop worldwide. Powdery mildew caused by fungal pathogen Blumeria graminis is one of the most devastating diseases of wheat. The present study aimed to identify differentially expressed genes and investigate their expression in response to B. graminis in susceptible (Bolani) and resistant (KC2306) wheat genotypes, using publicly available microarray data set and qRT-PCR analysis. A total of 5760 and 5315 probe sets were detected which 5427 and 4630 by adjusted P-value < 0.05 and 168 and 144 genes based on e-value < 1 × 10–5 cut-off were differentially expressed in susceptible and resistant wheat genotypes, respectively. Among exclusively up regulated genes in the resistant genotype 12 hpi compared to its control, fifteen potential genes that may be responsible for B. graminis inoculation resistance were detected. The results of real time PCR for the candidate genes showed that the genes were upregulated in the resistant genotype 12 hpi compared to its control, which validated the results of microarray analysis. The bZIP, ERF, and ARF1 genes may play an important role in B. graminis resistance. The powdery mildew responsive genes identified in the present study will give us a better understanding on molecular mechanisms involved in B. graminis resistance in different wheat genotypes.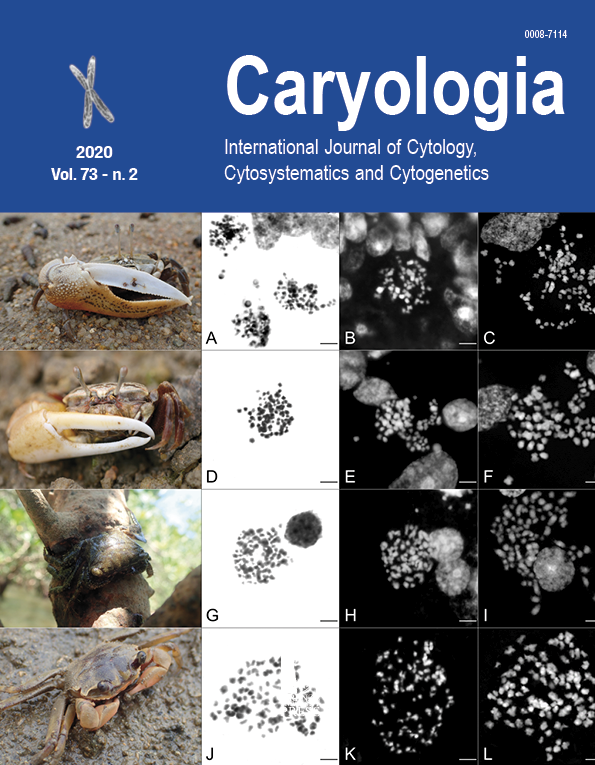 How to Cite
Vosough-Mohebbi, P., Zahravi, M., Changizi, M., Khaghani, S., & Shobbar, Z.-S. (2020). Identification of the differentially expressed genes of wheat genotypes in response to powdery mildew infection. Caryologia. International Journal of Cytology, Cytosystematics and Cytogenetics, 73(2), 63-72. https://doi.org/10.13128/caryologia-752
Copyright (c) 2020 Mehdi Zahravi, Panthea Vosough-Mohebbi, Mehdi Changizi, Shahab Khaghani, Zahra-Sadat Shobbar
This work is licensed under a Creative Commons Attribution 4.0 International License.
Copyright on any open access article in a journal published byCaryologia is retained by the author(s).
Authors grant Caryologia a license to publish the article and identify itself as the original publisher.
Authors also grant any third party the right to use the article freely as long as its integrity is maintained and its original authors, citation details and publisher are identified.
The Creative Commons Attribution License 4.0 formalizes these and other terms and conditions of publishing articles.
In accordance with our Open Data policy, the Creative Commons CC0 1.0 Public Domain Dedication waiver applies to all published data in Caryologia open access articles.