The effect of TiO2 and SiO2 nanoparticles and salinity stress on expression of genes involved in parthenolide biosynthesis in Feverfew (Tanacetum parthenium L.)
Mahshid Khajavi

Mahdi Rahaie

Asa Ebrahimi
Keywords:
Tanacetum parthenium L., Nanoparticle, SiO2, TiO2, Salinity stress, Gene expression analysis
Abstract
Medicinal plants can produce various chemical compounds as secondary metabolites that have benefit to human. Feverfew (Tanacetum parthenium L.) is a medicinal plant belongs to the Asteraceae family. This plant due to have parthenolide compounds has attracted much attention for medicinal value and pharmacological activity. Due to the economic importance of the plant metabolite in cancer and migraine treatment, application of approaches for increasing the metabolite was the objective of this study. For this purpose, after cultivation in greenhouse, plants were treated with TiO2 and SiO2 nanoparticles and salinity stress at different times and concentrations. Real Time PCR used to evaluate the expression of TpGAS, COST and TpCarS genes which involved in secondary metabolites biosynthesis pathway (parthenolide and β-caryophyllen). It was found, SiO2 NPs can increase the expression of TpCarS, COST and TpGAS in the concentration of 25mM with increasing time from 6 to 24h. In this concentration (25mM), TiO2 treatment, up-regulated the COST and TpGAS in contrast, down-regulated the TpCarS with increasing time from 6 to 24h. Salinity treatment affected the expression of all three genes, so that with increasing time, the expression of all three genes was elevated. In conclusion, according to above and HPLC results, it was shown the nanoparticles and salinity treatments can increase parthenolide synthesis in whole plant of Feverfew and then they can be used as elicitor for more production of the metabolite.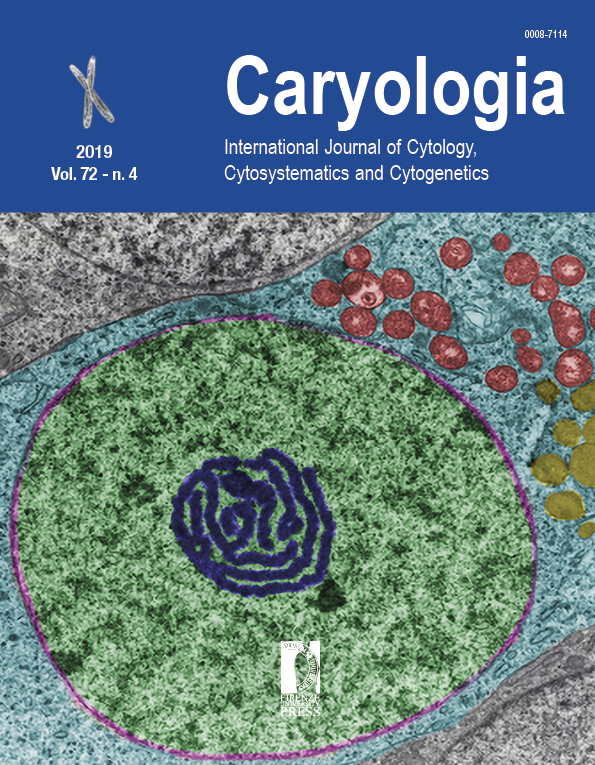 How to Cite
Khajavi, M., Rahaie, M., & Ebrahimi, A. (2019). The effect of TiO2 and SiO2 nanoparticles and salinity stress on expression of genes involved in parthenolide biosynthesis in Feverfew (Tanacetum parthenium L.). Caryologia. International Journal of Cytology, Cytosystematics and Cytogenetics, 72(1), 3-14. https://doi.org/10.13128/cayologia-246
Copyright (c) 2019 Mahshid Khajavi, Mahdi Rahaie, Asa Ebrahimi
This work is licensed under a Creative Commons Attribution 4.0 International License.
Copyright on any open access article in a journal published byCaryologia is retained by the author(s).
Authors grant Caryologia a license to publish the article and identify itself as the original publisher.
Authors also grant any third party the right to use the article freely as long as its integrity is maintained and its original authors, citation details and publisher are identified.
The Creative Commons Attribution License 4.0 formalizes these and other terms and conditions of publishing articles.
In accordance with our Open Data policy, the Creative Commons CC0 1.0 Public Domain Dedication waiver applies to all published data in Caryologia open access articles.