Induction of Autotetraploidy and its effects on morphophysiological traits in some annual and perennial medics
Keywords:
ploidy level, colchicine, morphological traits, annual Medicago, perennial Medicago
Abstract
In order to study of the effects of polyploidy on morph-physiological traits in some annual and perennial medics, five annual and three perennial diploid medics were subjected to different concentrations of colchicine solution (0.1%, 0.5%, 1% and 2%) in mitosis stage. The induced tetraploids were identified by counting stomata guard cells chloroplasts. The highest survival rate and tetraploidy induction with average values of 80.2% and 74.3% were obtained using 0.1% colchicine concentration. All of the 21 entries (5 annual diploids and their induced tetraploids as M. lupulina, M. radiata, M. rijidula, M. truncatula, M. turbinata, and 3 populations of perennial diploid of M. sativa ssp. Caerulea (Karaj1, Karaj2 and Tehran) and their induced tetraploids and 5 commercial tetraploid alfalfa cultivars (Bami, Hamadani, Baghdadi, Ghareyongeh and Renger) grown in pots in a glasshouse experiment using completely randomized design with five replications in 2018 in Ahvaz, Iran. Data were collected for leaf length, leaf width, shoot and root length, seedling weight, shoot weight, root weight, branch number, leaf area index (LAI) and water use efficiency (WUE). Result of mean comparisons between three groups (2x, induced 4x and controls 4x), showed that both groups of induced and natural tetraploids had significantly higher mean values for all the traits except leaf length, shoot length and root length than that for diploids. For the latter traits there were no significant differences between 2x and induced 4x. On the overall, the induced 4x had 60%, 62%, 68%, 65%, 22%, 109% and 47% higher mean values than their parental 2x for seedling weight, shoot weight, root weight, LAI, WUE and branch number, respectively. It was concluded that increasing ploidy level provides plant breeders with a promising tool in the breeding improve new varieties suited for future climate scenarios.
Downloads
Download data is not yet available.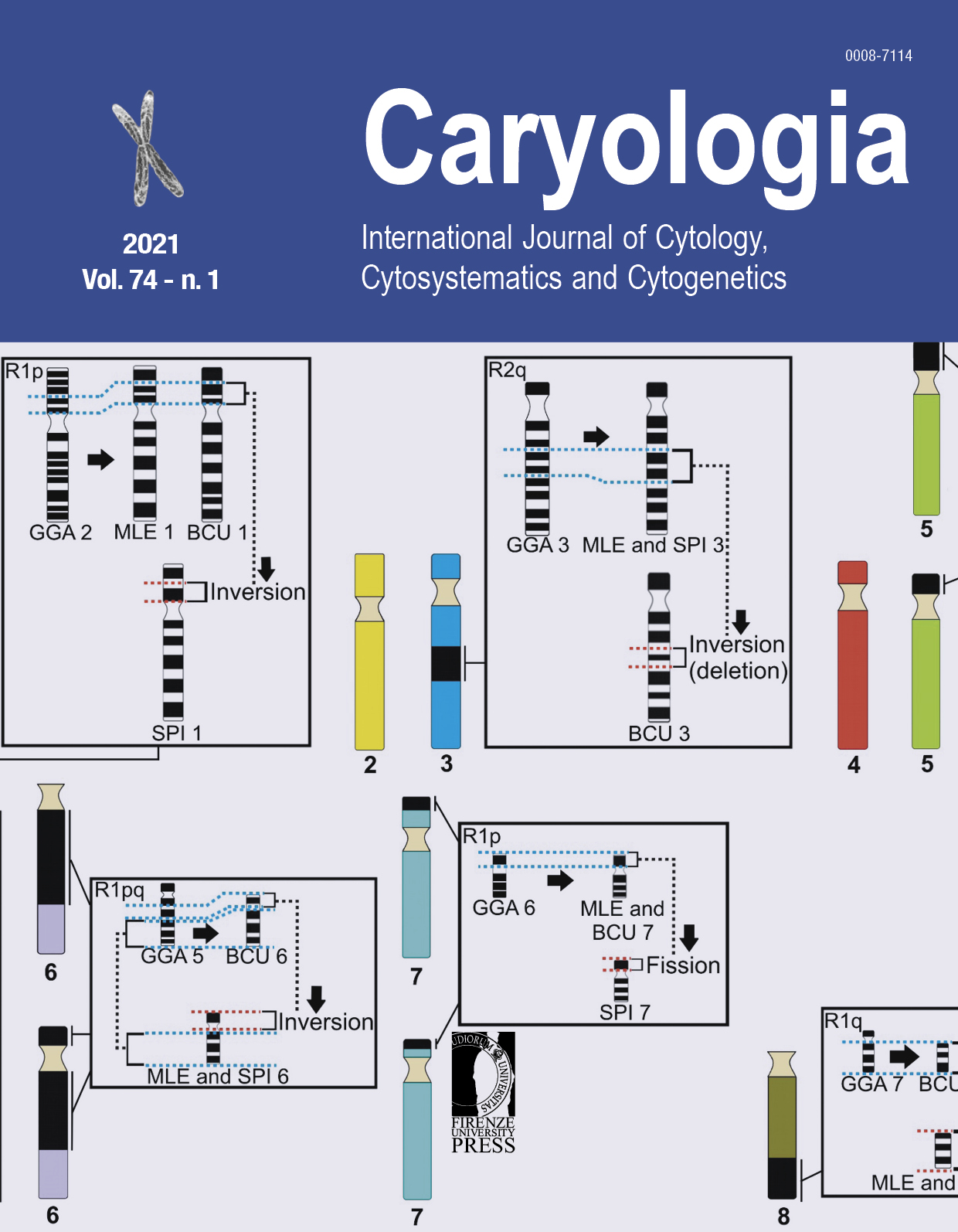 Downloads
How to Cite
Ansari, E. ., Khosrowshahli, M. ., Jafari, A. A., & Etminan, A. . (2021). Induction of Autotetraploidy and its effects on morphophysiological traits in some annual and perennial medics. Caryologia, 74(1), 75–82. https://doi.org/10.36253/caryologia-809
License
Copyright (c) 2021 Elham Ansari1, Mahmood Khosrowshahli, Ali Ashraf Jafari, Alireza Etminan
This work is licensed under a Creative Commons Attribution 4.0 International License.
Copyright on any open access article in a journal published byCaryologia is retained by the author(s).
Authors grant Caryologia a license to publish the article and identify itself as the original publisher.
Authors also grant any third party the right to use the article freely as long as its integrity is maintained and its original authors, citation details and publisher are identified.
The Creative Commons Attribution License 4.0 formalizes these and other terms and conditions of publishing articles.
In accordance with our Open Data policy, the Creative Commons CC0 1.0 Public Domain Dedication waiver applies to all published data in Caryologia open access articles.