In Vitro Polyploidy Induction in Persian Poppy (Papaver bracteatum Lindl.)
Keywords:
Persian poppy, seed, tetraploid, colchicine, flow cytometry, 2C DNA value
Abstract
Papaver bracteatum Lindl. grows as a wild perennial medicinal plant in Northern Iran and is known mainly for its high amounts of the pharmaceutically valuable alkaloid of thebaine. In vitro production of tetraploid P. bracteatum through colchicine treatment of imbibed seeds is reported. Resulted tetraploid and mixoploid plants were effectively identified by chromosome counting and flow cytometry technique. The chromosome number in diploid and successfully induced tetraploids were confirmed to be 2n=2x=14 and 2n=4x=28, where their calculated 2C DNA values were 6.15±0.03 and 11.95±0.07 pg, respectively. The highest induction efficiency was obtained by colchicine concentration of 0.05% and the treatment duration of 24 h. The effects of colchicine toxicity on plant survival and growth were proportional mainly to its concentration rather than duration of exposure to colchicine. Tetraploid plants possessed significantly larger and less frequent leaf stomata as well as a larger cell size. These attributes may serve as criteria for preliminary screening of P. bracteatum populations for ploidy level.
Downloads
Download data is not yet available.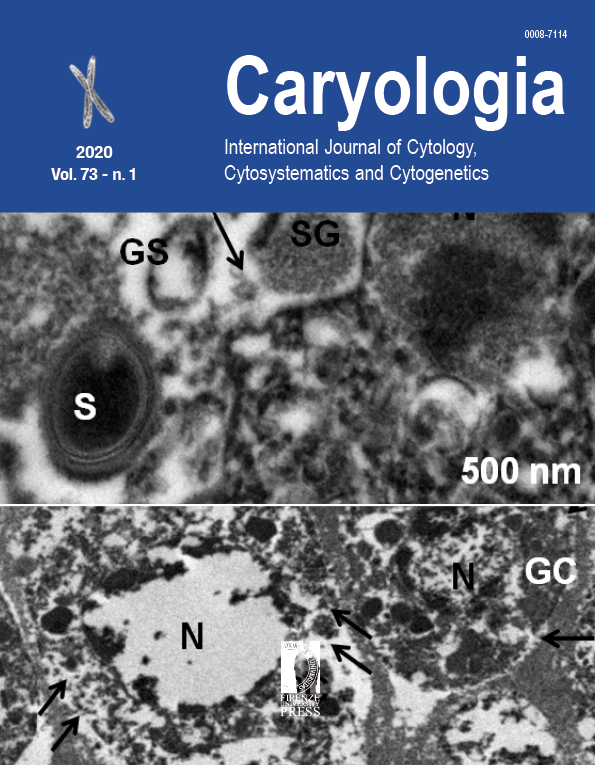 Downloads
How to Cite
Tarkesh Esfahani, S., Karimzadeh, G., & Naghavi, M. R. (2020). In Vitro Polyploidy Induction in Persian Poppy (Papaver bracteatum Lindl.). Caryologia, 73(1). https://doi.org/10.13128/caryologia-169
License
Copyright on any open access article in a journal published byCaryologia is retained by the author(s).
Authors grant Caryologia a license to publish the article and identify itself as the original publisher.
Authors also grant any third party the right to use the article freely as long as its integrity is maintained and its original authors, citation details and publisher are identified.
The Creative Commons Attribution License 4.0 formalizes these and other terms and conditions of publishing articles.
In accordance with our Open Data policy, the Creative Commons CC0 1.0 Public Domain Dedication waiver applies to all published data in Caryologia open access articles.