Termo-pluviometric Variability of Val d'Orcia Olive Orchards area (Italy)
Ada Baldi

Department of Agriculture, Food, Environment and Forestry (DAGRI), University of Florence, Italy

Giada Brandani

Department of Agriculture, Food, Environment and Forestry (DAGRI), University of Florence, Italy

Martina Petralli

Department of Agriculture, Food, Environment and Forestry (DAGRI), University of Florence, Italy

Alessandro Messeri 

Department of Agriculture, Food, Environment and Forestry (DAGRI), University of Florence, Italy

Stefano Cecchi

Fondazione Clima e Sostenibilità, Florence, Italy

Roberto Vivoli

Department of Agriculture, Food, Environment and Forestry (DAGRI), University of Florence, Italy

Marco Mancini

Department of Agriculture, Food, Environment and Forestry (DAGRI), University of Florence, Italy
Keywords:
Olive orchards, microclimate, agrometeorology
Abstract
In a context of climate change, the knowledge of local meteorological trend and variability is a very useful tool in precision farming for crop production and quality. The aim of this study is to analyze the thermo-pluviometric variability of Val d'Orcia olive orchards area (Tuscany, Italy), a hilly region characterized by a great orographic variability that lacs of historical termo-pluviometric information. In this study trend of thermo-pluviometric indices (TX, TN, TG, FD, RR and  GDD) for the period 2012-2017 in three weather station located at different height and orientation in the Val d'Orcia Area are presented. During the study period, yearly extra virgin olive oil (EVO) yield was also analyzed. The variability observed in precipitation confirms the strong influence of topography and atmospheric circulation on local precipitation distribution. While the analysis of thermal regimes and frost days evidence the strong presence of thermal inversion phenomenon in this area. A strong relationship was found between yearly EVO yield and GDD during the vegetative period.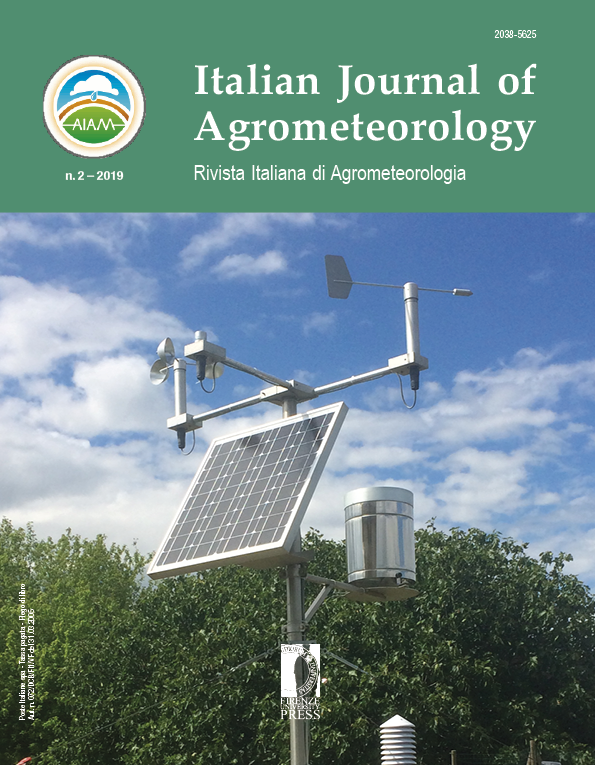 How to Cite
Baldi, A., Brandani, G., Petralli, M., Messeri , A., Cecchi, S., Vivoli, R., & Mancini, M. (2019). Termo-pluviometric Variability of Val d'Orcia Olive Orchards area (Italy). Italian Journal of Agrometeorology, (2), 11-20. https://doi.org/10.13128/ijam-649
This work is licensed under a Creative Commons Attribution 4.0 International License.
Authors retain the copyright and grant the journal right of first publication with the work simultaneously licensed under a Creative Commons Attribution 4.0 International Public License (CC-BY-4.0) that allows others to share the work with an acknowledgment of the work's authorship and initial publication in IJAm.
This work is licensed under a Creative Commons Attribution 4.0 International License