Genetic diversity and comparative study of genomic DNA extraction protocols in Tamarix L. species
Keywords:
DNA yield, extraction protocols, Tamarix, ISSR, secondary metabolites
Abstract
The genus Tamarix  consists of about 54 species that mainly grow in saline areas of deserts and semi-deserts. This genus is chemically characterized by the presence of tannins, flavonoids, anthocyanins and essential oils which interfere with the extraction of pure genomic DNA. Thus it is necessary to optimize extraction protocols to minimize the influence of these compounds to the lowest level. The present study compares the efficiency of five different approaches to extract total genomic DNA in Tamarix species, showing significant differences in the extracted DNA contents and quality,by using  Kit (DNP TM Kit), CTAB DNA extraction method by Murray and Thompson, Sahu et al., Nalini et al. and Bi et al., for the extraction of DNA from Tamarix species. Our results showed significant differences in DNA contents between these five methods. The quantity and quality of extracted genomic DNA were checked by the spectrophotometer, Nano-Drop and and agarose gel electrophoresis analysis. Finally, a PCR-based method was also applied to verify the amplification efficiency for two molecular markers (ITS and ISSR).. In the present study, the genetic diversity of 96 Tamarix individuals species and 8 populations were studied using 10 ISSR markerswhile for nrDNA ITS 8 species samples were used. The method of Nalini et al., provided best results (207 ng/μL) in terms of quantity and quality ofDNA. Our results proposed that this method could be effective for plants with the same polysaccharides, proteins and polyphenols components. The advantage of this method is simple and fast as it does not involve time consuming steps such as incubation at higher temperatures, and also do not requires expensive chemicals such as proteinase K, liquid nitrogen. ,. The success of this method in obtaining high-quality genomic DNA has been demonstrated in the Tamarix species group and the reliability of this method has been discussed.
Downloads
Download data is not yet available.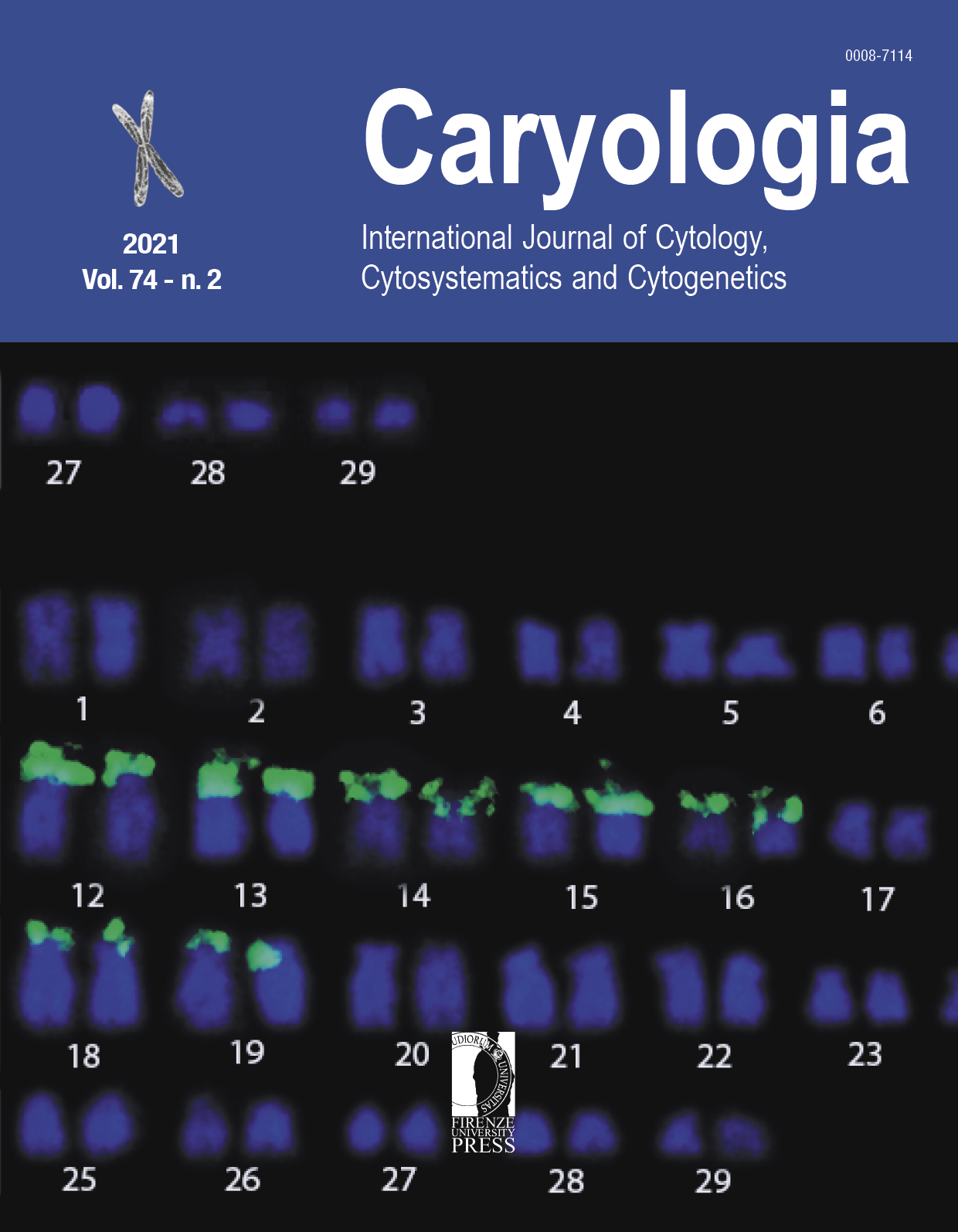 Downloads
How to Cite
Cheng, X., Hong, X., Khayatnezhad, M., & Ullah, F. (2021). Genetic diversity and comparative study of genomic DNA extraction protocols in Tamarix L. species. Caryologia, 74(2), 131-139. https://doi.org/10.36253/caryologia-1056
License
Copyright (c) 2021 Xiao Cheng, Xiaoling Hong, Majid Khayatnezhad, Fazal Ullah
This work is licensed under a Creative Commons Attribution 4.0 International License.
Copyright on any open access article in a journal published byCaryologia is retained by the author(s).
Authors grant Caryologia a license to publish the article and identify itself as the original publisher.
Authors also grant any third party the right to use the article freely as long as its integrity is maintained and its original authors, citation details and publisher are identified.
The Creative Commons Attribution License 4.0 formalizes these and other terms and conditions of publishing articles.
In accordance with our Open Data policy, the Creative Commons CC0 1.0 Public Domain Dedication waiver applies to all published data in Caryologia open access articles.