Chromosomal changes linked with the effect of high dose of aluminum on faba bean (Vicia faba L.) root tips
Keywords:
aluminum stress, chromosomal changes, molecular techniques, cytogenetic effect, Vicia faba
Abstract
In this work, we cytogenetically described the effects of different relatively high doses of aluminum (5, 15 and 25 mM AlCl3) on mitotic activity and DNA integrity of faba bean (Misr 3 cultivar). Under Al stress, mitotic index (MI) decreased but total chromosomal abnormalities increased significantly compared to that of control. In addition, the detected chromosomal abnormalities in each mitotic phase increased significantly in comparison to that of control. All the used concentrations of Al enhanced micronuclei formation; no correlation could be detected between the size or number of micronuclei/cell and the applied conditions. Metaphase was the most sensitive stage to Al stress compared to the other stages of mitosis; C-metaphase was the common abnormalities and it increased strongly when the exposure time was more than 6 h. Under the influence of Al stress for 24 h, the appearance C-metaphase in high frequency decreased the frequency of appearance of other forms of abnormalities during metaphase or ana-telophase. The previous cytological events created alteration either at or between the primer binding sites which could be detected by RAPD and ISSR techniques. Application of ten RAPD primers resulted in amplification of 59 fragments including 20 monomorphic, seven unique and 32 polymorphic bands with polymorphism average of 60.09%. ISSR primers amplified 75 DNA fragments including 18 monomorphic, eight unique and 45 polymorphic bands with polymorphism average of 72.90%. These data indicated that faba bean cultivar suffered from harmful effect of Al on its genome when the duration of Al treatment was more than 6 hr. ISSR was better than RAPD to study genome stability of faba bean under abiotic stress agent.
Downloads
Download data is not yet available.
References
Badr A. ; AA Abdel-Latef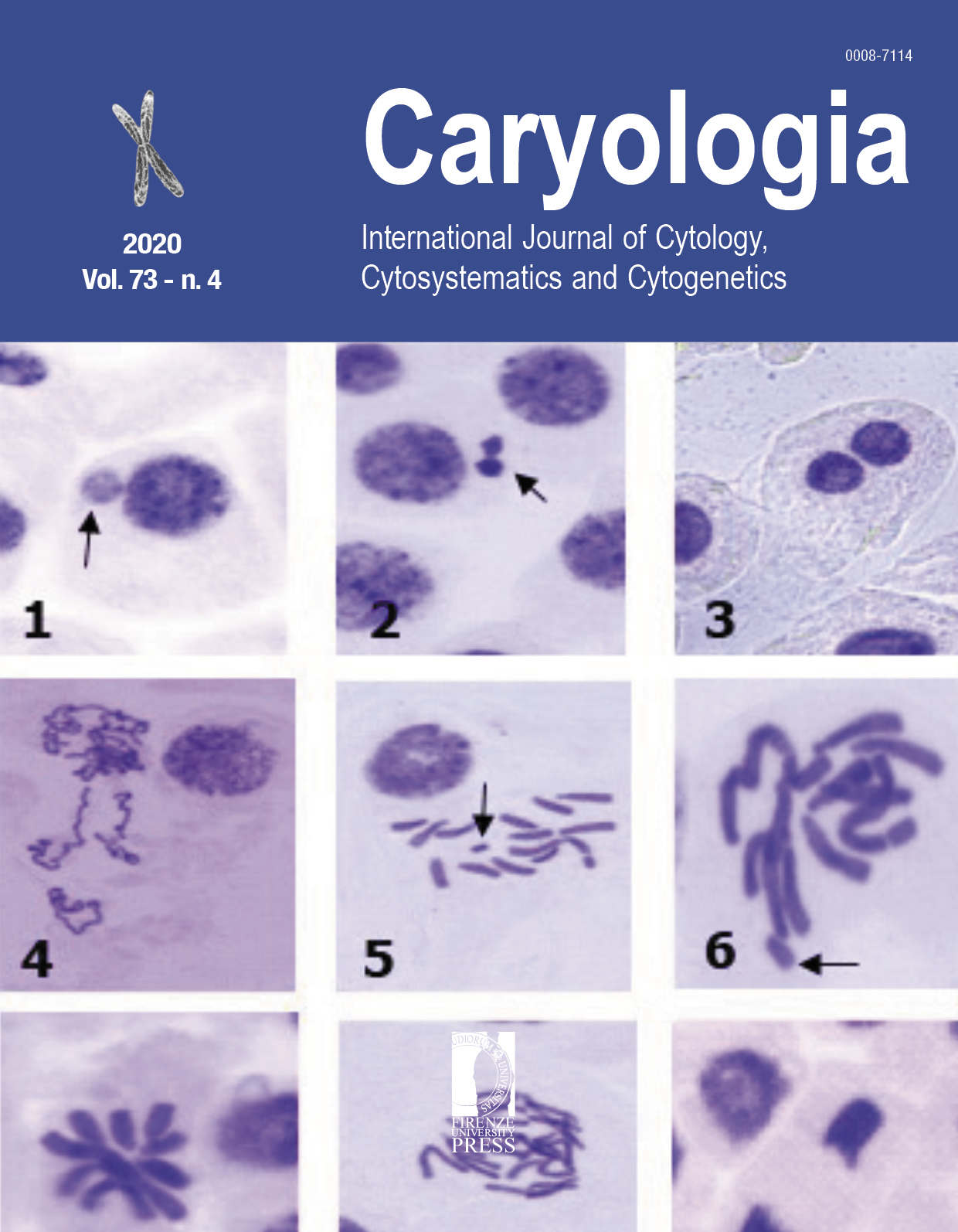 Downloads
How to Cite
Hassanein, A. M., Mohamed, A. H., Abd Allah, H. A., & Zaki, H. (2021). Chromosomal changes linked with the effect of high dose of aluminum on faba bean (Vicia faba L.) root tips. Caryologia, 73(4), 141–151. https://doi.org/10.13128/caryologia-202
License
Copyright (c) 2020 Hoida A Zaki
This work is licensed under a Creative Commons Attribution 4.0 International License.
Copyright on any open access article in a journal published byCaryologia is retained by the author(s).
Authors grant Caryologia a license to publish the article and identify itself as the original publisher.
Authors also grant any third party the right to use the article freely as long as its integrity is maintained and its original authors, citation details and publisher are identified.
The Creative Commons Attribution License 4.0 formalizes these and other terms and conditions of publishing articles.
In accordance with our Open Data policy, the Creative Commons CC0 1.0 Public Domain Dedication waiver applies to all published data in Caryologia open access articles.