A comparative karyo-morphometric analysis of Indian landraces of Sesamum indicum using EMA-giemsa and fluorochrome banding
Timir Baran Jha

Department of Botany, Maulana Azad College, Rafi Ahmed Kidwi Road, Kolkata- 700113, West Bengal, India

https://orcid.org/0000-0003-0900-8167

Partha Sarathi Saha

CAS, Department of Botany, University of Calcutta, 35, Ballygunge Circular Road, Kolkata-700019, West Bengal, India

https://orcid.org/0000-0002-0157-3578

Sumita Jha

CAS, Department of Botany, University of Calcutta, 35, Ballygunge Circular Road, Kolkata-700019, West Bengal, India

https://orcid.org/0000-0002-1375-2768
Keywords:
fluorochrome banding, karyotype, sesame, Sesamum indicum, small chromosomes, til
Abstract
Sesamum indicum commonly known as 'Sesame', 'Til' or 'Gingli' is an age-old high valued oil crop. With distinct seed and floral diversity and no detailed chromosomal analysis is available on Indian landraces of S. indicum (2n= 26). The present study demonstrates standardization of enzymatic maceration and air drying (EMA) method of chromosome preparation and comparative karyometric analysis in four Indian landraces of S indicum. All the landraces were characterized by very small chromosomes, length ranging from 1.24 ± 0.02 to 2.87 ± 0.09 µm. The EMA- Giemsa based karyotype analysis revealed nine pairs of chromosomes with nearly median primary constriction, three pairs were submedian and a single satellite pair in each of the studied landrace. The CMA staining of Sesamum chromosomes revealed the presence of distinct CMA positive (CMA+ve) signals in all the studied landraces. The Black seeded til (BT) and White seeded til (WT) were characterized by six chromosomes with distal CMA+ve signal on short arm, while the Dark brown seeded til (DBT) showed ten chromosomes with distal CMA+ve signal on short arm. The Light brown seeded til (LBT) was characterized by eight chromosomes with distal CMA+ve signal on short arm. The results obtained from the scatter plot of A1 versus A2 and PCA analysis provide a strong relationship with that of the fluorochrome banding analysis. The present research offers an explicit karyo-morphometric characterization of four Indian landraces of S. indicum for the first time.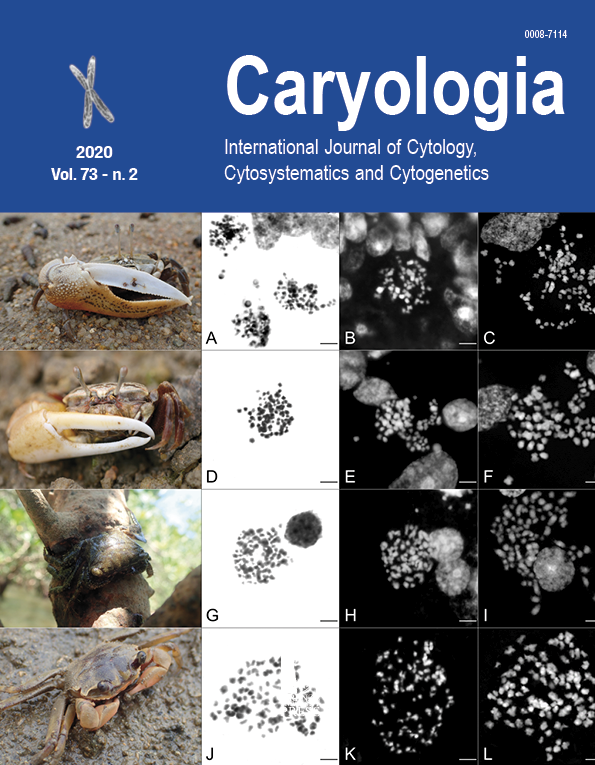 How to Cite
Jha, T. B., Saha, P. S., & Jha, S. (2020). A comparative karyo-morphometric analysis of Indian landraces of Sesamum indicum using EMA-giemsa and fluorochrome banding. Caryologia. International Journal of Cytology, Cytosystematics and Cytogenetics, 73(2), 81-88. https://doi.org/10.13128/caryologia-580
Copyright (c) 2020 Timir baran Jha, Partha Sarathi Saha, Sumita Jha
This work is licensed under a Creative Commons Attribution 4.0 International License.
Copyright on any open access article in a journal published byCaryologia is retained by the author(s).
Authors grant Caryologia a license to publish the article and identify itself as the original publisher.
Authors also grant any third party the right to use the article freely as long as its integrity is maintained and its original authors, citation details and publisher are identified.
The Creative Commons Attribution License 4.0 formalizes these and other terms and conditions of publishing articles.
In accordance with our Open Data policy, the Creative Commons CC0 1.0 Public Domain Dedication waiver applies to all published data in Caryologia open access articles.