Phagocytic events, associated lipid peroxidation and peroxidase activity in hemocytes of silkworm Bombyx mori induced by microsporidian infection
Keywords:
Phagocytosis, lipid peroxidation, peroxidase activity, Bombyx mori, microsporidian infection, hemocytes
Abstract
Microbial infections induced humoral and cell- mediated immune events in hemocytes. After infection by the microsporidian Nosema bombycis in the commercially important silkworm, Bombyx mori, hemocytes exhibited deformed nucleus and degranulation of structural granules by exocytosis. Granulocytes showed signs of phagocytosis included formation of microvilli, pseudopodia, engulfment of spores, phagosome formation and membrane porosity. Association of membrane disintegration with infection – induced lipid peroxidation (LPO) was revealed by testing level of malondialdehyde, a byproduct of LPO.  LPO activity enhanced significantly (P < 0.0002) throughout infection with peak activity in later stages of infection from day 11 accompanied by hemocyte plasma membrane disintegration. Partial increase in LPO activity coupled with increased peroxidase activity recorded in early and mid stages of infection. In later stages, peroxidase activity decreased however LPO increased accompanied by phagocytosis events. In hemocytes, phagocytic events are initiated by activation of genes encoding recognition proteins, aggregation factors and immune- associated proteins. ß-GRP expression was down regulated after the infection whereas CTL-11 enhanced expression on day 10. Humoral lectin enhanced expression on day 6 whereas apolipophorin showed 2.59 fold increase on day 10 after infection. Gene encoding cytoskeletal protein, ß- Actin showed stable enhanced expression throughout infection showing positive correlation (R2 = 0.65) with age after infection. Phagocytosis- associated gene Eater from Drosophila showed enhanced heterologous expression. Altogether phagocytic events induced by microsporidian infection are accompanied by increased LPO, decreased peroxidase activity and modulated gene activity in hemocytes of B. mori.
Downloads
Download data is not yet available.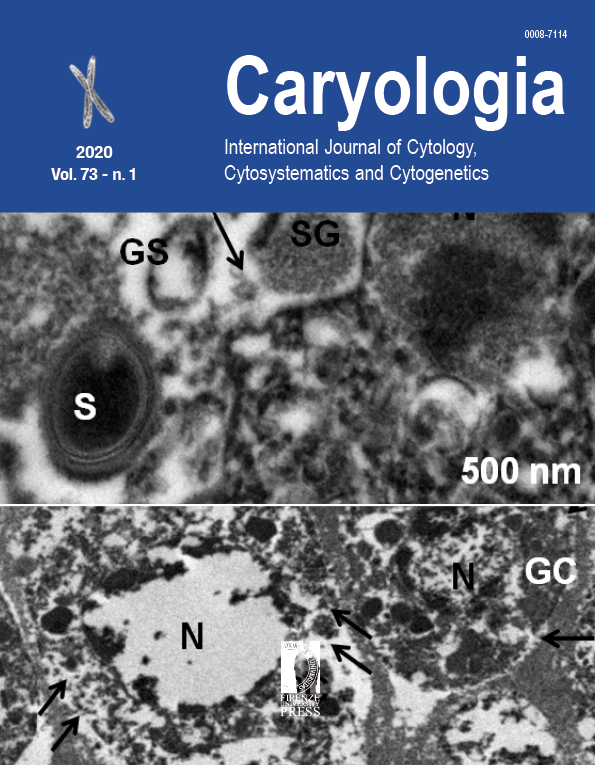 Downloads
How to Cite
Shambhavi, H. P., Makwana, P., Surendranath, B., Ponnuvel, K. M., Mishra, R. K., & Appukuttan, P. R. (2020). Phagocytic events, associated lipid peroxidation and peroxidase activity in hemocytes of silkworm Bombyx mori induced by microsporidian infection. Caryologia, 73(1). https://doi.org/10.13128/caryologia-112
License
Copyright on any open access article in a journal published byCaryologia is retained by the author(s).
Authors grant Caryologia a license to publish the article and identify itself as the original publisher.
Authors also grant any third party the right to use the article freely as long as its integrity is maintained and its original authors, citation details and publisher are identified.
The Creative Commons Attribution License 4.0 formalizes these and other terms and conditions of publishing articles.
In accordance with our Open Data policy, the Creative Commons CC0 1.0 Public Domain Dedication waiver applies to all published data in Caryologia open access articles.