Chemical composition, antioxidant and cytogenotoxic effects of Ligularia sibirica (L.) Cass. roots and rhizomes extracts
Nicoleta Anca Şuţan

University of Piteşti, Faculty of Sciences, Physical Education and Informatics, Department of Natural Sciences, 1 Targu din Vale Str., 110040 Pitesti, Romania

Andreea Natalia Matei

University of Piteşti, Faculty of Sciences, Physical Education and Informatics, Department of Natural Sciences, 1 Targu din Vale Str., 110040 Pitesti, Romania

Eliza Oprea

University of Bucharest, Faculty of Chemistry, Department of Organic Chemistry, Biochemistry and Catalysis, Blvd. Regina Elisabeta, No. 4-12, 030018, Bucharest, Romania

https://orcid.org/0000-0001-7051-4136

Victorița Tecuceanu

Organic Chemistry Centre of the Romanian Academy "Costin D. Nenitescu", 202B Splaiul Independentei, 78100 Bucharest, Romania

Lavinia Diana Tătaru

University of Piteşti, Faculty of Sciences, Physical Education and Informatics, Department of Natural Sciences, 1 Targu din Vale Str., 110040 Pitesti, Romania

Sorin Georgian Moga

University of Piteşti, Faculty of Sciences, Physical Education and Informatics, Department of Natural Sciences, 1 Targu din Vale Str., 110040 Pitesti, Romania

Denisa Stefania Manolescu

University of Piteşti, Faculty of Sciences, Physical Education and Informatics, Department of Natural Sciences, 1 Targu din Vale Str., 110040 Pitesti, Romania

Carmen Mihaela Topală

University of Piteşti, Faculty of Sciences, Physical Education and Informatics, Department of Natural Sciences, 1 Targu din Vale Str., 110040 Pitesti, Romania

https://orcid.org/0000-0002-9117-4983
Keywords:
antioxidant activity, phenols, SFE extraction, cytogenetic effects, Ligularia sibirica, HPLC
Abstract
Through time, in the traditional medicine Ligularia genus has been used as a remedy to cure several diseases and affections. The paper represents an essential step in offering more information about the antioxidant activity, chemical composition and cytogenetic activity of L. sibirica (L.) Cass. rhizomes and roots extracts. The antioxidant activity of the extracts has been achieved by analyzing the total phenolic content, total flavonoids, the organic chemical compound and trolox equivalent antioxidant capacity and their major polyphenolic constituents were quantified by liquid chromatography electrospray ionization-tandem mass spectrometry. The extracts were obtained by the Supercritical Fluid Extraction (SFE-CO2) technique, SFE-CO2 extraction with co-solvent and absolute ethanol extraction. The best results for the antioxidant activity have been fulfilled through the last two techniques. High Performance Liquid Cromatography (HPLC) has been applied in order to identify and quantify selected phenolic acids and flavonoids in the ethanolic extracts of L. sibirica (L.) Cass. The cytogenotoxic effects of the extracts completed the present study, with a furtherance of antiproliferative potential highlighted by the statmokinetic effect and an additional genoprotective effect.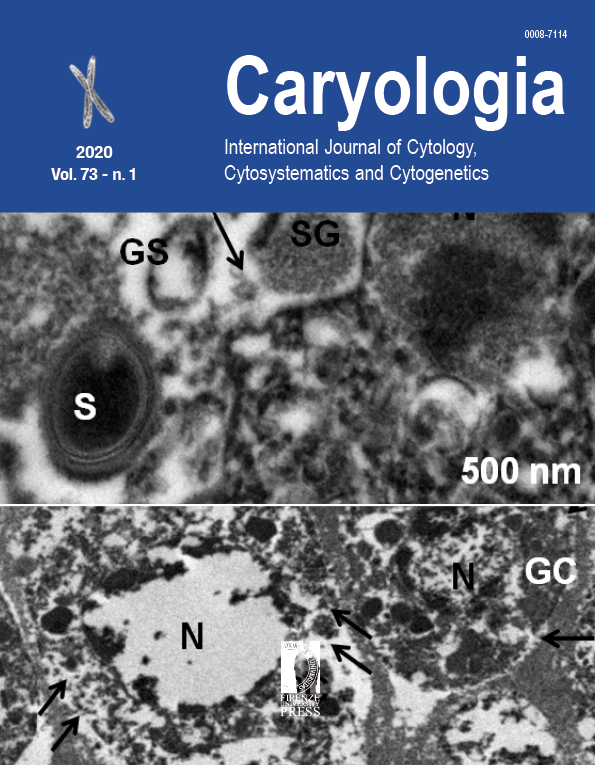 How to Cite
Şuţan, N. A., Matei, A. N., Oprea, E., Tecuceanu, V., Tătaru, L. D., Moga, S. G., Manolescu, D. S., & Topală, C. M. (2020). Chemical composition, antioxidant and cytogenotoxic effects of Ligularia sibirica (L.) Cass. roots and rhizomes extracts. Caryologia. International Journal of Cytology, Cytosystematics and Cytogenetics, 73(1). https://doi.org/10.13128/caryologia-116
Copyright (c) 2020 Nicoleta Anca ŞUŢAN, Andreea Natalia Matei, Eliza Oprea, Victorița Tecuceanu, Lavinia Diana Tătaru, Sorin Georgian Moga, Denisa Stefania Manolescu, Carmen Mihaela Topală
This work is licensed under a Creative Commons Attribution 4.0 International License.
Copyright on any open access article in a journal published byCaryologia is retained by the author(s).
Authors grant Caryologia a license to publish the article and identify itself as the original publisher.
Authors also grant any third party the right to use the article freely as long as its integrity is maintained and its original authors, citation details and publisher are identified.
The Creative Commons Attribution License 4.0 formalizes these and other terms and conditions of publishing articles.
In accordance with our Open Data policy, the Creative Commons CC0 1.0 Public Domain Dedication waiver applies to all published data in Caryologia open access articles.