Phytochemical analysis and in vitro assessment of Polystichum setiferum extracts for their cytotoxic and antimicrobial activities
Nicoleta Anca Şuţan

University of Piteşti, Faculty of Sciences, Physical Education and Informatics, Department of Natural Sciences, 1 Targu din Vale Str., 110040 Pitesti, Romania

Irina Fierăscu

The National Institute for Chemistry and Petrochemistry – ICECHIM, 202 Spl. Independentei, 060021, Bucharest, Romania

Radu Fierăscu

The National Institute for Chemistry and Petrochemistry – ICECHIM, 202 Spl. Independentei, 060021, Bucharest, Romania

Deliu Ionica

University of Piteşti, Faculty of Sciences, Physical Education and Informatics, Department of Natural Sciences, 1 Targu din Vale Str., 110040 Pitesti, Romania

Liliana Cristina Soare

University of Piteşti, Faculty of Sciences, Physical Education and Informatics, Department of Natural Sciences, 1 Targu din Vale Str., 110040 Pitesti, Romania
Keywords:
Polystichum, extracts, FTIR, EDXRF, UV-VIS, cytogenotoxicity, antimicrobial activity
Abstract
Ferns are traditionally used by some nations to treat rheumatism, lungs, gynecology, blood and digestion dysfunctions, and several others illnesses. The present study evaluates the bioactivity of methanol and ethanol extracts from Polystichum setiferum (Forssk.) Moore ex Woyn. in an Allium cepa test and disk diffusion test. In the Allium cepa test the methanol and ethanol extracts induced a significant time-related increase in the mitotic index. The tested extracts were non-mutagenic by used assay, with no occurrence either the structural or numerical aberrations detected. The extracts were also evaluated in terms of trace elements (by EDXRF) and qualitative composition (by UV-VIS, FTIR and total phenolic content). In the disk diffusion test, methanol extracts from leaves determined a small inhibition of bacterial growth for Enterobacter cloacae and Citrobacter freundii strains relatively to control sample (methanol). The ethanol extracts were more efficient, the diameter of inhibition growth zones measured from 7 to 10 mm, the most affected strain was Chryseobacterium meningosepticum.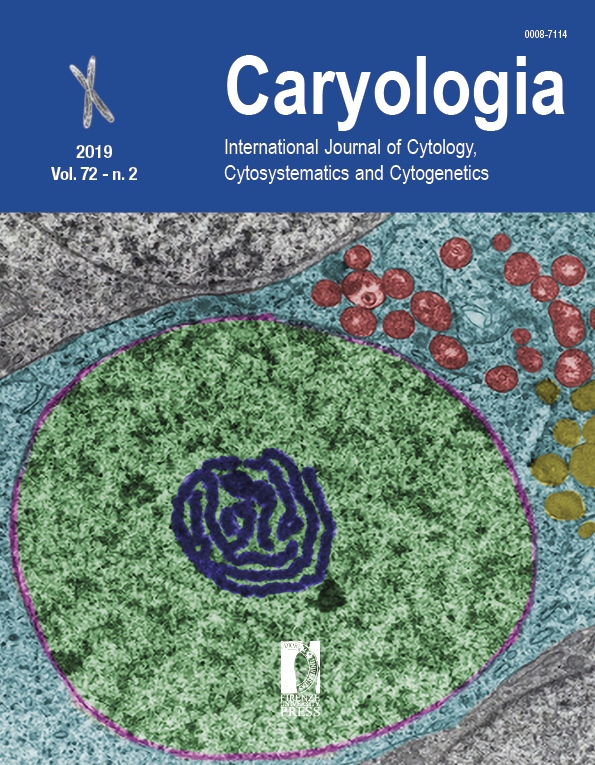 How to Cite
Şuţan, N. A., Fierăscu, I., Fierăscu, R., Ionica, D., & Soare, L. C. (2019). Phytochemical analysis and in vitro assessment of Polystichum setiferum extracts for their cytotoxic and antimicrobial activities. Caryologia. International Journal of Cytology, Cytosystematics and Cytogenetics, 72(2), 53-61. https://doi.org/10.13128/cayologia-255
Copyright (c) 2019 Nicoleta Anca Şuţan, Irina Fierăscu, Radu Fierăscu, Deliu Ionica, Liliana Cristina Soare
This work is licensed under a Creative Commons Attribution 4.0 International License.
Copyright on any open access article in a journal published byCaryologia is retained by the author(s).
Authors grant Caryologia a license to publish the article and identify itself as the original publisher.
Authors also grant any third party the right to use the article freely as long as its integrity is maintained and its original authors, citation details and publisher are identified.
The Creative Commons Attribution License 4.0 formalizes these and other terms and conditions of publishing articles.
In accordance with our Open Data policy, the Creative Commons CC0 1.0 Public Domain Dedication waiver applies to all published data in Caryologia open access articles.