Populations genetic study of the medicinal species Plantago afra L. (Plantaginaceae)
Keywords:
Plantago afra, ISSR, PCoA, STRUCTURE analysis
Abstract
Plantago afra (Plantaginaceae) is the most medicinally important species in genus Plantago and it is native to the western Mediterranean region, West Asia and North Africa, and cultivated extensively in Asia and Europe for seed husk known as black Psyllium. We have no data on the population genetic structure of this species in the world. Therefore a population genetic and morphological investigation was performed through light on genetic and morphological variability in this taxa. We used ISSR molecular markers for population genetic investigation. Genetic diversity analyses revealed a moderate genetic variability within Plantago afra, while PCoA showed some degree of genetic admixture among populations. AMOVA produced significant genetic difference among populations. The Mantel test showed a positive significant correlation between the genetic and geographic distance of the studied populations. STRUCTURE analysis showed that there are different genetic groups in the studied populations. Morphometric analysis showed that one population differed in seed color and mean stem diameter. The same population contained specific allele combinations and differed genetically from the rest of the studied populations. Therefore, we considered it as a new variety within Plantago afra.
Downloads
Download data is not yet available.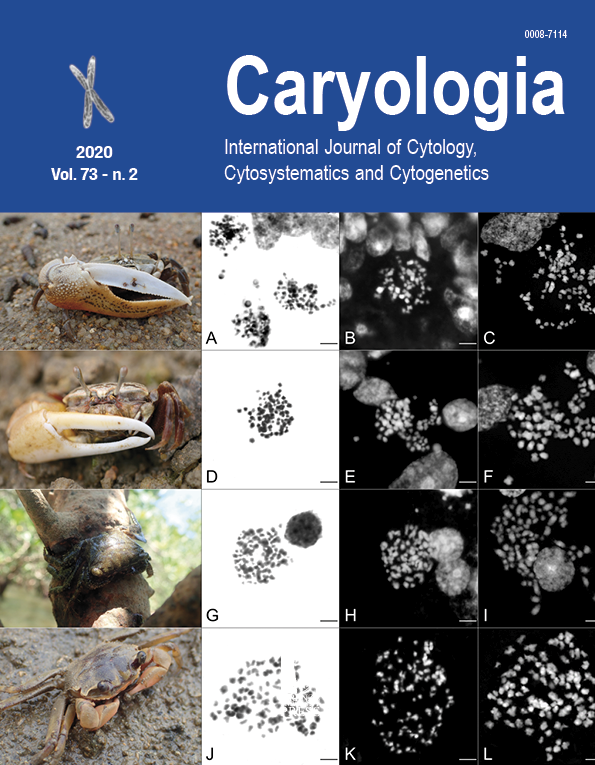 Downloads
How to Cite
Mohsenzadeh, S., Sheidai, M., & Koohdar, F. (2020). Populations genetic study of the medicinal species Plantago afra L. (Plantaginaceae). Caryologia, 73(2), 73–80. https://doi.org/10.13128/caryologia-135
License
Copyright on any open access article in a journal published byCaryologia is retained by the author(s).
Authors grant Caryologia a license to publish the article and identify itself as the original publisher.
Authors also grant any third party the right to use the article freely as long as its integrity is maintained and its original authors, citation details and publisher are identified.
The Creative Commons Attribution License 4.0 formalizes these and other terms and conditions of publishing articles.
In accordance with our Open Data policy, the Creative Commons CC0 1.0 Public Domain Dedication waiver applies to all published data in Caryologia open access articles.