Population genetic study of Ziziphus jujuba Mill.: Insight in to wild and cultivated plants genetic structure
Seyyedeh Tahereh Nabavi

Department of Horticulture Science, Isfahan (Khorasgan) Branch, Islamic Azad University, Isfahan, Iran

Farah Farahani

Department of Microbiology, Qom Branch, Islamic Azad University, Qom, Iran

Masoud Sheidai

Faculty of Life Sciences and Biotechnology, Shahid Beheshti University, Tehran, Iran

Katayoun Poursakhi

Department of Horticulture Science, Isfahan (Khorasgan) Branch, Islamic Azad University, Isfahan, Iran

Mohammad Reza Naeini

Department of Horticulture Crops Research, Qom Agricultural and Natural Resources Research and Education Center,AREEO, Qom, Iran
Keywords:
Ziziphus jujube, ISSR, STRUCTURE
Abstract
Ziziphus jujuba (jujube) of buckthorn family (Rhamnaceae) is an important medicinal crop plant cultivated in different provinces of Iran. It has also wild populations in some geographical areas. We carried out population genetic study on 8 populations of cultivated versus wild jujuba by using ISSR molecular markers to produce data on population genetic structure, gene flow, and genetic variability in the studied populations. We also aimed to investigate genetic differentiation between wild and cultivated plants and identify the potential gene pools of this medicinal plant species. The studied populations had a moderate genetic variability and were grouped in two major groups by PCoA plot. AMOVA revealed significant genetic difference among these cultivars. Mantel test showed significant correlation between genetic distance and geographical distance in the studied populations. PCoA analysis showed genetic differentiation between wild and cultivated plants within each province. STRUCTURE analysis identified two potential gene pools for jujube cultivars. Data obtained may be used in genetic conservation and future breeding programs of this medicinal plant species in the country.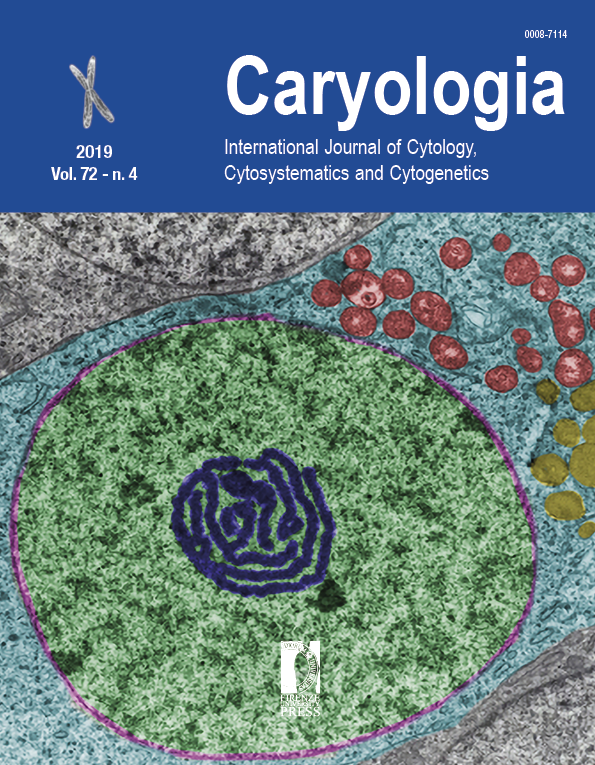 How to Cite
Nabavi, S. T., Farahani, F., Sheidai, M., Poursakhi, K., & Naeini, M. R. (2019). Population genetic study of Ziziphus jujuba Mill.: Insight in to wild and cultivated plants genetic structure. Caryologia. International Journal of Cytology, Cytosystematics and Cytogenetics, 72(4), 85-92. https://doi.org/10.13128/caryologia-405
Copyright (c) 2019 Seyyedeh Tahereh Nabavi, Farah Farahani, Masoud Sheidai, Katayoun Poursakhi, Mohammad Reza Naeini
This work is licensed under a Creative Commons Attribution 4.0 International License.
Copyright on any open access article in a journal published byCaryologia is retained by the author(s).
Authors grant Caryologia a license to publish the article and identify itself as the original publisher.
Authors also grant any third party the right to use the article freely as long as its integrity is maintained and its original authors, citation details and publisher are identified.
The Creative Commons Attribution License 4.0 formalizes these and other terms and conditions of publishing articles.
In accordance with our Open Data policy, the Creative Commons CC0 1.0 Public Domain Dedication waiver applies to all published data in Caryologia open access articles.