Population Genetic Studies in Ziziphus jujuba Mill.: Multiple Molecular Markers (ISSR, SRAP, ITS, Cp-DNA)
Keywords:
Cp-DNA, ISSR, ITS, SRAP, Ziziphus jujube
Abstract
Ziziphus jujuba (jujube) is an important horticultural crop with medicinal value. It is under cultivation in many areas of Iran and also grows as wild in several geographical populations throughout the country. We have no information on genetic variability and population structure of this important plant species in our country. Therefore, the aim of the present study was to perform genetic fingerprinting of 13 geographical populations of jujuba for the first time and provide data on population genetic structure, admixture versus genetic fragmentation of this important crop. We used multilocus molecular markers (ISSRs and SRAPs) for genetic fingerprinting and also compared the results with bioinformatics investigation results we did on jujuba cultivars by using nuclear r-DNA and chloroplast inter-genetic cp-DNA sequences. Genetic diversity parameters and AMOVA test as well as Ivanno test support some kind of genetic distinctness of the jujuba populations studied. We found that cp-DNA inter-genic sequences can also discriminate jujuba cultivars as efficient as multilocus molecular markers and therefore, a multiple molecular approaches may be used for genetic fingerprinting of jujuba. The present study revealed good level of genetic diversity among wild/ uncultivated populations of jujuba which can be used in conservation and breeding of this important horticultural crop plant within the country. As this crop has several wild geographical populations throughout the country, we plan to continue our quest to investigate many more populations in nearby future and try to utilize cp-DNA inter-genic sequences along with multilocus molecular markers for genetic discrimination of wild populations.
Downloads
Download data is not yet available.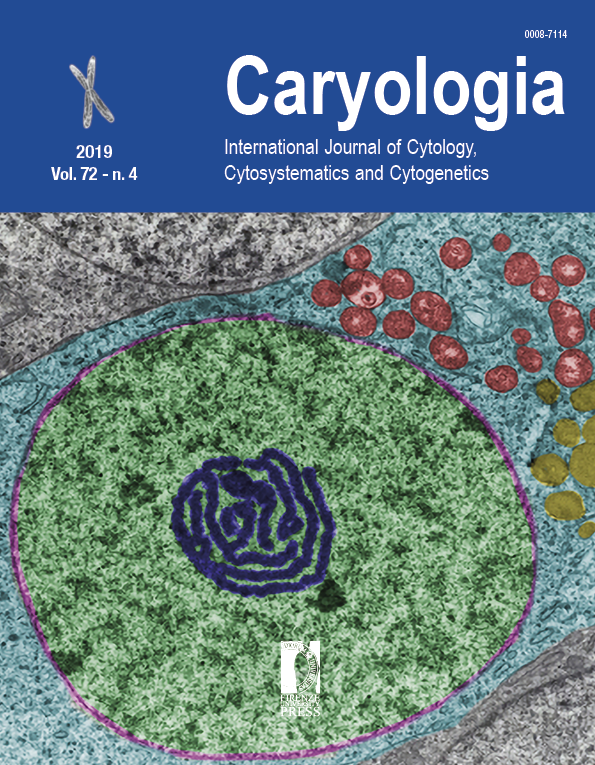 Downloads
How to Cite
Farahani, F., Sedighzadegan, A., Sheidai, M., & Koohdar, F. (2019). Population Genetic Studies in Ziziphus jujuba Mill.: Multiple Molecular Markers (ISSR, SRAP, ITS, Cp-DNA). Caryologia, 72(4), 51–60. https://doi.org/10.13128/caryologia-390
License
Copyright on any open access article in a journal published byCaryologia is retained by the author(s).
Authors grant Caryologia a license to publish the article and identify itself as the original publisher.
Authors also grant any third party the right to use the article freely as long as its integrity is maintained and its original authors, citation details and publisher are identified.
The Creative Commons Attribution License 4.0 formalizes these and other terms and conditions of publishing articles.
In accordance with our Open Data policy, the Creative Commons CC0 1.0 Public Domain Dedication waiver applies to all published data in Caryologia open access articles.