Population genetic and phylogeographic analyses of Ziziphora clinopodioides Lam., (Lamiaceae), "kakuti-e kuhi": An attempt to delimit its subspecies
Raheleh Tabaripour

Faculty of Biological Sciences and biotechnology, Shahid Beheshti University, Tehran, Iran

Masoud Sheidai

Faculty of Biological Sciences and biotechnology, Shahid Beheshti University, Tehran, Iran

Seyed Mehdi Talebi

Department of Biology, Faculty of Science, Arak University, Arak, Iran

Zahra Noormohammadi

Biology Department, Islamic Azad University, Sciences and Research Branch, Tehran, Iran
Keywords:
biogeography, genetic diversity, STRUCTURE analysis, subspecies delimitation, Ziziphora clinopodioides
Abstract
Ziziphora clinopodioides Lam., (Lamiaceae), is a perennial herb which is used as traditional medicine in Iran. Different authors disagree on the number of subspecies. In general, taxonomic and biosystematic studies of Ziziphora clinopodioides have been limited and no molecular phylogenetic or biogeographic study of the species has been carried out. Therefore, the aims of this study were (1) to determine the number of subspecies, (2) to produce information on the species' genetic structure and intra-specific genetic variability, and (3) to produce data on the probable date of appearance of Ziziphora clinopodioides in Iran. We used a combination of morphological and molecular data to study plants randomly collected from 5 geographical regions. Both analyses revealed a high level of within population variability and grouping of the studied provinces produced an admixture that indicated the absence of any subspecies within the species. STRUCTURE analysis and K-Means clustering identified two gene pools within the country. The probable date of divergence obtained was 5-10 Mya for the appearance of this species in the mountainous regions of Qazvin and Mazandaran.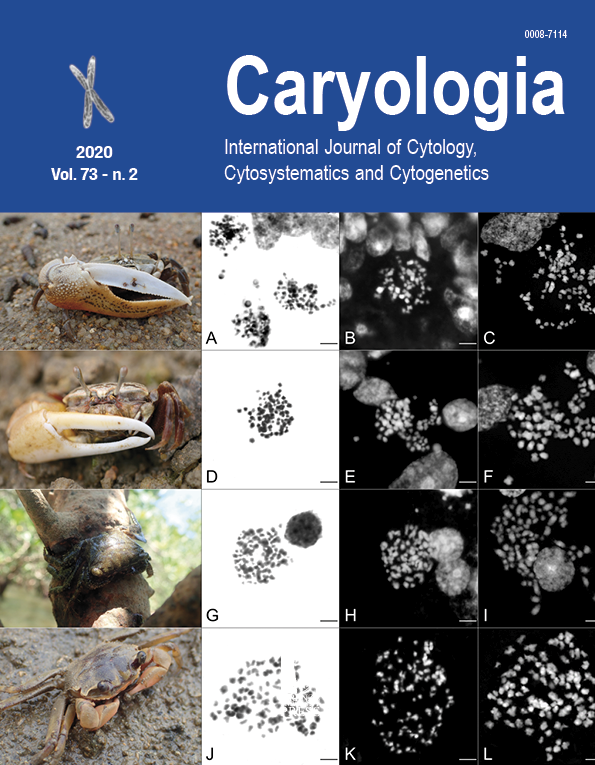 How to Cite
Tabaripour, R., Sheidai, M., Talebi, S. M., & Noormohammadi, Z. (2020). Population genetic and phylogeographic analyses of Ziziphora clinopodioides Lam., (Lamiaceae), "kakuti-e kuhi": An attempt to delimit its subspecies. Caryologia. International Journal of Cytology, Cytosystematics and Cytogenetics, 73(2), 99-110. https://doi.org/10.13128/caryologia-573
Copyright (c) 2020 Raheleh Tabaripour, Masoud Sheidai, Seyed Mehdi Talebi, Zahra Noormohammadi
This work is licensed under a Creative Commons Attribution 4.0 International License.
Copyright on any open access article in a journal published byCaryologia is retained by the author(s).
Authors grant Caryologia a license to publish the article and identify itself as the original publisher.
Authors also grant any third party the right to use the article freely as long as its integrity is maintained and its original authors, citation details and publisher are identified.
The Creative Commons Attribution License 4.0 formalizes these and other terms and conditions of publishing articles.
In accordance with our Open Data policy, the Creative Commons CC0 1.0 Public Domain Dedication waiver applies to all published data in Caryologia open access articles.