Cytogenetic study of the Bent-toed Gecko (Reptilia, Gekkonidae) in Thailand; I: Chromosomal classical features and NORs characterization of Cyrtodactylus kunyai and C. interdigitalis
Weera Thongnetr

Alongklod Tanomtong

Suphat Prasopsin

Nuntiya Maneechot

Krit Pinthong

Isara Patawang
Keywords:
Cyrtodactylus, Cyrtodactylus kunyai, Cyrtodactylus interdigitalis, Karyotype stasis
Abstract
This study analysed the karyotype of Cyrtodactylus kunyai and C. interdigitalis from Loei Province in Northeastern Thailand. The metaphase and meiotic chromosome preparations were obtained by squash technique from bone marrow and testes, respectively. The chromosomes were stained by Giemsa staining and Ag-NOR-banding techniques. The results showed diploid chromosome number (2n) of 40 for C. kunyai and 42 for C. interdigitalis. The chromosome types of metacentric, submetacentric, acrocentric and telocentric chromosomes were 8-4-0-28 and 4-2-4-32, respectively. The Ag-NORs banding technique provides the pair of nucleolar organizer regions (NORs) of both two species at telomeric region of the long arm of the pair 12, metacentric type in C. kunyai and telocentric type in C. interdigitalis. There are no sex differences in karyotypes between males and females of both two species. We found that during metaphase I on meiosis of C. kunyai and C. interdigitalis, the homologous chromosomes showed synapsis of 20 and 21 bivalents, respectively. Moreover, the meiotic phase on prophase II exhibited 20 and 21 haploid chromosome number (n) as respective diploid species. Their karyotype formulas is as follows: C. kunyai (2n = 40): Lm2 + Lsm4 + Lt4 + Mt6 + Sm6 + St18, and C. interdigitalis (2n = 42): La4 + Lt14 + Mt2 + Sm4 + Ssm2 + St16.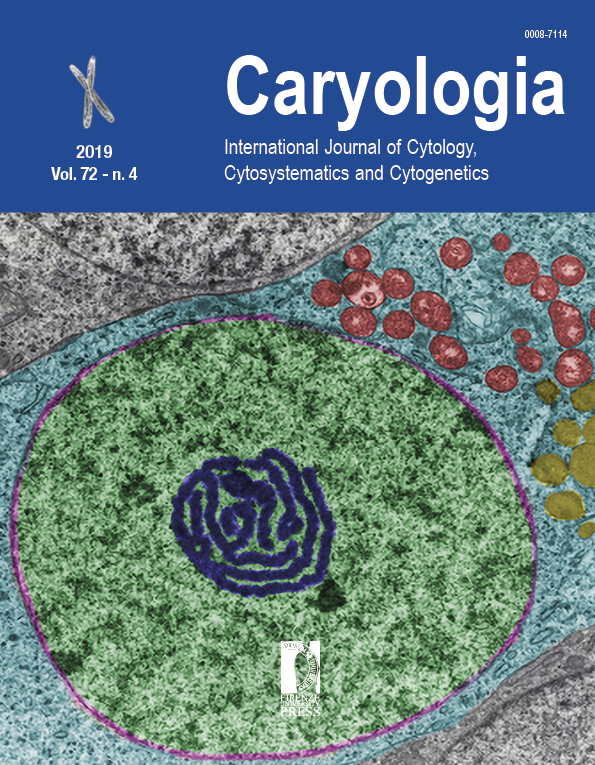 How to Cite
Thongnetr, W., Tanomtong, A., Prasopsin, S., Maneechot, N., Pinthong, K., & Patawang, I. (2019). Cytogenetic study of the Bent-toed Gecko (Reptilia, Gekkonidae) in Thailand; I: Chromosomal classical features and NORs characterization of Cyrtodactylus kunyai and C. interdigitalis. Caryologia. International Journal of Cytology, Cytosystematics and Cytogenetics, 72(1), 23-28. https://doi.org/10.13128/cayologia-248
Copyright (c) 2019 Weera Thongnetr, Alongklod Tanomtong, Suphat Prasopsin, Nuntiya Maneechot, Krit Pinthong, Isara Patawang
This work is licensed under a Creative Commons Attribution 4.0 International License.
Copyright on any open access article in a journal published byCaryologia is retained by the author(s).
Authors grant Caryologia a license to publish the article and identify itself as the original publisher.
Authors also grant any third party the right to use the article freely as long as its integrity is maintained and its original authors, citation details and publisher are identified.
The Creative Commons Attribution License 4.0 formalizes these and other terms and conditions of publishing articles.
In accordance with our Open Data policy, the Creative Commons CC0 1.0 Public Domain Dedication waiver applies to all published data in Caryologia open access articles.